Student for a Day
Orientation at the UG: Student for a Day
Are you considering doing a Bachelor's degree programme at our University but you're not sure yet which one? Or do you want to be prepared to the fullest before you get started? Then, 'Student for a Day' is just the thing for you!
Who is the 'Student for a Day' event aimed at?
Our orientation programme is an addition to visiting a UG open day and is especially suited for prospective students who are hesitant to choose a degree programme or who are having trouble deciding between the different Bachelor's degree programmes.
Student for a Day
Most Bachelor's degree programmes offer an orientation day. Exactly what that day looks like differs per programme, but you will definitely gain more insight into what the programme will bring.
For example, you might:
- attend a lecture
- discuss the degree programme with students and staff members
- attend a practical or seminar
The orientation day is organized twice a year: in the spring and in the autumn. However, some programmes offer multiple Student for a Days!
Programmes that offer Student for a Day
Below you will find an overview of the Bachelor's degree programmes that offer 'Student for a Day'. If you can't find the programme of your choice, they sadly don't organize 'Student for a Day' days. If this is the case, you can find out more about this programme at one of our other information and open day events.
_____________________________________________________________________________________
Participant Student for a Day Business Administration
'I had been looking forward to a day as 'student for a day', because I was still facing a difficult choice. I was hesitating between two studies: Law and Business Administration. I had already looked at Law, so I decided to attend One Day Student for the study Business Administration.
First we went to a lecture room, where we got an interesting lecture about a certain aspect of business administration.This gave us a good idea of what the study is really about and what exactly you learn. We also went to work on a specific case. Here we were given a different assignment each time. Attention was paid to the three different tracks of Business Administration, so that we could see the difference between the tracks. This allowed you to ask yourself if the study was suitable for you and which track you prefer. The day was almost completely taken care of by students of the university itself. This was very pleasant because it allowed you to hear the students' own story. Moreover, we were able to ask them all about their own experiences with the study and about student life.
With this day I got a very good impression of the study. I came to the conclusion that this is the study I want to follow next year at the UG. It was a nice day which was also an important part of my choice'.
Read more about Student for a Day Business Administration
10.30 am: All students gather in Duisenberg plaza, while enjoying coffee/tea and cake and talk to students or look around quietly.
11.00 am: The students are welcomed in a large lecture hall and a "trial" lecture is given by Dr. Liane Voerman on Organizational Science. The students are then divided into groups and led to different classrooms. Students are working on the 'Top Market' case. Business Administration has three tracks/directions and first the Business & Management track is worked on during the case study, in which the students make a competitive analysis and look at consumer trends. After that, the Technology Management track is examined, which dives into the logistics of a supermarket by looking at queue management.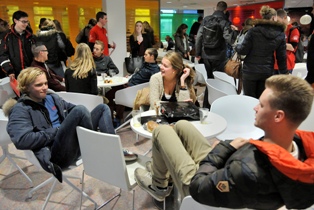 1.30 pm: Lunch is served at the Sports Center of the university called the ACLO. After lunch there is a short tour of the various buildings done by the students.
2.45 pm: The students gather again, after which they split into the same groups of 5 to 8 people to fully dive into the 'Top Market' case under the supervision of a student. Now the last track Accountancy & controlling is now being looked at, in which the students look at fraud risks and financial risks. While working on this case, there is also a lot of time to ask the student all questions about their study choice.
4 pm: Time for a short break. Drinks and snacks have been provided in Duisenberg plaza so that everyone can recharge their batteries and chat.
4.30 pm: As the last part of this day, a few groups are chosen to give a small presentation on a question from the case, this is led by Dr. Oskar Roemeling, the group with the best presentation wins a small prize. Here you can also ask the last questions (e.g. about the contents of the study).
5.00 pm: The serious part of today is over, time to have a bite together at the 'Drie Gezusters'. Our students also participate so that students can ask all their remaining questions. After dinner there is a fun pub quiz with a prize for the team that does the pub quiz best and the day ends with a nice drink!
Read more about Student for a Day Biology and Life Science & Technolgy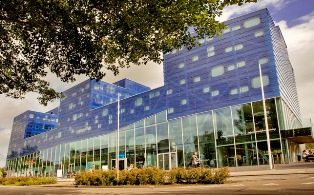 9.30 am: After entering the Bernoulliborg, pupils report and enroll for the practical session which will take place in the afternoon. Coffee and cake will be available in the canteen so that participants can recover from the (sometimes) long journey and get to know their future fellow students.
10.00 am: The official start of this day. In the morning there will be a joint program for Biology and Life Science & Technology, in the afternoon the group will be divided over different practicals. Study advisor Karin Weel will talk about the two studies, explain the year, subjects and timetable, show which masters you can do and what kind of jobs you will end up in: often one half will do research while the other half will be very diverse.
10.30 am: PhD student Wimke Fokkema talks about her research "Connecting ecosystems by migrating". She follows a year from the life of a goose by means of GPS. And it turns out: food plays the key role!
11.15 am: Time for a real lecture on cell biology, given by Prof. Ida van der Klei. For many students a first introduction to the way of lecturing at the university. DNA, RNA, membranes and finally microscopy. Luckily everyone found this way of teaching very easy.
00.15 pm: Study association GLV Idun also comes by to have a chat. Besides the serious things, it is of course also important to have fun, which causes laughter in the lecture hall! GLV Idun is study related, career related and of course relaxing!
00.30 pm: Everyone walks to the Linnaeusborg to have lunch together. Packed lunches are handed out after which everyone finds a place at the big tables, eats a sandwich and discusses the morning.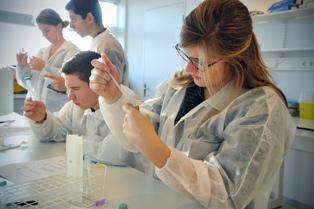 1.15 pm: After a theoretical morning, it is now time to roll up our sleeves at the various practicals. In the morning, students could sign up for a lab, such as isolating DNA from your cheek mucosa. Did you know that chimpanzee DNA is only 2% different from ours?
In pairs, students go to isolate the DNA. Everyone has an assignment that clearly explains what needs to be done. First chew on your cheek for 30 seconds, spit the mucus into a tube and add some fluids. After 10 minutes in a warm water bath, alcohol is carefully added to the tube. Then gently turn the tube around a number of times and the DNA appears as a kind of ice crystal!
3.00 pm: Back in the lecture hall, students talk about their experiences with the major (= main direction) Biomedical Sciences, studying and student life. Students still have time to ask questions after which one day of study is already over. Bygone!
4.00 pm: Of course this day will be closed with a festive drink!
Read more about Student for a Day Rechtsgeleerdheid (in Dutch)
Het programma begint om 09.00 uur
Welkomstwoord door onze studentambassadeurs
Presentatie en gesprek met onze studieadviseurs en studentambassadeurs
Introductie casus Studentenrechtbank (+/- 15 min.)
Studentenrechtbank: samen met onze studentambassadeurs ga je je voorbereiden op een echte rechtszaak. Vanuit verschillende rollen (advocaat/rechter) kijk je naar een casus en bereid je je voor op de zitting.
Lunch
Rondleiding door de gebouwen van onze faculteit en de RUG
Interactief hoorcollege door een van onze docenten
Napraten met onze studentambassadeurs
Afsluitend etentje in het centrum van Groningen
| | |
| --- | --- |
| Last modified: | 23 November 2023 2.50 p.m. |