De stress van macht, ook bovenaan de 'machtsladder'
| | |
| --- | --- |
| Datum: | 11 juli 2017 |
| Auteur: | Sanne Feenstra |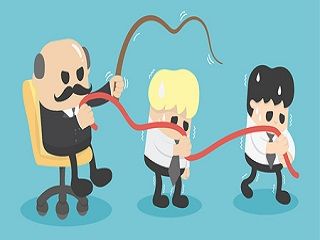 Macht speelt een grote rol in ieders leven. Macht is de mate van controle die mensen hebben over belangrijke zaken, en daarmee, andere mensen Ook op de werkvloer speelt macht een belangrijke rol. Mensen bovenaan de 'machtsladder' controleren bijvoorbeeld de hoogte van het salaris en werkzaamheden van hun werknemers. Werknemers onderaan de 'machtsladder' daarentegen zijn afhankelijk van hun bazen voor de hoogte van hun salaris en de inhoud van hun werkzaamheden. Alle organisaties worden in meer of mindere mate gekenmerkt door machtsverschillen – en deze verschillen in macht hebben grote invloed op de wijze waarop mensen in organisaties met elkaar omgaan.
Uit eerder wetenschappelijk onderzoek weten we dat het hebben van macht zowel het gedrag als de gevoelens van mensen in grote mate beïnvloedt (zie bijvoorbeeld: [1, 2]). Door de bank genomen schetst dit onderzoeksveld een zeer positief beeld van macht: het hebben van macht zorgt er bijvoorbeeld voor dat mensen zich prettiger voelen, meer optimistisch zijn en meer zelfvertrouwen hebben. Macht heeft dus een zeer positieve effect op de mensen die het bezitten.
Maar macht heeft ook negatieve gevolgen voor mensen. In een recent gepubliceerde studie [3] onderzochten wij de invloed van macht op de stress die mensen op hun werk ervaren. Veel organisaties zijn actief bezig om de werkstress van hun werknemers te verminderen – om zo de negatieve gevolgen van werkstress zoals burn-out en gezondheidsproblemen te voorkomen.
Ons onderzoek laat zien dat mensen bovenaan de 'machtsladder' wel degelijk stress ervaren –met name wanneer zij hun machtige positie dreigen kwijt te raken. Mensen onderaan de 'machtsladder' daarentegen ervaren met name veel stress wanneer zij het gevoel hebben vast te zitten – en geen uitzicht hebben op een hogere positie in de organisatie. Met andere woorden, machthebbers ervaren voornamelijk veel stress wanneer hun positie instabiel is, terwijl werknemers zonder macht met name stress ervaren wanneer hun positie in de organisatie stabiel is. Daarnaast toont ons onderzoek dat deze effecten van instabiele macht en stabiele machteloosheid voor de ervaren stress van werknemers met name een rol spelen bij werknemers die machtsverschillen belangrijk vinden en hoge machtsposities ambiëren.
HR manager die de stress van hun werknemers willen verminderen dienen dus voorzichtig te werk te gaan aangezien interventies die stress van machtigere werknemers verminderen de stress van minder machtige werknemers wel eens zouden kunnen vergroten. Organisaties kunnen in het kader hier van bijvoorbeeld carrière-trajecten zo organiseren (bijv. door middel van zogenoemde laterale bewegingen) dat zij doorgroeimogelijkheden bieden voor minder machtige werknemers zonder dat zij de posities van machtige werknemers direct bedreigen.
[1] Magee, J.C., & Galinsky, A.D. (2008). Social hierarchy: The self-reinforcing nature of power and status. Academy of Management Annals, 2(1), 351–398. https://doi. 605org/10.1080/19416520802211628
[2] Williams, M.J. (2014). Serving the self from the seat of power: Goals and threats predict leaders self-interested behavior. Journal of Management, 40(5), 1365–1395. 718. https://doi.org/10.1177/0149206314525203 719
[3] Feenstra, S., Jordan, J. Walter, F., Yan, J., & Stoker, J.I. (2017). The hazard of teetering at the top and being tied to the bottom: The interactive relationship of power, stability, and social dominance orientation with work stress. Applied Psychology: An International Review. http://dx.doi.org/10.1111/apps.12104
Sanne Feenstra (s.feenstra rug.nl) is PhD kandidaat van de Faculteit Economie en Bedrijfskunde van de Rijksuniversiteit Groningen, op het onderwerp macht en leiderschap.