Chaos om u heen, chaos in uw hoofd?
| | |
| --- | --- |
| Datum: | 10 juni 2014 |
| Auteur: | Bernard Nijstad |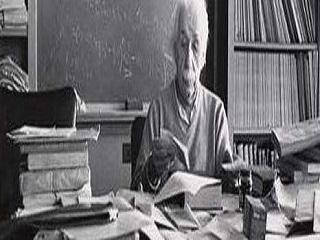 Hoe ziet uw bureau eruit? Ruimt u het elke dag op? Zorgt u ervoor dat alles netjes geordend is zodat u meteen kunt vinden wat u nodig heeft? Of is het een rommeltje, met stapels papieren, oude koffiekopjes, en willekeurig verspreide kantoorartikelen? Hoe uw bureau eruit ziet zegt iets over u. Belangrijker nog, werken in een opgeruimde of rommelige kamer heeft invloed op uw manier van denken, zo laat recent onderzoek zien (Vohs, Redden, & Rahinel, 2013).
Ik zal het eerlijk toegeven: mijn bureau is een chaos. Dat heeft ontegenzeggelijk nadelen. Regelmatig kan ik niet vinden wat ik nodig heb en erger ik me aan mijn eigen rommel. Op bezoekers zal het ook niet een al te beste indruk maken: Onderzoek heeft laten zien dat uit een rommelige kamer mensen (terecht!) afleiden dat de eigenaar van de kamer niet erg netjes en betrouwbaar is (lage gewetensvolheid; Gosling, Ko, Mannarelli, & Morris, 2002). En laat gewetensvolheid nu net de persoonlijkheidseigenschap zijn die het belangrijkste is voor het leveren van goede prestaties op het werk. Een rommelige kamer lijkt dus een slecht idee.
Daarom was ik ook zo blij met het onderzoek van Vohs en collega's (2013). Zij stellen dat een opgeruimde omgeving voordelen heeft, maar dat rommel dat ook kan hebben. Opgeruimdheid wordt namelijk geassocieerd met conventionaliteit, traditie en moraliteit. In een nette omgeving doen mensen eerder wat ze zouden moeten doen, zoals gezond eten, zich moreel juist gedragen, en gewoon hun werk doen. In een rommelige omgeving gedragen mensen zich minder conventioneel: ze kiezen eerder een ongezonde snack en gedragen zich minder moreel. Echter, het voordeel is dat mensen in een rommelige omgeving creatiever zijn dan mensen in een opgeruimde omgeving. In een experiment vonden Vohs en collega's dat proefpersonen in een rommelige kamer creatievere ideeën verzonnen dan in een nette kamer. Dat is natuurlijk goed nieuws voor mij: mijn rommel is functioneel!
Helaas zit er een addertje onder het gras. Samen met een master studente heb ik het onderzoek van Vohs en collega's uitgevoerd in ons eigen lab. Ook wij lieten onze proefpersonen een creatieve taak doen in een opgeruimde of een rommelige kamer. Uit ons onderzoek bleek (helaas!) dat rommel ook creativiteit kan ondermijnen: we vonden dat proefpersonen in een rommelige kamer meer moeite hadden om zich te concentreren op hun taak, en dat dit gebrek aan concentratie negatief doorwerkte in hun creativiteit. Rommel kent dus voor- en nadelen: het maakt mensen minder conventioneel, maar ook meer afgeleid. Het creëren van chaos is dus geen garantie voor hogere creativiteit.
Wellicht onterecht, maar toch heb ik de neiging om te geloven in de voordelen van chaos. Zoals Einstein al zei: "If a cluttered desk is a sign of a cluttered mind, of what, then, is an empty desk a sign?"
Literatuur:
Gosling, S. D., Ko, S. J., Mannarelli, T., & Morris, M. E. (2002). A room with a cue: Personality judgments based on offices and bedrooms. Journal of Personality and Social Psychology, 82, 379-398.
Vohs, K. D., Redden, J. P., & Rahinel, R. (2013). Physical order produces healthy choices, generosity, and conventionality, whereas disorder produces creativity.Psychological Science, 24, 1860-1867.