Anti-Asian Prejudice,also in the Netherlands–Before,During Covid-19, and Beyond
| | |
| --- | --- |
| Datum: | 06 april 2021 |
| Auteur: | Edwina Wong |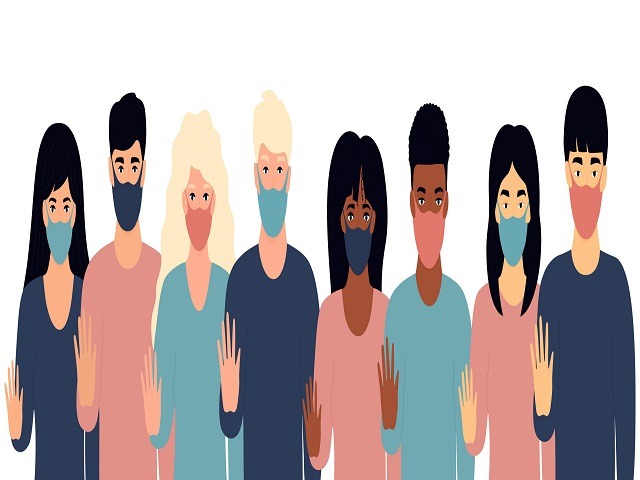 Recent European Network Against Racism (ENAR) reports show that Asians are among the most negatively impacted racialized groups in Europe to be affected by the Covid-19 pandemic. Also in the Netherlands, the reports show that Asians have been negatively affected through the denial of access to the healthcare system, the lack of access to protective measures at work during the confinement period, and racist hate speech [1]. This pandemic has triggered an uptick in anti-Asian sentiment and violence in the Netherlands [2] and other countries with Asian diasporas. Yet, the seed of Anti-Asian sentiment was planted long ago, and by far did not begin with the Covid-19 pandemic.
Research on Asians have shown that the model minority myth occupies a large role in the discrimination of Asians. The model minority myth is a narrative that Asians are perceived to be hardworking and high-achieving compared to the general population. It may sound positive, but research has recorded numerous negative consequences of this phenomenon. Due to this myth, Asians have been held up as a standard through which other racialized groups are compared to and pitted against, resulting in the societal prevalence and magnitude of systemic racism that Asians and other racialized groups experience to be downplayed ("If they can do it, why can't other minorities?").
The model minority myth paints Asians as inherently successful in society, overlooking economic and social issues that they face. Despite Asians being shown to be economically successful in various countries, the aggregation of vastly different ethnicities with very different migration trajectories into one "Asian" group presents us with Simpson's paradox - a statistical phenomenon where meaningful patterns within a group are overlooked. For instance, the distinction in economic and social standing cannot be observed between Asian groups who come for family reunification, who come as knowledge or skilled migrants, or who migrate for economic or social security. Indeed, while many Asians are represented in highly skilled labor in the Netherlands, the Netherlands also holds the highest percentage of low-skilled Asian migrants in Europe [3]. Asian women who have precarious migration status are particularly vulnerable to labor exploitation, abuses and police violence from potential deportation threats. Yet, these stories remain silenced in the celebrated myth of Asian success.
Even when Asians are well represented in certain sectors and industries, Asians are confronted with challenges. The model minority myth has been shown to be active on the work floor through stereotypes (e.g., perceptions of skillfulness and competence; [4]) and micro-aggressions (e.g., the exoticization and foreignization of Asian; [5]). This myth has been shown to be internalized by many Asians, manifesting into a fear of failing and pressure to conform to positive stereotypes without complaints. Moreover, these positive stereotypes are of no help to Asians who face a "bamboo ceiling" when trying to get leadership positions. This is because while Asians are stereotyped to be competent, they are simultaneously not typically seen to be very assertive [6], a trait generally valued in leadership positions. All of these factors, coupled with rising blatant racism against Asians since the Covid-19 pandemic, has been linked with worsened mental health that will ultimately have spillover effects on work and other life domains [7].
Organizations and institutions who are committed to inclusion and equity should not forget Asians in their anti-racism plans and actions. The unique ways in which stereotypes or systemic inequalities are set up for Asians, are not the same as for other racialized groups and it is important to recognize and account for that. Even more important, is to recognize the within-group differences of Asians and carefully examine whether policies and resources are there to adequately support these sub-groups.
Asian discrimination did not begin nor will it end with the Covid-19 pandemic, and it is affecting their health. Organizations can support Asians by coordinating an organizational response against anti-Asian attitudes and prejudices, as well as investing in mental health resources, employee resource groups, and other community-based efforts to help Asian communities.
References
[1] European Network Against Racism. (2020). Impact of Covid-19 on racialized communities: Key findings. https://www.enar-eu.org/IMG/pdf/key_findings_of_the_map.pdf
[2] Cluskey, P. (11. Feb. 2020). Netherlands sees rise in anti-Chinese sentiment over coronavirus. The Irish Times. https://www.irishtimes.com/news/world/europe/netherlands-sees-rise-in-anti-chinese-sentiment-over-coronavirus-1.4170648. See also: Wu, .P. (26 Mar. 2021). Racisme is ook wat níét wordt gezegd en wat niet wordt gezien. https://www.volkskrant.nl/columns-opinie/racisme-is-ook-wat-niet-wordt-gezegd-en-wat-niet-wordt-gezien~b810c1cb/
[3] Platonova, A., & Urso, G. (2013). Asian immigration to the European Union, United States and Canada: An initial comparison. Journal of Global Policy and Governance, 1(2), 143–156. https://doi.org/10.1007/s40320-012-0018-8
[4] Rosette, A. S., Ponce de Leon, R., Koval, C. Z., & Harrison, D. A. (2018). Intersectionality: Connecting experiences of gender with race at work. Research in Organizational Behavior, 38, 1–22. https://doi.org/10.1016/j.riob.2018.12.002
[5] Mukkamala, S., & Suyemoto, K. L. (2018). Racialized sexism/sexualized racism: A multimethod study of intersectional experiences of discrimination for Asian American women. Asian American Journal of Psychology, 9(1), 32–46. https://doi.org/10.1037/aap0000104
[6] Berdahl, J. L., & Min, J.-A. (2012). Prescriptive stereotypes and workplace consequences for East Asians in North America. Cultural Diversity and Ethnic Minority Psychology, 18(2), 141–152. https://doi.org/10.1037/a0027692
[7] Misra, S., Le, P. D., Goldmann, E., & Yang, L. H. (2020). Psychological impact of anti-Asian stigma due to the COVID-19 pandemic: A call for research, practice, and policy responses. Psychological Trauma: Theory, Research, Practice, and Policy, 12(5), 461–464. https://doi.org/10.1037/tra0000821
Edwina Wong (c.y.e.wong rug.nl) is a PhD candidate at the Human Resource and Organizational Behavior department. With a training in Social and Organizational Psychology, her PhD research is on making workplaces considerate of racially marginalized women.