Tom-Eric Krijger wint scriptieprijs
De Prof.dr. S. van der Linde-scriptieprijs is dit jaar uitgereikt aan Tom-Eric Krijger voor zijn scriptie Tot in 't verste oord, trouw aan 's Heren Woord. De totstandkoming, uitbouw en identiteitsontwikkeling van de sedert de vorming van de Gereformeerde Kerken in Nederland (1892) tot deze denominatie behorende gemeenten in Nederland, België, Argentinië, Brazilië, Frankrijk, Groot-Brittannië en Nederlands West-Indië.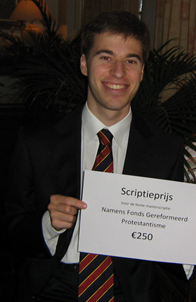 De Prof.dr. S. van der Linde-scriptieprijs wordt eens in de drie jaar uitgereikt door het Fonds Gereformeerd Protestantisme, dat in 1978 is ingesteld met het doel de bestudering van de geschiedenis van het gereformeerd protestantisme te bevorderen. Voor de in 2012 uitgereikte prijs kwamen alle scripties in aanmerking die handelen over 'Reformatiegeschiedenis' in de breedste zin des woords en die tussen 2009 en 2011 aan de Universiteit Utrecht, de Faculteit Katholieke Theologie of de Protestantse Theologische Universiteit verdedigd zijn.
De jury, bestaande uit em.prof.dr. W. Balke (UvA; VU), prof.dr. W.J. van Asselt (Evangelische Theologische Faculteit Leuven) en prof.dr. H. van den Belt (RUG), prees de grondigheid waarmee Krijger zijn historisch en sociologisch onderzoek heeft verricht, alsmede de keuze van het onderwerp en de interdisciplinaire onderzoeksaanpak. Aan de prijs is een geldbedrag van € 250,- verbonden. Wijlen prof.dr. S. van der Linde bekleedde tussen 1956 en 1976 de leerstoel 'Geschiedenis van het gereformeerd protestantisme' aan de toenmalige faculteit Godgeleerdheid van de Rijksuniversiteit Utrecht.
Met de prijswinnende scriptie rondde Krijger in juni 2011 de master 'Religies in hedendaagse samenlevingen' (cum laude) aan de Universiteit Utrecht af. Een jaar eerder voltooide hij, eveneens aan de Universiteit Utrecht, de researchmaster 'History: Cities, States and Citizenship' (cum laude). Momenteel werkt hij onder begeleiding van prof.dr. Arie L. Molendijk als promovendus binnen de facultaire vakgroep 'Christendom, Filosofie en Cultuur'. In zijn promotieonderzoek richt hij zich op protestants modernisme en moderniteit tussen 1870 en 1940.
| | |
| --- | --- |
| Laatst gewijzigd: | 08 augustus 2023 12:28 |