Why choose Groningen?
We're a Top 100 University
Study at one of the world's leading universities. Learn from the best and take advantage of exciting research opportunities. Live in a vibrant city where over a quarter of the population are students. Whatever you're seeking from your university experience, you'll find it in Groningen.
From art history to the art of international business, the University of Groningen is the place to be. With over 45 world-class Bachelor's programmes and 160 highly-ranked Master's programmes, we have a field of study for you, And, if you're an exceptionally motivated and talented student, you could be eligible to join our Honours College and get even more from your time in Groningen.

Our groundbreaking research

As a student, you will be actively involved in research at one of Europe's top research institutions from the get-go. The University of Groningen carries out ground-breaking and socially-relevant research that builds bridges between disciplines and closes the gap between science and society. With research focused on Energy, Healthy Ageing and a Sustainable Society, recent topics have included finding 'greener' plastics, ways to exercise more consciously and the effects of climate change on birds.

The University of Groningen is the second oldest university in the Netherlands and has built a reputation for excellence. Many talented people have passed through the university during its rich 400-year history, including Nobel Prize winners like Ben Feringa (Chemistry, 2016) and Frits Zernike (Physics, 1953). Some have been pioneers in their respective fields, such as the first female University student and the first female lecturer in the Netherlands, the first Dutch astronaut and the first president of the European Bank.


While its history can be traced back to 300 BC, today Groningen is a vibrant student city with the youngest population in the Netherlands – one in four people here is a student! That means there's always something to do, with various art and music festivals, theatres, cinemas and performance venues catering to all tastes, whether you prefer to watch or want to join in. The Groninger Museum with its world-renowned contemporary art exhibitions and the 133-year old Stadsschouwburg, one of the oldest and best-looking city theatres in the Netherlands, are must-visits, too.

With achingly beautiful architecture, cosy day markets, charming shopping streets and hotspots galore, the quality of life in Groningen is hard to beat. Get your fresh produce, meat and cheese at the "Vismarkt" market in the middle of town or indulge in lunch with fellow students in the Kijk in 't Jatstraat next to our Harmony Building. Shop till you drop in the Zwanestraat – recently voted the best shopping street in the Netherlands – or meet your friends at one of Groningen's many pubs.

In Groningen, you'll see students everywhere: studying in the pretty Noorderplantsoen park, working various part-time jobs and partying the night away. And, because it's relatively affordable here, students live across the city, making all of Groningen your campus. Groningen is also a safe and green city to live in, with the quiet countryside only a short bike-ride away. No wonder the city's marketing slogan is #NothingTopsGroningen

Groningen has a long history of welcoming foreign students. In fact, even in the 17th-Century almost half of the students and lecturers came from outside the Netherlands. The university still attracts a large international community, with over 6,000 international students from over 120 countries. Best of all, you don't have to learn Dutch to live in Groningen. Not only are some 180 of our degrees taught in English, but you can easily get by in your everyday life here without learning the local language. Our Erasmus Student Network (ESN) conveniently facilitates all international students in Groningen and organizes over 150 activities a year, including an introduction week and biking lessons.


Groningen was once part of the international Hanseatic League, which dominated commercial activity in Northern Europe for hundreds of years, and the University of Groningen still has strong international connections. This means that you can easily spend part of your degree studying abroad. Read all about our International and European Law student Anna Blake's internship at a law firm in Cairo, and others on our Student Blog #MyUGStory. The University also offers several unique international Master's degree programmes in cooperation with other large European universities. And with Paris, London and Copenhagen just a few hours away, nothing stops you from making the most of your time off.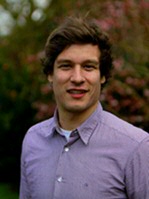 "Throughout my bachelor I discovered the cultural opportunities and liveliness that only a city with 25% student population can offer"
Jeremy Dillman, BSc. Psychology student
---
| | |
| --- | --- |
| Last modified: | 08 March 2022 10.58 a.m. |