Master's Day
Visit the Master's degree programmes of the University of Groningen, March 27
Take your learning to the next level at the University of Groningen. Want to learn more about pursuing a postgraduate degree at our university? Perhaps you're still unsure of what programme to choose?
Then come along to our Master's Day and explore the many opportunities the future holds for you here. The University of Groningen offers over 120 English-taught Master's programmes and was ranked the best general university for pursuing a Master's degree in the Netherlands in 2018 by Keuzegids, an independent Dutch consumer guide. The guide also ranked 18 programmes as top-rated Master's.

Registration
What to Expect
The Master's Day is aimed at all postgraduate students who are interested in continuing their academic career at the University of Groningen. It allows you to familiarise yourself with the many programmes offered at the UG, by attending information sessions, trial lectures and meeting professors and students from the programmes you are interested in.
We have gathered all useful travel information within the city of Groningen for you. How to get from one faculty to the next, walking routes, bus connections, parking information etc.
Master's Day Checklist
1. Ask questions
Don't forget to ask a lot of questions about the programmes you are interested in. You can also meet current students and ask them about their personal experiences and what studying is like in Groningen.
2. Get to know the city
Attending Master's Day will give you an opportunity to experience Groningen first-hand. Take a stroll through the historical city centre and get a taste of local culture and the vibrant student life.
3. Make a choice
Once you've gathered all the information you need and explored the city, it's time to make a well-informed choice. Will your future start in Groningen?
If you can't make it
If you are not able to attend Master's Day, there are also plenty of other opportunities to get to know the University of Groningen better. You can, for instance, join one of our regular webinars to get all the information you need on the programme of your choice. If you are an international student planning to visit Groningen at a later date, you can also schedule a personal campus tour.
---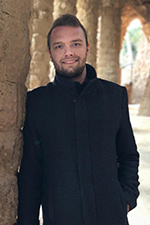 "After completing my Bachelor's degree in Groningen, I was interested in seeing what possibilities the university could offer me on a postgraduate level. While I was interested in several law programmes, I was quite unsure of which one to choose. Talking to professors and students about possible career opportunities and fields of research during the Master's Day really helped me make up my mind and find the right programme for me."
- Asmo Esser, 24, Master of European and Economic Law
---
Questions?
If you have any further questions or want more information regarding the Master's Day, feel free to send an email to the Communications Department via studiekiezers@rug.nl or call us at 003150-3639011.
| | |
| --- | --- |
| Last modified: | 09 January 2020 2.14 p.m. |