Studying in Leeuwarden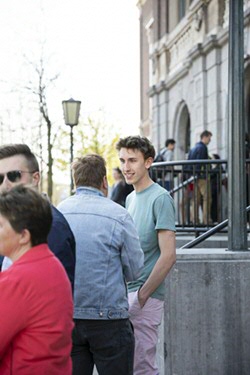 Leeuwarden is the main city and the economic and cultural centre of the greenest and cleanest province in the Netherlands: Friesland. Leeuwarden is becoming more and more popular as a student city, and with good reason. There is plenty to do in the historical city centre!
In warm weather, the terraces in the city centre are filled with customers. Here, you can enjoy the city's beautiful canals, on which you can also take a delightful boat ride. There are multiple venues where you can indulge in good films, music and musicals. Of course, there are also various student associations that you can join. The atmospheric bars and clubs complete Leeuwarden's status as a student city.
With 124,000 residents (including approximately 22,000 students), Leeuwarden is a relatively small city. This is ideal, as it means that no matter where in Leeuwarden you live, you will never be far from the city centre and everything is easily accessible!
Leeuwarden Student City
The Leeuwarden Student City foundation commits to making your student time as enjoyable and welcoming as possible. By collaborating with students and organizations, they can help you to find a room in Leeuwarden and keep fit for a small price, as well as organizing parties, events, workshops, sports tournaments and networking drinks. And don't forget: Leeuwarden Student City organizes the annual Leeuwarden Eerstejaars (first years) Introduction Period, LEIP! Intro. Stay up to date on all the events and information about student life in Leeuwarden and follow Leeuwarden Student City on YouTube, Facebook and Instagram!
Student associations
In Leeuwarden, you can find a large range of student associations. They are ideal to join if you would like to get to know more people, for instance, if you enjoy being sociable or if you want to build up a network. Some of the student associations in Leeuwarden have existed for decades, some have been recently formed and some are geared towards international students. Check out the Leeuwarden Student City website for a complete overview of the student associations (and degree programme-related study associations) in Leeuwarden. And don't forget to check out the Campus Fryslân study association Nobis Cura Futuri!
Sports facilities
There are plenty of possibilities to engage in sports in Leeuwarden, for example at the Bewegingscentrum Leeuwarden sports centre and the Basic-Fit and Fit For Free gyms. As well as sports centres and gyms, there are also many student sports associations that not only help you to stay fit but also to meet fellow students. As a student, you can do sport in Leeuwarden for a low price with the Student Sports Leeuwarden sport card: unlimited sport from just € 85 per year or € 50 euro per half a year!
Studium Generale Leeuwarden
Studium Generale organizes lectures, discussions, courses and performances in the areas of science, art and culture. Under the motto kennis verrijkt (enriched knowledge), Studium Generale Leeuwarden composes an interesting programme for a wide audience. The lectures are held interchangeably in Dutch and English. Visit the Studium Generale Leeuwarden website to see the full programme!
Leeuwarden: City of Literature
Where Leeuwarden was the 2018 European Capital of Culture, since 2020, it has held the title UNESCO City of Literature. Leeuwarden has therefore become part of a worldwide network of cities of literature. And that is good news because, as a consequence, even more is being invested in a professional literary environment and literature is being made as accessible as possible. Of course, there are also many literature-related events to attend!
Leeuwarden: city of events
Leeuwarden is known for being a city of events, and that reputation isn't based on nothing. Many festivals and national and international events take place in Leeuwarden each year. Mooileeuwarden.nl offers an overview of all of the events taking place.
Study spots
Although the Beurs faculty building offers excellent facilities for studying, there are also other nice spots in which to study around Leeuwarden. Good study spots include the Dbieb library and the Tresoar archives. Read the blog on top spots to study in Leeuwarden for an overview!
In short: you won't get bored easily in Leeuwarden! Want to know more about what Leeuwarden has to offer? Read all sorts of experiences, tips and stories about Leeuwarden on the Campus Fryslân blog!
Finding accommodation
After being admitted you have to find a place to live in Leeuwarden. A place you can call home. The good news is that you will find relatively easy a suiting accommodation in Leeuwarden. Students often rent a room in a shared house or an apartment with other students. Not your style? Then you might want to opt for a one-bedroom or studio apartment. Real estate agents or private landlords advertise their rooms on different platforms. Please note: for first-year GRL students, student housing is provided by UCF.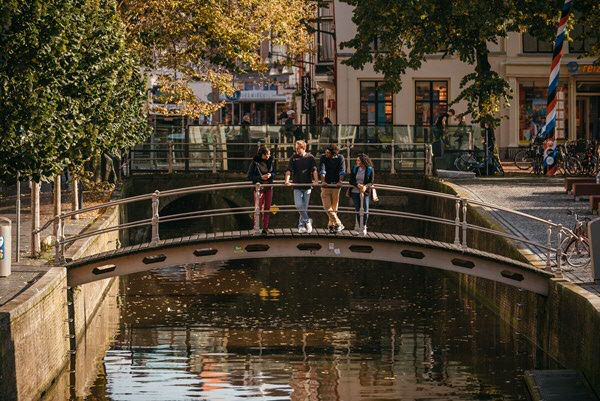 | | |
| --- | --- |
| Last modified: | 07 July 2022 4.37 p.m. |