Study costs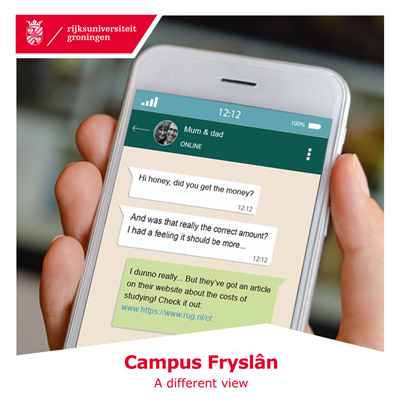 Tuition
or institutional fee
To study at a university in the Netherlands you have to pay the statutory tuition fee, that is if you meet the nationality requirements and you have not already obtained a degree at the same level.
Scholarships
At Campus Fryslân, we understand that studying at university can be a costly experience. Depending on your personal circumstances, there are several funding options available which may help finance your university career. Consult the following page for more information.
Study materials, books, excursions and other costs
It differs quite a bit for each programme but usually the tuition fees aren't the only costs you make. For many modules it is useful to purchase a computer, notebooks and a lot of pencils. Of course you will also need textbooks. The costs for all of this are different each year. You don't need a new computer every year but you do need new books.
Costs of living
Rent
Many students choose to live in a student house during their studies. This way you live closer to school, closer to your fellow students and often in the city where you're studying and enjoying the student life. The average rent in Leeuwarden is lower than the national average and certainly lower than in the so-called Randstad (a region near the big cities like Amsterdam, Rotterdam and The Hague). If you choose to join the Global Responsibility & Leadership programme, the first-year of residential housing is obliged.
Groceries
When you're living on your own you also have to do your own grocery shopping. Although the amount of money you spent on this can differ greatly from one person to another, Nibud has calculated that the average amount spend on groceries is €173 a month.
Transport (in addition to the public transport pass)
If you are eligible for student finance, you are also entitled to a student travel product. With this you can travel for free or with a 40% discount during the week or during the weekend. Because you have to choose between week or weekend and you can't limit your travels to just the free period you will have to pay a little bit for transport too.
Health insurance
From the age of 18 you are legally obliged to have health insurance. The cheapest insurances start from €97 per month, depending on how much excess you would have to pay and additional insurances you add. You can apply for health care allowance from the government to pay the insurance.
Recreation, clothing and phone
Because studying isn't just studying, you also have to take into account costs as a night out, going to the cinema, buying new clothes and your telephone bill. These costs can vary greatly from person to person because everyone has different requirements. Exact amounts are therefore very difficult to calculate for these items.
According to the Nibud Student Survey (2021), the following amounts are the average costs for a student per month.
Rent: 426 euros

Groceries: 173 euros

Study books and supplies: 49 euros

Transport (in addition to the public transport pass): 72 euros

Recreation, going out and sports: 124 euros

Clothing and shoes: 53 euros

Health insurance: 115 euros

Phone: 19 euros
| | |
| --- | --- |
| Last modified: | 04 February 2022 2.52 p.m. |