Why Leeuwarden?
Campus Fryslân is the eleventh Faculty of the University of Groningen, located in Leeuwarden (Friesland).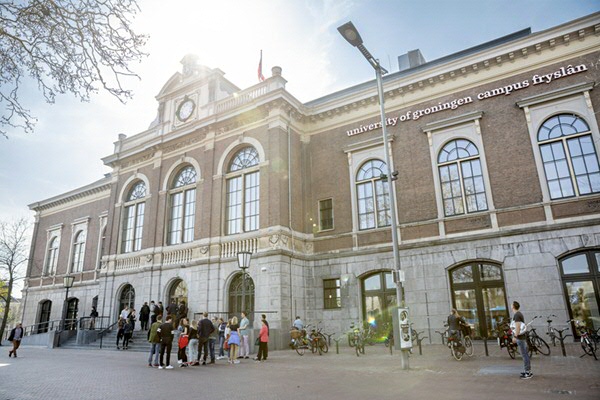 Global Challenges, Local Solutions
At Campus Fryslân, teaching and research are related to the Frisian knowledge agenda and tie in with the motto 'Global Challenges, Local Solutions'. The United Nations' sustainable development goals serve as a source of inspiration. Students are encouraged to tackle issues from a range of perspectives, as befits an interdisciplinary faculty.
Smaller student city
With 124,000 residents, Leeuwarden is a relatively small city. Which is ideal, because it means that no matter where in Leeuwarden you live, you will never be far from the city centre and everything is easily accessible!
Global community
Campus Fryslân is an international faculty with a global community. The campus may be small-scale, but between all students and staff many continents are covered. Campus Fryslân aims to be an inclusive and diverse community that is welcoming to people from every walk of life. One of the ways the faculty tries to achieve this goal is through their interdisciplinary programmes and having international members of the faculty council, student council and in the position of student assessor.
Leeuwarden, Friesland
Leeuwarden, the capital of Friesland, has a traditional historical centre with a broad spectrum of art, culture, and business networks. Leeuwarden and Friesland have a lot to offer to students in terms of sport (As a student, you can do sports in Leeuwarden for a low price with the Student Sports Leeuwarden sport card: unlimited sport from just € 70 per year!), music and culture. The Wadden Sea islands, the Frisian lakes and other areas of Frisian natural beauty are within easy reach. Anyone studying, working and living in Friesland has a unique opportunity to experience the north of the Netherlands, and contribute to innovative, applied projects as part of a growing, dynamic academic community.
Study spots
Although the Beurs faculty building offers excellent facilities for studying, there are also other nice spots in which to study in and around Leeuwarden. Good study spots include the Dbieb library and the Tresoar archives. Read the blog on top spots to study in Leeuwarden for an overview!
Studium Generale Leeuwarden
Studium Generale Leeuwarden organizes lectures, discussions, courses and performances in the areas of science, art and culture. The lectures are held interchangeably in Dutch and English. Visit the Studium Generale Leeuwarden website to see the full programme!
Leeuwarden Student City
The Leeuwarden Student City foundation commits to making your student time as enjoyable and welcoming as possible. By collaborating with students and organizations, they can help you to find a room in Leeuwarden and keep fit for a small price, as well as organizing parties, events, workshops, sports tournaments and networking drinks.
Leeuwarden: City of Literature
Where Leeuwarden was the 2018 European Capital of Culture, since 2020, it has held the title UNESCO City of Literature. Leeuwarden has therefore become part of a worldwide network of cities of literature. And that is good news because, as a consequence, even more is being invested in a professional literary environment and literature is being made as accessible as possible.
| | |
| --- | --- |
| Last modified: | 17 July 2023 10.44 a.m. |