Laat je creativiteit de vrije loop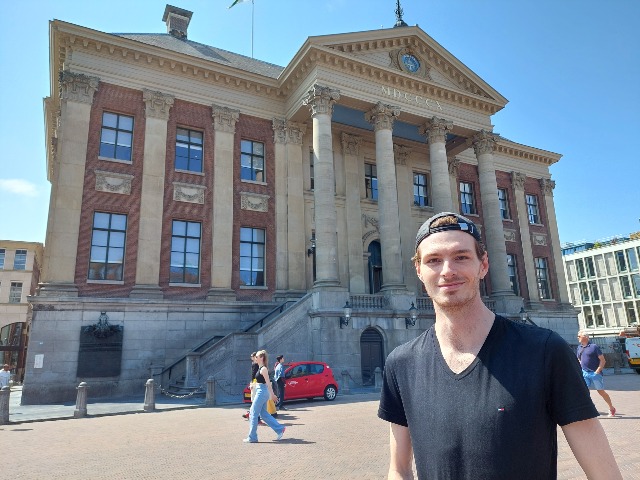 Van alle literaire prijzen die er zijn had ik het liefste de Tzumprijs voor de mooiste zin uit de literatuur willen winnen. Naast de eer kreeg je ook prijzengeld van één euro voor elk woord in je winnende zin. Het hoogste bedrag werd in 2012 uitgekeerd aan L.H. Wiener en was €98,- voor een zin van dan ook 98 woorden. Het lijkt me heerlijk om zo'n beloning te krijgen, niet eens om het geld maar om beloond te worden voor hoe vindingrijk je bent met taal.
'Creatief schrijven' als vak
Het vak 'Creatief schrijven' in het tweede blok van mijn eerste jaar was een droom. Schrijf een kort verhaal. Schrijf een kort verhaal dat goed genoeg is om minstens een 5,5 voor te krijgen. Alles daarboven is mooi meegenomen en een verdere blijk van je interne creatief genie. Gewoon kijken hoe ver je komt met je eigen creativiteit. Elk idee was goed en het kon niet gek genoeg. De groep eerstejaarsstudenten, iets meer dan twintig, was opgedeeld in kleinere groepjes van vier die elkaar wekelijks van feedback voorzagen van wat er die week bij was geschreven. Qua verhalen is er van alles voorbij gekomen: hardrockers die rellen veroorzaken, internationale drugshandels, het runnen van een escortbureau. Mijn medestudenten konden het zo gek niet verzinnen als onderwerp voor hun kort verhaal. Het begin is, zoals wel vaker, gewoon wat gedachtespinsels op papier zetten en later vormt er zich vanzelf wel een beter verhaal. Door het vak van zeven weken heen merk je wel dat je kleine beginseltje dat vooral op een mislukt hobbyprojectje leek echt een sterk kort verhaal wordt. Je genie moet blijken in 1200 woorden.
Het kort verhaal
1200 woorden is kort. Als je eenmaal op dreef bent, ben je er zo. Dat is juist waar het hem in zit, de lol van het schrijven. Het is een soort sport geworden. Dat is het spel, laat je creativiteit maar zien in deze vorm. Daarover kregen we dan de colleges. Alle technieken kwamen voorbij voor hoe men meesterwerken schrijft. Kleine analyses over de technieken van Tsjechov en Gogol, gebracht door Prof. dr. Mathijs Sanders, docent en tevens een gepassioneerd jurylid van meerdere literaire prijzen die straalt als hij over de verhalen wat mag vertellen. Iedereen die Nederlands studeert is wel een beetje een nerd voor boeken en iedereen wil dan ook zijn zinnen zo poëtisch mogelijk overbrengen. Tot je dan weer denkt aan de limiet van 1200 woorden. Schrijven blijkt toch echt schrappen.
Ook in mijn eigen verhaal moest ik flink schrappen. Ik hoopte dat het ooit zou uitgroeien tot een spionagethriller maar dat kon niet in deze opdracht. Ik moest het verhaal van zo'n 2000 woorden terugbrengen tot maximaal 1200 woorden. De techniek achter het schrappen is best simpel. Alles wat niet relevant is eruit vissen. Kleuren, details, beschrijvingen: alles wat het plot niet direct verder helpt gaat eruit.
De beoordeling
En dan, het moment van de waarheid, meerdere medestudenten hebben je verhaal al gecheckt en feedback gegeven op alle kladversies, meerdere docenten proberen je schrijven te sturen tijdens de colleges en beoordelen al de kladversies en toch is het dan nog spannend of je schrappen wat heeft opgeleverd. Of ook de docenten die het beoordelen je creatief genie bevestigen of dat ze je stijl onder de maat vinden. Hoe vindingrijk ben je eigenlijk? Kan je je verbeelding goed genoeg verwoorden? Heb je alleen het overbodige geschrapt? Eindresultaat: 7,8. Het was afzien, maar het werd wel beloond. En terugkijkend, mijn schrijfvaardigheid is merkbaar verbeterd en dat proces had ik voor geen goud willen missen.