About the Career Perspectives Series
Groningen Graduate Schools
Pursuing a PhD degree is a rewarding and exciting experience. You have the opportunity to study a specific research question in depth and become a leading expert in your field of research. But have you considered what you would like to do with your PhD degree?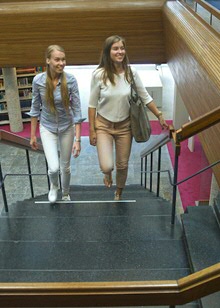 Would you like to stay in academia and become a professor or academic researcher? Or would you like to become an entrepreneur and start your own business? Do you prefer to work in government or industry, or in higher education teaching, or one of the many other employment possibilities that value the talents and skills of PhD graduates?
Leaving your career choices too late could lead to difficulties in finding employment after your PhD, while the pressures of academic research can make it challenging for you as a PhD student to consider your career options until after you graduate.
The Career Perspectives Series
The Career Perspectives Series (CPS) was developed by the Groningen Graduate Schools to help PhD students consider their future career goals. By following the Career Perspectives Series, PhD candidates can develop their talents and skills beyond research and discover the various career possibilities awaiting them after their PhD. Questions the CPS programme helps to answer are:
What job opportunities are possible for PhD graduates?
What transferrable skills can I develop now for a future career inside or outside academia?
How can I apply these skills in my professional career?
The CPS Programme covers three main areas:
Information and awareness,
Inside academia perspectives, and
Outside academia perspectives.
"You cannot climb the career ladder with your hands in your pockets." (Dutch Coaching Calendar)
Employers from all sectors value the talents and skills that PhD graduates have to offer. During your PhD studies here in Groningen, we hope that you will take the opportunity to follow the Career Perspectives Series and discover what it is that makes you passionate about research, and ultimately, how you can develop your talents and skills as a researcher towards a successful and fulfilling career after your PhD!
For any questions or suggestions about the CPS Programme, please feel free to contact us at the Graduate Schools or send an email to phd-cps@rug.nl
| | |
| --- | --- |
| Last modified: | 31 October 2018 10.13 a.m. |