Master research project - Curaçao
| | |
| --- | --- |
| Datum: | 09 september 2022 |
| Auteur: | Annabel Smith-Moorhouse |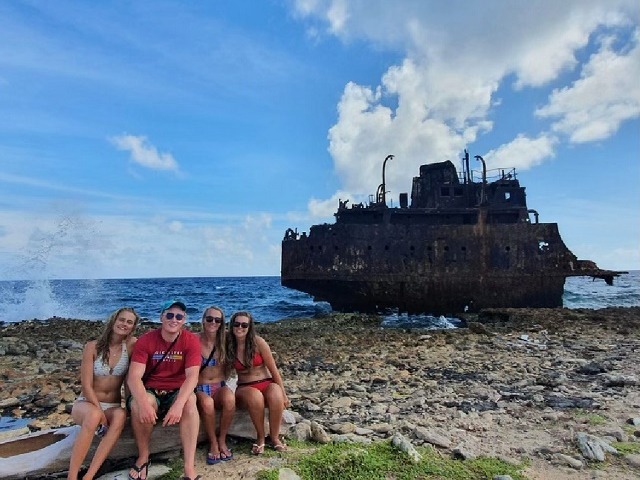 For my second masters research project I assessed the distribution of coral-associated fauna across the leeuward coast of Curaçao. With the help of the Groningen University Fund (GUF), Naturalis and the Caribbean Research and Management of Biodiversity (CARMABI) I was able to perform dive transects across Curaçao. I was part of a team of five other Master's students and we conducted dives across 17 sites in Curaçao. Diving has been a passion of mine ever since I started my undergraduate degree. All my previous diving experience has been very spread out and not for a long period of time. This project gave me the opportunity to fully practice my diving over a long period of time and develop scientific diving skills. I now have 71 logged dives!
Curaçao was a great island, extremely lively and very beautiful. I loved spending my weekends on the remote beaches watching the crystal blue waters. A fond memory for me would be visiting Klein Curaçao. This inhabited island was beautifully preserved with a vast expanse of golden beach and an old lighthouse that you can climb. Additionally, due to the strong currents and winds, there are a huge amount of interesting shipwrecks that you can walk among, I would definitely recommend it!
It was not only the diving itself that was a highlight of this trip, it was the huge underwater biodiversity. I saw turtles, eagle rays and lots of eels, which are actually quite scary! However, laying the belt transect over the corals in such close proximity really allowed me to appreciate the smaller and equally beautiful marine organisms of the Caribbean. We actually ended up finding a wormsnail and feather duster worm that have not previously been seen in this part of the Caribbean. These species aren't new, my supervisor (Bert Hoeksema) checked over his photos in recent years in Curaçao and found them from pre-existing surveys, it just seems that they have been overlooked. Therefore, myself, Bert and the team have published two scientific papers on these findings in which I am co-author. Being involved in the review process for admitting a scientific paper was also a new experience for me that really benefitted my academic career.
Overall, I would just like to extend my gratitude for the opportunity to go to Curaçao and be involved in this research. When I started this masters back in COVID-19, I never thought an opportunity like this would be open to me so I treasure it even more.