Faculty of Science and Engineering - Spain, Barcelona
| | |
| --- | --- |
| Datum: | 12 maart 2020 |
| Auteur: | Bart Brouwer |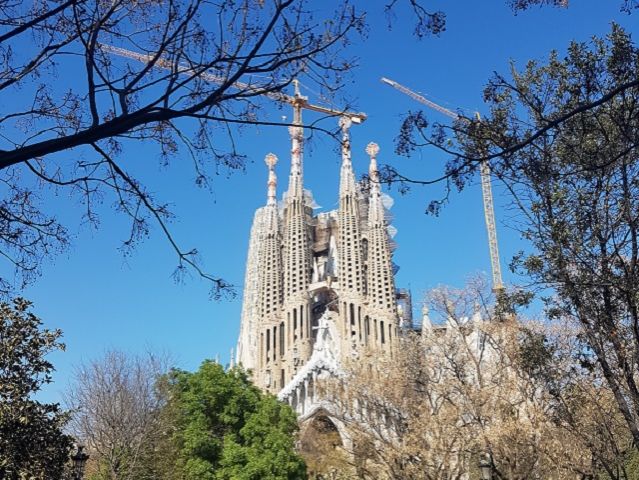 Research project at the autonomous university of Barcelona (UAB)
As part of my MSc degree in Chemistry I've done a 4-month research project in the InsiliChem group at the UAB. In a previous research project within the Roelfes group at the RuG, I had been mainly working on experimental biochemistry. However, the computational side of biochemistry had always interested me. The InsiliChem group focusses on the molecular modeling for the study and design of chemobiotechnological systems and has collaborated with the Roelfes group on several projects. This opened up a chance for me to pursue my interests and to expand my knowledge of the field, and therefore, I decided to do this project in the InsiliChem group.
The project was focused on using computational tools for the design of novel artificial metalloenzymes. Incorporation of unnatural chemical functions such as transition metal catalysts into biomolecules to create novel artificial metalloenzymes has emerged as a promising means to expand the reach of biocatalysis. In this project, protein-ligand docking and molecular dynamics techniques were applied to study an artificial metalloenzyme relevant to the Roelfes group and to computationally design and characterize new variants that could be tested experimentally in the future. As I had no experience with any molecular modeling, I had to start from the beginning. The members of the InsiliChem team helped me to learn the basics of Linux and how to use different programs (some of which were produced by the InsiliChem team itself) with regard to the molecular modeling. They told me I was a fast learner and eventually I was able to independently use these computational tools with respect to the molecular modeling of a complex artificial metalloenzyme. At the end of the project, valuable insights were obtained regarding the design of this artificial metalloenzyme and several new variants were designed and proposed for experimental testing in the future. It was therefore a successful project in which I learned a lot of new things in a short time and was able to apply this new knowledge for the design of new variants of the studied artificial metalloenzyme.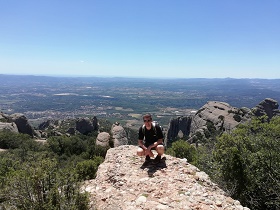 Next to the fact that the project was a success, I have also obtained a lot of different experiences. The InsiliChem group gave me a warm welcome and provided a good working atmosphere. They showed me a completely different side of chemistry and I obtained professional contacts that may prove to be valuable in the future. Moreover, I also came in contact with other research groups at the UAB and had a look into what kind of research they do. Of course, moving to and living in Barcelona was also valuable itself as I could experience a new culture and develop myself. The Spanish and Catalan cultures are of course a bit different than what we're used to in the Netherlands. They are a bit more flexible in their timing and are not as direct as we are. It took some getting used to, but eventually I got in a similar flow and could even appreciate it. And although I did not come to Barcelona to learn a new language, just by talking with my colleagues and simply living in Barcelona I managed to learn some very basic Spanish and Catalan.
Finding accommodation in Barcelona proved to be quite hard for me as I had no time to come to Barcelona before starting the research and thus could not plan room visits. Eventually I found a room via a mediating website that shows the rooms online and tries to prevent scamming, and it turned out to be a nice room. The rent in Barcelona is quite a bit higher than in Groningen, and so the GUF scholarship was much appreciated. Although It took a 40 min train ride to the UAB, living in Barcelona itself instead of closer to the campus proved to be a good choice. There was a lot to do and see in Barcelona and living there made it possible to easily visit all the nice places in my free time. Next to that, I've made several daytrips to some very beautiful places around Barcelona. All in all, I am very grateful for my time in Barcelona, both the research project and the experience of living abroad itself.