Coschap Master Geneeskunde - Malawi, Mulanje
| | |
| --- | --- |
| Datum: | 09 september 2022 |
| Auteur: | Tamara Borger |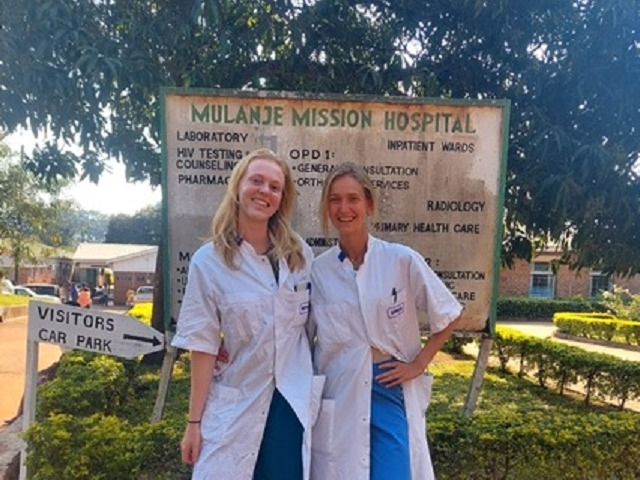 Voor een extra coschap in de master geneeskunde ben ik samen met een medestudent afgereisd naar Malawi. Hier hebben we 8 weken stage gelopen in het Mulanje Mission Hospital.
Dit is een ziekenhuis in het zuiden van Malawi. Het is ruraal gebied, en mensen hebben hier weinig om mee en van te leven.
In onze stage wisselden we door in het ziekenhuis om zo alle kanten van de zorg die ze bieden te zien. De afdelingen bestaan uit de kinderafdeling, de vrouwen afdeling, de mannenafdeling en de verloskunde. Ook gingen we een week mee met het public Health programma. Hierbij worden kleine klinieken bezocht in dorpjes die ver van het ziekenhuis liggen. Zo kan er laagdrempelig zorg verleent worden aan mensen die zelf niet snel bij het ziekenhuis komen, bijvoorbeeld voor het vaccineren van kinderen onder de 5 jaar, de screening voor baarmoederhalskanker of het behandelen van hypertensie.
Het verlenen van zorg in de tropen in heel anders dan een coschap in een Nederlands ziekenhuis. De ziektebeelden die in Malawi het vaakst op de afdeling lagen zijn vaak ziekten die je in een Nederlands coschap nooit tegen zal komen. De afdelingen lagen vaak vol met Malaria of Tuberculose, al dan niet in combinatie met HIV. Best een uitdaging, dus zaten we regelmatig weer te studeren op deze ziektebeelden.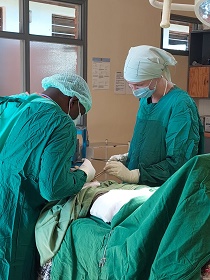 Een andere uitdaging in een tropisch ziekenhuis is de diagnostiek, of nou ja, het gebrek daaraan. Zo zijn er maar een paar bloedtesten beschikbaar en is er qua beeldvorming alleen maar een röntgen apparaat. Het komt regelmatig voor dat de apparatuur niet werkt en testen dan dagenlang niet aan te vragen zijn. Een groot verschil met Nederland, waar je bij aankomst op de SEH bijna standaard een bloedbeeld krijgt en ook laagdrempelig door een scan gehaald kan worden. Daardoor is het enorm belangrijk om uitgebreid lichamelijk onderzoek te doen en vaar je veel meer op deze bevindingen dan we thuis gewend zijn.
Het was een enorm leuk en leerzaam avontuur. Leren over andere ziektebeelden, pragmatische behandelplannen opstellen, leren over een andere cultuur en hoe je kan communiceren als je niet dezelfde taal spreek. Door deze stage heb ik mijn klinische blik kunnen trainen, en klinisch redeneren met voor mijn onbekende ziekten geoefend. Ook praktische skills, zoals assisteren op OK, het afnemen van een liquorpuntie en het zetten van infusen zijn dingen die we hebben geleerd of geoefend in deze tijd.
Daarnaast hebben we in de weekenden ook een deel van het land kunnen ontdekken, met prachtige natuur en enorm vriendelijke mensen. Ik zou dan ook iedereen een tropencoschap aanraden.