Studeren op Aruba: Van 'nooit buiten Europa' naar 'drie landen buiten Europa' in een half jaar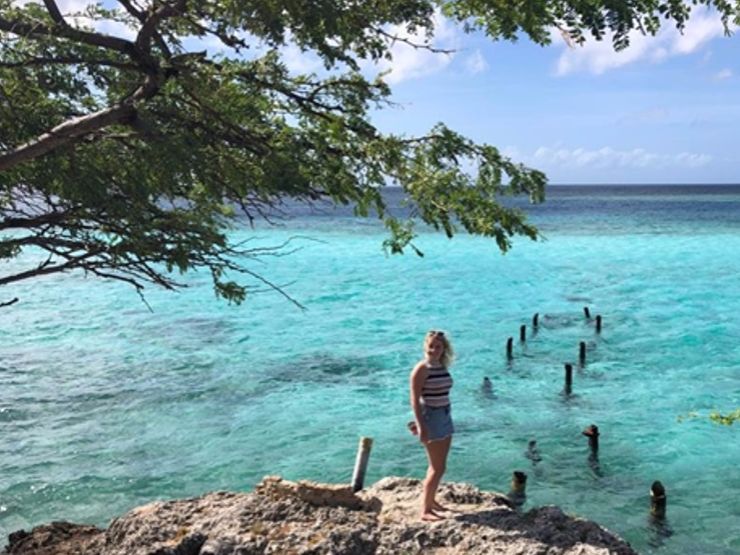 English text below

Jarenlang heb ik geroepen dat ik nooit naar het buitenland zou gaan voor een stage of voor mijn studie. Bewust had ik gekozen voor een Nederlandse opleiding, namelijk de bacheloropleiding Rechtsgeleerdheid. Toch begon ik me in het laatste jaar van mijn bachelor af te vragen wat ik hierna wilde doen. Meteen een master? Nee, ik wilde niet al na een jaar klaar zijn. Misschien twee masters, een jaar vol stages of toch een tussenjaar om een grote reis te maken? Via vriendinnen kwam ik toch op het idee om te kijken naar een studie in het buitenland, "maar niet te lang" dacht ik bij mezelf.
Eenmaal bij de voorlichtingsavond hoorde ik over alle mogelijkheden waar de reis naartoe kon gaan, dit kon voor een half jaar, perfect voor mij! Toen ik mij eenmaal bedacht had om te gaan, wilde ik ook zover mogelijk, maar nog wel ergens waar ik mij verstaanbaar kon maken. Uiteindelijk werd de keuze Aruba: lekker weer, ver weg, maar toch met de Nederlandse taal om mij nog een beetje thuis te voelen. Toch bleef het spannend.
Naar Aruba
Na de sollicitatieprocedure kreeg ik tot mijn grote blijdschap het bericht dat ik samen met een ander meisje was aangenomen om naar Aruba te gaan, hoe gaaf! Na een half jaar voorbereiden en niet weten wat er komen ging, was het dan zover: wij stonden op Schiphol. Eenmaal aangekomen op Aruba konden we ons plekje meteen vinden. Met een halve jetlag hebben wij ons de eerste dagen weten te ontspannen en aan te passen aan het klimaat, de leefomgeving en de "way of life".
We begonnen na een weekje met een introductieweek met alle exchange-studenten, super leuk om zo alle andere mensen te leren kennen die hier ook voor een half jaar kwamen studeren. Dit waren studenten van alle faculteiten en de eerste vrienden waren zo gemaakt. Ook later, toen de studie begon hebben wij veel mensen leren kennen.
De mensen op Aruba zijn erg sociaal, iedereen staat open voor een praatje en iedereen wil je graag helpen. Uiteindelijk hebben we een half jaar super genoten, zelf had ik niet verwacht dat het zo'n waardevolle ervaring zou worden. Ik heb veel geleerd op Aruba, over mezelf en over de cultuur daar. Het was even wennen aan het "tranquillo tempo", maar uiteindelijk word je er zelf ook een stuk rustiger van. De studie is gericht op Nederlands recht, maar dan een tikkeltje anders. Studeren met een klas van zes personen is toch wel even anders dan studeren met een groep van zeshonderd personen. Je leert anders kijken naar je studie, erg interessant om te zien hoe het ook anders kan. Naast studeren is het natuurlijk ook leuk om andere dingen te doen. De cultuur daar leren kennen, de verschillende soorten landschappen die Aruba kent ontdekken en zelf hebben wij een paar reisjes gemaakt. Zo zijn we naar Miami en naar Colombia geweest, lekker dichtbij vanaf Aruba! Van "nooit buiten Europa geweest", naar drie verschillende (buiten Europa liggende) landen in een half jaar tijd.
Een exchange naar het buitenland is niet alleen leuk voor je CV, het is ook leuk voor jezelf, om jezelf beter te leren kennen en ook je kring van bekenden uit te breiden. Leer mensen kennen en ga leuke dingen ondernemen, het is belangrijk om ook dingen naast je studie te doen. Natuurlijk is het spannend, je kent de mensen niet, je kent het land niet en je weet niet wat je gaat meemaken. Maar dat maakt het juist ook leuk! Voor mij was het een super mooie ervaring. Ondanks dat ik het niet had verwacht, had ik het zeker niet willen missen.
Door: Elien Tuinte
Wil je meer weten over de mogelijkheid om in het buitenland te studeren? Op onze website vind je meer informatie.
Study period on Aruba: From never having left Europe to visiting three different countries (outside of Europe) in just half a year.
For years, I said that I would never go abroad for a placement or for my degree programme. I had deliberately chosen a Dutch taught degree programme in Law. But then, during the last year of my Bachelor's programme, I began to ask myself what I would do next. Start a Master's programme immediately? No, I did not want to already have finished studying after only a year. Perhaps two Master's programmes, a year's worth of placements or even a gap-year filled with travelling? Through friends, I came around to the idea of looking at degree programmes abroad. 'But not for too long', I thought to myself. At an information event, I heard about all of the possible destinations that I could go to, even just for half a year – perfect for me! Once I decided to go, I wanted to go as far as possible, but still to a place where people would be able to understand me. Finally, I chose Aruba. Beautiful weather, far away, but still Dutch-speaking, so that I would feel a little bit at home. It was exciting!
Aruba
After the application procedure, and to my great delight, I received a message saying that a fellow student and I had been accepted to go to Aruba – how cool! After half a year of preparation and uncertainty about what was going to happen, the time finally came: we stood at Schiphol airport. Once we arrived in Aruba, we immediately felt at home. Jet-lagged, we spent our first days relaxing and adjusting to the climate, the environment and the way of life.
After a week, we began our introduction week together with all the other exchange students, and it was great to get to know all of the people who would be studying here with us for half a year. There were students from all sorts of faculties, and we soon made our first friends. Later, when the programme began, we got to know a lot more people.
The people in Aruba are very social: everyone is open to have a conversation, and everybody is willing to help you. Ultimately, we really enjoyed our six months there – I hadn't expected that it would be such a valuable experience. I learned a lot in Aruba, both about myself and about the culture there. The "tranquil tempo" took some getting used to, but eventually it also made us somewhat calmer. The degree programme was also focused on Dutch law, but was still a little bit different. Learning in a class of six people is very different from learning in a class of 600. You learn to look at your degree programme differently, and it is very interesting to see it from another angle. Aside from studying, it's also fun to do other things, of course. We got to know the culture, we discovered the varied Aruba landscape and we even went travelling a few times to Miami and Colombia, which aren't too far from Aruba. I went from never having left Europe to visiting three different countries (outside of Europe) in just half a year!
A study abroad period is not only good for your CV, but also for yourself, to get to know yourself better and expand your horizons. From getting to know people to doing interesting activities, it's also important to do things other than studying. Of course, it's nerve-wracking – you don't know the people, the country and what you're going to do. But that also makes it fun! For me, it was a very good experience and even though it was unexpected, I wouldn't have wanted to miss it.
By: Elien Tuinte