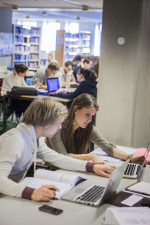 The Bachelor thesis is the culminating research essay in the American Studies BA degree program and forms a capstone experience for undergraduate students tp demonstrate their capacity for (semi-)independent research, thought, judgment and writing. It is an opportunity for students to put what they have learned (knowledge, understanding and skills in American Studies) into practice by setting up and carrying out an academically sound research project within clearly delimited boundaries. The BA thesis in American Studies is an extended, scholarly essay, which is supervised by a designated member of the academic staff. The production of the thesis encourages independence of thought and requires students to acquire, process, and present complex material in a systematic fashion. It develops skills appropriate to upper BA level and provides the foundational skills for an MA degree.
Aims
To build upon and develop in-depth understanding and knowledge of the Americas, past and present, acquired during BA seminars.
To explore a specific topic within American Studies in relation to its cultural, sociological, historical, political, legal, and literary contexts, as appropriate.
To foster the scholarly skills (selection, processing, and evaluation of information) and academic knowledge necessary for semi-independent research.
To explore and apply current cultural/political/media and other theories as relevant to American Studies.
To develop advanced-level insights into interdisciplinary perspectives on the production of knowledge.
To equip the student with relevant transferable communication and writing skills, including the use of electronic technologies.
Learning Outcomes
At the end of this unit, students will be able to:
Demonstrate the ability to undertake largely independent research projects at BA level, and produce an extended essay of an appropriate standard, and thus the capacity to undertake an MA program.
Show familiarity with appropriate scholarly conventions and standards.
Evaluate critically and show a sophisticated understanding of current theoretical paradigms relevant to the field of American Studies.
Demonstrate the ability to design, synthesize and conduct research based on current methodologies.
Demonstrate a thorough and detailed understanding of the complexities inherent in a specific aspect (or specific aspects) of American culture in its (their) respective historical, socio-political, or other relevant context(s).
Engage in cross-disciplinary research, as relevant to their chosen topic.
Demonstrate effective communication and writing skills, and the ability to use appropriate electronic technologies.
| | |
| --- | --- |
| Last modified: | 25 July 2018 3.54 p.m. |