Chair's Welcome
Welcome to European Languages and Cultures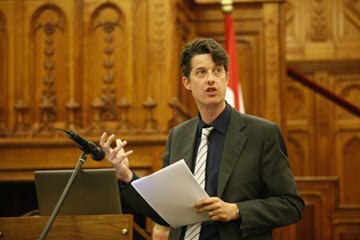 Welcome to the Department of European Languages and Cultures at the University of Groningen! We are a truly unique interdisciplinary Department and learning community, engaging with multiple dimensions of the study of Europe—from European languages, cultures, literatures, and linguistics to politics and society.
In our programmes, we are committed to providing a curriculum that allows students to deepen their understanding of languages, cultures and societies in Europe by means of both in-depth disciplinary and interdisciplinary training. In our BA programme, students can choose between English and Dutch tracks as the main language of instruction; select one of three profiles on which they particularly focus their study (languages and cultures; literatures and cultures; politics and society) while familiarising with all three; and choose between high levels of proficiency in at least one foreign language: English, French, German, Italian, Russian, Spanish and Swedish.
The opportunities are endless—but all graduates acquire advanced (inter)disciplinary skills to cope with complex European societies and cultural traditions in an increasingly globalised world. Our alumni find paths to a variety of international careers in research, public administration, education, journalism, politics, international organisations or international business.
Our departmental community of students and professors from across Europe and the world provides a distinct international learning experience. Integral to one of the most prestigious universities in Europe, the ELC Department offers an ideal environment to study European languages, cultures, literatures and politics within and beyond the EU. We strongly believe that outstanding scholarship and outstanding teaching complement and mutually reinforce each other. Renowned in their area of expertise, our faculty members hold doctorates and degrees from leading universities and programmes in the Netherlands, Europe, and the globe, bringing both cutting edge research and innovative teaching on all things European to the classroom. The Department also hosts a large variety of events, from invited talks by famous scholars and professionals to international conferences and field trips.
Emerging as a major hub of scholarly work and teaching, the Department of ELC is becoming one of the most distinguished departments among its peers in Europe.
We look forward to seeing you here!
prof. dr. Lars Rensmann
Prof. dr. Rensmann joined the University of Passau in April 2022.
Address
Oude Kijk in 't Jatstraat 26
9712 EK Groningen
P.O. Box 716
9700 AS Groningen
tel.+31 (0)50 363 5850
fax.+31 (0)50 363 5821
email seccet@rug.nl
| | |
| --- | --- |
| Last modified: | 14 September 2022 10.24 a.m. |