Opening Academic Year
| | |
| --- | --- |
| When: | Th 03-09-2020 |
| Where: | de Grote of Jacobijnerkerk, Bredeplaats 4, 8911 EP, Leeuwarden |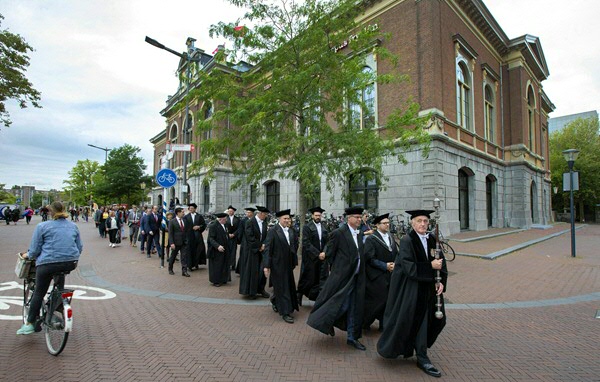 We would like to invite you to the opening of the Academic Year 2020-2021 on Thursday 3 September 2020. A special year for us, since the first cohort of UCF students will graduate!
Given the restrictions regarding the coronavirus, we will have less capacity this year for people to join the event in de Grote Kerk. If the event is fully booked, we invite you to join the livestream in de Beurs.
Programme
After a word of welcome by Prof. Andrej Zwitter, Dean of Campus Fryslân, we will give the floor to prof. Caspar van den Berg, who will give this year's Gemma Frisius lecture. As of this year, we will also give the floor to our student assessor, the chairwoman of the Faculty Council and to 'Teacher of the Year'.
2.45 p.m.:
Welcome with coffee and tea in de Grote of Jacobijnerkerk (Bredeplaats 4, 8911 JP, Leeuwarden
3 – 3.20 p.m.:
Academic procession (due to Covid-19, this year only professors will walk from de Beurs to de Grote of Jacobijnerkerk.)
3.20 p.m.:
Welcome and introduction by Prof. Andrej Zwitter
- Hannah Huber, Student assessor
- Lecture by prof. Caspar van den Berg, professor in Global and Local Governance
- Musical intermezzo by UCF student Aidan Antoni
- Amaranta Luna Arteaga MA, Chairwoman Faculty Council
- Dr. Berfu Ünal, Teacher of the year
4.30 – 5.30 p.m.:
Toast and drinks