Study a Master's programme at Campus Fryslân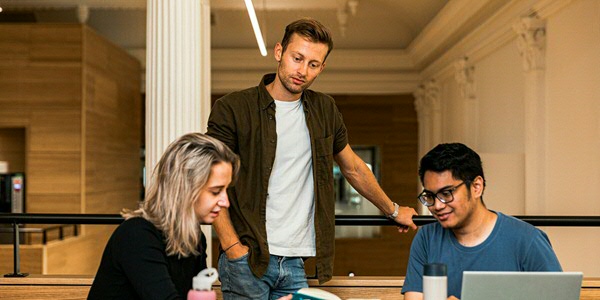 Discover small-scale education at our interdisciplinary faculty Campus Fryslân!
The Master's programmes
Are you looking for a unique master's programme in which you experience personalized education? And do you want to study in an international, interdisciplinary environment with students and teachers from all over the world? Look no further, because Campus Fryslân has several of these kind of programmes to offer. From Climate Adaptation Governance and Tourism Geography and Planning to Sustainable Entrepreneurship and Voice Technology!
Voice Technology
Join the forefront of technological innovation! MSc Voice Technology is one-of-its-kind. No other Master's programme in continental Europe is dedicated exclusively to Voice Technology. No matter if your Bachelor's degree is in linguistics, computer science, engineering, digital humanities, or something else altogether, if you are interested in voice technology and aren't afraid of exploring new terrain, then this is the programme for you.
Sustainable Entrepreneurship
Ever considered a career in sustainability and management? Are you interested in circular business models, developing new perspectives and learning from real entrepreneurs? And do you want to develop your leadership and management skills and academic knowledge about sustainability? Then this Master's programme is the right programme for you! It will teach you everything you need to know about MSc Sustainable Entrepeneurship.
Cultural Geography
Cultural Geography studies the mutual shaping of human societies and our natural surroundings into cultural landscapes. Within this programme, you can follow a track on sustainable tourism, or specialize in the governance of climate adaptation. Either way leads to a Master of Science degree!
Other Master's programmes
Is the above not exactly what you are looking for? Check out our Master's page, because there's more! What about Multilingualism or Governance and Law in Digital Society?
Campus Fryslân in a nutshell
Studying at University of Groningen/Campus Fryslȃn means studying at an international, interdisciplinary faculty at a top 100 University. Teaching and research are related to real-world challenges and tie in with the motto "Global challenges, local solutions". The United Nations' sustainable development goals serve as a source of inspiration. You will be encouraged to tackle issues from a range of perspectives and the multidisciplinary approach will enrich your knowledge and skills. This approach is reflected in our teaching and research activities. Here, the knowledge and skills that we have acquired over the years are routinely challenged with research questions from everyday practice with the aim of having a positive societal impact.
Meet us online
Want to learn more about a specific programme, Campus Fryslân and/or student life in Leeuwarden? Join one of the Master's events, like the online Master's Week in March! Meet us online and ask all the questions you have to students and staff.
Useful Information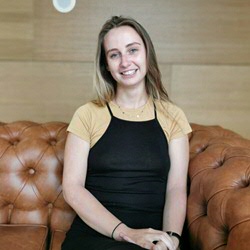 Student testimonial
"One of the main things I like about the Sustainable Entrepreneurship master's programme is that it shows you the depth and breadth that there is to both sustainability and entrepreneurship. I have learned and refined many important skills; the main one being learning how to critically think. We are taught to think outside the box and to look at things from a different perspective, taking even the unintended consequences of our sustainable actions into account. Just because things are done in a certain way, doesn't necessarily mean it's the best way to do things." - Sinead Walsh
Questions?
Would you like to know more about the degree programmes or Campus Fryslân? Or do you have questions about studying in Leeuwarden or about how application and selection procedures works? If so, contact us by email at cf-masters rug.nl. We are more than happy to help you!
| | |
| --- | --- |
| Last modified: | 29 October 2021 3.45 p.m. |