Quick guide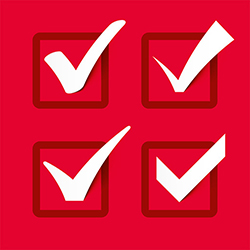 Inviting, clear and open – The University of Groningen (UG) wants to use its house style to reinforce its image as an open academic community. This can be done by creating designs (or by having someone else do so) that have an inviting, open and clear feel. Designs that feature a lot of text and numerous baroque-style design elements would not be in keeping with this.
Academic and trustworthy – All UG communications must have an academic and trustworthy appearance, without losing sight of the target group. Additional guidelines for creating texts or presentations can be found in the 'Tone of voice guidelines'.
International – The UG attaches great importance to the international character of its teaching and research. Bear this in mind when using images, text and language.
Red and other colours – One of the UG's recognizable hallmarks is the colour red. For that reason, red must feature prominently whenever the house style is used. Other colours can be added.
House style fonts – Several house style fonts are available. Arial is very well suited to the creation of fresh and open designs, with an important role for typography. Only use italics in complex texts, involving many different types and levels of text. Do not use them on covers, posters or in other high-profile settings.
The logo and placement of the logo – A brand's recognizability starts with a name. So, always use the full logo (crest, slash and the text 'university of groningen'). Do not use the crest as a separate element. If required, a second or third branding element can be added. Using a fixed position for the logo also contributes to the recognizability of our brand. Place the UG's logo either in the top left-hand corner or bottom right-hand corner, and be sure to allow it plenty of space.
Visual material and video - Images in communications and video clips underscore the UG as an open academic community.
Social media use - The UG and its faculties are active on a range of social media platforms where we publish content for various audiences. We want the UG to be recognizable at all times by maintaining a consistent look and feel. In order to achieve this , we have compiled a set of social media guidelines you must follow when managing a UG-related social media account.
Profiling - There is scope for profiling within the UG house-style, but sub-logos must not be used for this purpose. Sub-logos are not permitted. Need some more tips? We would be happy to help you refine your ideas! Contact us via huisstijl@rug.nl.
| | |
| --- | --- |
| Last modified: | 27 September 2023 09.17 a.m. |