Colours
Communications featuring the colours red and white invoke a clear, fresh and recognizable feel. For certain purposes, an extra colour can both look good and be functional. In the interests of ensuring that the University of Groningen (UG) remains recognizable, the use of an additional colour has been made subject to certain conditions. Jump to conditions for use of colours
Primary palette
The primary palette consists of red, black and white. In 2019, cyan was moved to the secondary palette.
Secondary palette
In 2019, the secondary palette was updated. It now consists of:
purple
green – offers additional options to highlight the UG's sustainable efforts
pink
aqua
cyan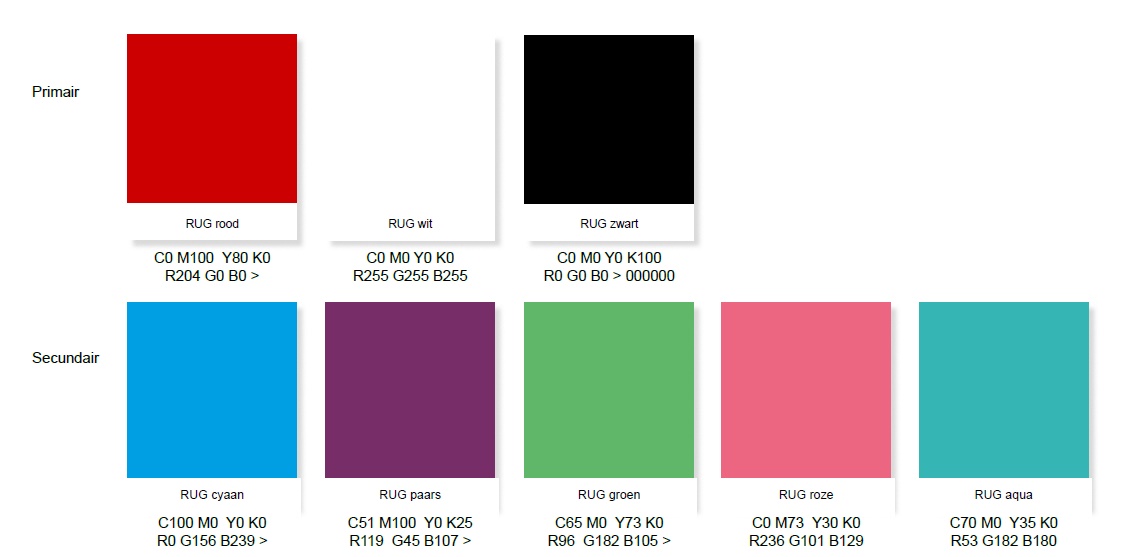 Standard rule
In addition to the primary palette, one colour from the secondary palette can be used, provided that there is a white bar with a red logo at the top or bottom of the page (see example). This white bar must contain no other text or image. The other option is to extend the white bar and place the name of the organizational unit in question within it. See both examples below.
In both cases, the colour red must feature in the design below the white bar.


Exceptions
The standard rule does not apply to the website.
The secondary palette can be used for the inside of magazines, animations, infographics and other layered communications after consultation with the house style team/Communication Office (huisstijl@rug.nl).
| | |
| --- | --- |
| Last modified: | 24 August 2021 11.18 a.m. |