PWS op school: adviespakket voor docenten
Ken je dat? Je wil het profielwerkstuk op school gaan opstarten, en je wil de leerlingen graag zo goed mogelijk helpen. Maar eigenlijk weet je niet goed waar je moet beginnen. Of je doet al jaren hetzelfde voor het pws, maar zou het graag eens anders zien en er eens met iemand over willen praten. De Rijksuniversiteit Groningen biedt ondersteuning voor pws-coördinatoren en docenten op het gebied van onderzoeksvaardigheden en uitwisseling van kennis en ervaring. Boek eens een gratis adviesgesprek met een steunpuntcoördinator! Praktische informatie...
Wat gaan we doen?
in dit gesprek verkennen we hoe we jou kunnen ondersteunen bij het pws-traject op school. We beantwoorden prangende vragen, behandelen valkuilen, gaan dieper in op veelgestelde pws-vragen van leerlingen en helpen je met handvatten om een goed pws-traject op te zetten. Daarnaast is er de mogelijkheid om:
onze studenten op school uit te nodigen voor een brainstormsessie met de leerlingen, eventueel aangevuld met een 'meet & greet' met handige tips van onze studenten voor de leerlingen.
het lespakket Profielwerkstuk: klaar voor de start?! te gebruiken in de klas (we kunnen je hierin ondersteunen)
profielwerkstuk-workshops te boeken in de klas (alleen in Groningen, Friesland of Drenthe).
Het belangrijkste is dat we luisteren en vanuit onze expertise advies kunnen geven of mee kunnen sparren. Daarom hebben we geen vastomlijnd programma.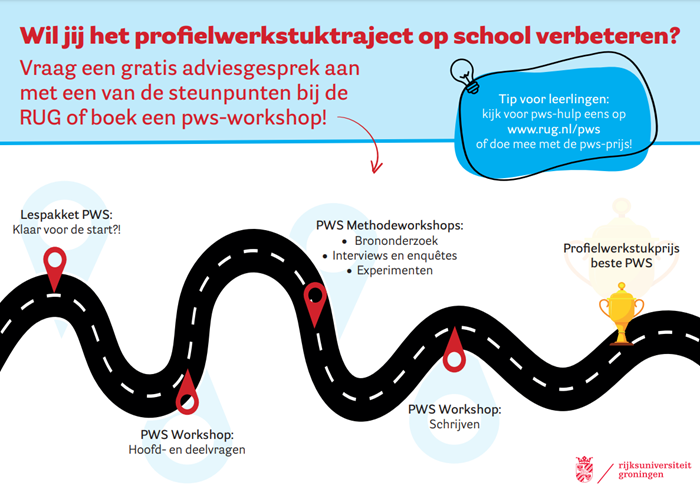 Wie zijn wij?
Wij zijn Vincent Hazelhoff, Niels Alberts en Karen de Bot. Als Steunpuntcoördinatoren hebben wij jarenlange ervaring met profielwerkstukken. We helpen leerlingen met hun vragen, organiseren activiteiten over onderzoeksvaardigheden in het VO, reiken jaarlijks de profielwerkstukprijs uit en zitten regelmatig met docenten om de tafel om te horen wat zij graag anders willen zien of juist heel leuk en goed vinden aan het profielwerkstuk.
Praktische informatie
Wat? Een (online) adviesgesprek over het PWS op school, eventueel uit te breiden met brainstormsessies voor de leerlingen, het pws-lespakket en wetenschapsdates
Met wie? Vincent Hazelhoff (coördinator Alfasteunpunt), Niels Alberts (coördinator Bètasteunpunt) of Karen de Bot (coördinator Gammasteunpunt)
Wanneer? In overleg
Wat kost het? Er zijn geen kosten verbonden aan dit pakket. Als je echter een workshop op school boekt, vragen we je om de reiskosten van onze studenten te vergoeden.
Vragen? Mail naar Karen de Bot,

scholierenacademie rug.nl
| | |
| --- | --- |
| Laatst gewijzigd: | 14 november 2023 11:48 |