Hand in hand in the Metaverse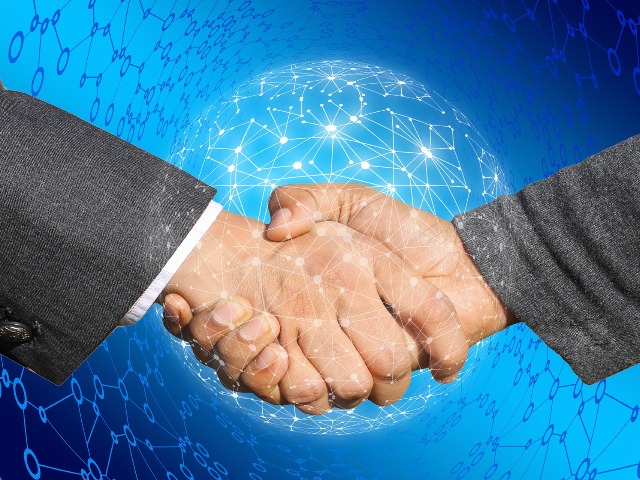 Auteur: Mr. dr. Evert Neppelenbroek
Facebook heeft niet erg positief in het nieuws gestaan. Met het opstaan van klokkenluider Frances Haugen is er een hoofdstuk toegevoegd aan het verhaal dat achter de façade van het sociale netwerk een bedrijf staat dat tegenover alles onverschillig staat behalve winst.
Een aantal jaren geleden sprong het schandaal van Cambridge Analytica in het oog. Facebook liet toen gebeuren dat handige jongens van argeloze gebruikers dataprofielen konden maken voor politieke advertising. Nu heeft Facebook aanhoudend extreme politieke boodschappen toegelaten op het sociale netwerk, waardoor de bestorming mogelijk werd van het Capitool, het gebouw van het Amerikaanse Congres.
Metaverse
Mark Zuckerberg laat intussen in een zorgvuldig uitgestippelde mediastrategie weten dat (1) Facebook met een naamsverandering komt, (2) dat het bedrijf gaat inzetten op het creëren van het zogenoemde Metaverse en (3) – surprise, surprise – dat het moederbedrijf van Facebook Meta gaat heten. In de media treft men de voor de hand liggende mening aan dat deze uitspraken zijn bedoeld om de aandacht van de schandalen af te leiden.[1]
Wat Zuckerberg zegt over dit Metaverse is echter in ieder geval ook een logisch vervolg van de uitspraken gedurende zijn carrière. Deze uitspraken volgen een consequent patroon, dat op een verhelderende manier aan het licht is gebracht door de Amerikaanse psycholoog en filosoof Shoshana Zhuboff.[2] Ik zet de volgende uitspraken op een rij:
'People have really gotten comfortable not only sharing more information and different kinds, but more openly and with more people." (…) "That social norm is just something that has evolved over time (2010).'
'Our mission is to connect every person in the world. You don't do that by having a service people pay for (2014).'
'In times like these, the most important thing we at Facebook can do is develop the social infrastructure to give people the power to build a global community that works for all of us (2017).'
'Y(…)ou can think about the metaverse as an embodied internet, where instead of just viewing content — you are in it (2021).'[3]
Met de eerste uitspraak schaft Zuckerberg privacy als sociale norm af. Met de tweede uitspraak rechtvaardigt hij zijn advertentiemodel. Met de derde uitspraak omspant hij de wereld met een modelcommune waarin mensen voor hun communicatie op hun wenken bediend worden. Met de laatste uitspraak laat hij zien dat die wereld niet meer zal worden betreden via het scherm van de computer of de smartphone, maar in een wereld van virtual reality. De samenvatting is dat niets verborgen mag blijven voor de verdienmachine van Zuckerberg.
Hand in hand
In the Metaverse loop je hand in hand rond. Niet met Zuckerberg, niet met adverteerders, niet met vrienden. In the Metaverse loop je hand in hand met jezelf. Dit 'jezelf' is een bewerkt product van jou als mens. Op grond van alle te analyseren gedrag dat je zelf vertoont wordt een gekwantificeerde versie van jou (a quantified self) gemaakt. Dit jezelf weet waar je zin in hebt als je op vrijdag vermoeid in een restaurant binnenkomt en welke mensen je wil ontmoeten als je op zaterdag opgewonden binnenkomt in een bar. De ideële belofte is dat de gedataficeerde versie van jouzelf je door het onzekere leven heen kan slepen. Het verdienmodel bestaat hieruit dat dit 'jezelf' niet voor jou, maar voor adverteerders op de wereld is gezet. Het africhten van mensen om commerciële redenen is het walhalla voor bedrijven die producten en diensten aan de man willen brengen. Die bedrijven betalen goud geld aan Facebook (of Google, of Microsoft, of Amazon…) om deze af te richten consumenten in beeld te krijgen.
Bewustzijn is een eerste voorwaarde voor verandering. Lees bijvoorbeeld de roman 'Het alles' van Dave Eggers, een overduidelijke satire op bedrijven als Facebook (of Meta) en Amazon en hun consumenten. Nu ook verkrijgbaar via Amazon! Lees dit blog naar aanleiding van de verwijzing via LinkedIn. Laat Zuckerberg niet wegkomen met die megalomane dystopie!
Zou dit stukje impact hebben? Ik weet het niet. Ik verkeer in onzekerheid. Ik wens… Ik wens dat zoveel mogelijk mensen het stuk op Linkedin als interessant aanmerken. Ja, dan zou ik me pas echt gevalideerd voelen…
O well.
[1] Zie NOS.nl 28 oktober 2021, 'Moederbedrijf Facebook gaat door onder de naam 'Meta'.'
[2] S. Zhuboff, The Age of Surveillance Capitalism, Londen: Profile Books 2019. Zie over Facebook specifiek: p. 48, p. 91 en vooral p. 402-403.
[3] De eerste uitspraak: zie: Guardian 10 januari 2010 'Facebook's Zuckerberg Says The Age of Privacy Is Over.' De tweede uitspraak: Time Magazine 15 december 2014, 'Inside Facebook's plan to wire the world.' De derde uistpraak: The Guardian 17 februari 2017, 'The Facebook manifesto: Mark Zuckerberg's letter to the world looks a lot like politics.' De vierde uitspraak: The Verge 22 juli 2021, 'Mark in the Metaverse. Facebook's CEO on why the social network is becoming 'a metaverse company'.'