Interview with Vice Dean and Professor of European Law Ramses Wessel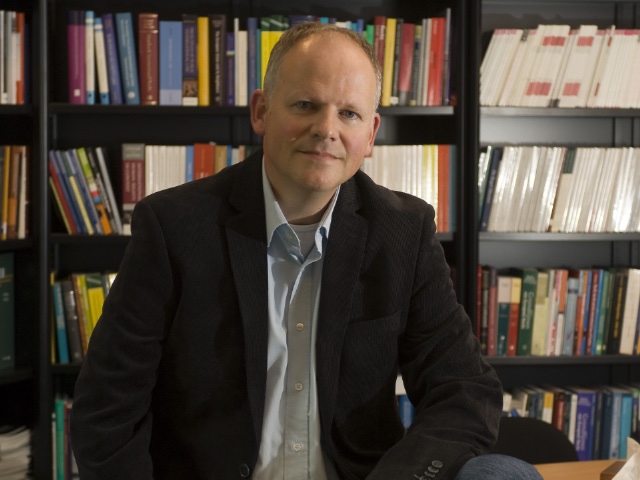 Ramses Wessel is Vice Dean and Professor of European Law at the Faculty of Law. He is also the Academic Director of the European Law in a Global Context LLM programme. We've asked him a few questions below to learn more about his academic profile and perspectives on the courses and programmes that he teaches within the Faculty.

What is your specific academic background, and what are your research interests? Do you currently work on any specific research projects?
My main academic area would be, what I usually call, something in between International and European Law, which automatically brings you to EU External Relations. I always liked International Law and European Law equally so that brought me in the beginning of my career to where the two meet. So it is either the rule of the European Union and its effects on International Law or the effects of International Law on the European Union, it goes both ways.
Regarding my current projects, there are quite a few. I am always writing many things at the same time. A large project that I am working on is called Engage, which is an international project in collaboration with EU Universities that looks at how to improve European Union policy. My task is to come up with the legal aspects of that matter, for example, what can be changed in the Treaty and which legal provisions we can use better. EU Diplo is another project I am working on, along with European Papers.

What courses do you teach within the Faculty?
In the European Law in a Global Context LLM, the main course I oversee is the Seminar Interactions bewteen Legal Systems. The other course I am involved with in the LLM is EU External Relations Law. In the International and European Law LLB programme, over the past years I have been involved in the Research Seminar as well as in a number of general EU law courses.

What do you enjoy teaching about these specific courses?
What I really like about these courses is the fact that they show the students what European Integration and European Law are all about. So for instance, in the EU External Relations Law course, if you follow that one, you really understand the competence division between the European Union and the Member States. It tells you all about how the European Union works in a legal way. A particular topic that I find very interesting is the diversity of the 27 Member States working along with the European Union as a separate entity; they are constantly fighting about who has the competence to do what and about solving the conflicts before the court rather than on the battle field, which they have done for many earlier centuries.

How is this European Law in a Global Context LLM programme unique compared to similar programmes elsewhere?
I think there is no programme like this elsewhere, in that we are unique in the way the LLM includes external elements into an EU LLM. While the LLM covers all the aspects of European Law, what makes it special is that we try to include this external dimension, not just looking at what happens internally but, in all of the courses provided, we take this external/global element into account. For example, what is the impact of the EU on third states or how do external developments impact the European Union? So we are taking the European Union out of isolation and placing it in a broader framework - this is what makes the LLM unique.

What career prospects do you think there could be for students who pursue careers in your specific legal field of expertise?
We do have facts on this, so we know where our students end up. We know that they end up in many different types of professions. Some of them enter into the European Union Institutions, but that is just a minor part. Most of European Law does not actually happen in Brussels, it is happening in the Member States or in external states that want to have a relationship with the European Union. You can end up in a national ministry, work in a law firm, or be a practicing lawyer. But we do see our colleagues and students everywhere, both in law firms and companies, advising on European law or International law aspects.

Has the Covid-19 situation or any other recent international events (ie. Brexit) affected the way in which experts in your field practise/operate their professions?
Yes, absolutely. But sometimes in a positive way, as well as in a negative way. In European Law, most of my colleagues are not in the Netherlands, so I work with other people that are in other countries. At least twice a month or so, we would have a meeting somewhere in Europe together with the colleagues. That has severely stopped. Nowadays, it is slowly coming back, or at least it was coming back before the new variant. During the meetings in person, there was an International aspect to the environment. The international aspect has obviously completely disappeared in the online meetings. A positive aspect of switching online was the time that was gained; I did not lose the time that I would have to spend travelling or going to the office in the Harmony building for example. I had more time to be busy working without actually moving, as well as having the convenience of joining conferences from anywhere without travelling. I have been able to join more meetings and write even more than I was before. It is more efficient to work from home, but less "fun" in terms of not being able to work side by side with colleagues.

Do you have any advice for students interested in pursuing your same field of legal expertise?
I always tell students that in terms of what you want to focus on, what your expertise becomes, there is some sort of gut feeling regarding this. So I would probably never advise someone to chose something where I see a future in terms of how many jobs there are. Always try to focus on choosing your own thesis, or paper topics, on something that you actually like or you think you like. If you are enthusiastic about the things you are writing or researching, then the rest will follow. If you try to convince yourself every time to write about something and you find it hard to put yourself up to it, well, imagine doing this for the rest of your life. Always start with what you find interesting and what you truly like. That might change in the end, but somehow is closer to what you believe in, closer to what you want to work on. Afterwards, take it from there and not from the other way around.
- Interview by Cristiana Zamfir, Romania, European Law in a Global Context LLM student
- Editor: Dr. Chris Brennan, Marketing Advisor, Faculty of Law
--------------------------------------------------------------------------------------------------
Interested in more information about the European Law in a Global Context LLM programme? You can ask questions directly to the Faculty by filling out our information request form.