Rijksuniversiteit Groningen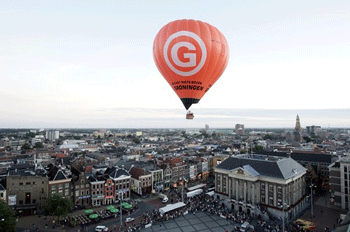 Uitstekend onderwijs in een internationale studieomgeving
Studenten bagage meegeven voor de toekomst. Dat is waar de Rijksuniversiteit Groningen als onderwijsinstelling naar streeft. Dat doen we door goed onderwijs te geven, onderwijs dat 'research driven' is en dat studenten prikkelt en uitdaagt. Van de studenten verwachten we inzet en resultaten.
De Rijksuniversiteit Groningen heeft een zeer ruim aanbod van bachelor en masteropleidingen. In Groningen kunnen studenten vrijwel alles studeren. Daarnaast hebben studenten aan onze universiteit ruime gelegenheid om de studie eigen accenten te geven. Bijvoorbeeld met de vrije keuzeruimte in het studieprogramma of door een stage te doen, in binnen- of buitenland.
Het studieklimaat in Groningen is internationaal. Steeds meer opleidingen worden in het Engels aangeboden. In de studieprogramma's is vaak veel aandacht voor internationale onderwerpen. Dat is relevant omdat het bedrijfsleven, de arbeidsmarkt en het werkveld waar studenten later in terechtkomen vaak internationaal georiënteerd zijn. Met ons aanbod trekken we ook veel buitenlandse studenten aan, merendeels uit Europa en Azië. Studeren in Groningen betekent dus ook dat je je venster op de wereld vergroot.
Op het gebied van onderzoek steekt de universiteit extra energie in een aantal maatschappelijk relevante aandachtsgebieden. Zulke thema's, zoals Gezond ouder worden (Healthy Ageing), Energie (Energy) en Duurzame samenleving (Sustainable Society), en Digital Society brengen niet alleen onderzoekers, maar ook docenten en studenten uit verschillende vakgebieden samen, in de Schools voor Wetenschap & Samenleving.
Studenten mogen van ons kwalitatief hoogstaand onderwijs verwachten binnen studeerbare programma's. Dat vindt soms plaats in eeuwenoude gebouwen, soms in architectonisch spraakmakende nieuwbouw. Maar altijd met de meest moderne onderzoeksapparatuur en computers. We bieden begeleiding bij persoonlijke of studie gerelateerde problemen. En we stimuleren studenten om hun individuele interesses en talenten te ontdekken en te ontplooien. Extra gemotiveerde en getalenteerde studenten kunnen deelnemen aan de verzwaarde programma's van het Honours College van de Rijksuniversiteit Groningen. Naast het Honours College heeft de universiteit een University College in Groningen en een University College Fryslân in Leeuwarden, waarbij een selecte groep studenten een programma volgt dat aansluit bij de drie maatschappelijke speerpunten van de Rijksuniversiteit Groningen.
| | |
| --- | --- |
| Laatst gewijzigd: | 30 oktober 2023 12:16 |