Bachelor
Een universitaire studie bestaat uit de bachelor (Ba) en de master (Ma). De bachelorfase duurt voor alle studies drie jaar. Centraal in die periode staan academische vorming, kritisch leren denken, het zich eigen maken van vaardigheden en het doorgronden van een eigen vakgebied. Uw zoon of dochter zal merken dat er aan de Rijksuniversiteit Groningen veel gelegenheid is om te onderzoeken wat hem of haar het meeste boeit. Zo zijn er studierichtingen die werken met een systeem van majors en minors. Een major is de basis van de opleiding en een minor een samenhangend pakket aan bijvakken, binnen of buiten de eigen studierichting. De meeste opleidingen bieden vrije keuzeruimte. Dat geeft studenten uitgelezen kansen om eigen interesses te volgen.
Hier kunt u een volledige lijst van onze bachelors vinden.
Master
Het bachelordiploma is een volwaardig diploma. In principe is het mogelijk om met dat diploma werk te zoeken. Toch wordt een universitaire opleiding in Nederland over het algemeen pas als 'compleet' gezien, als daarna nog een masterdiploma is behaald. Het bachelordiploma geeft toegang tot verschillende masteropleidingen. Welke dat zijn, is afhankelijk van de studierichting. De masterfase is meestal een fase waarin een student zich verder in zijn vakgebied specialiseert. De student kan zijn master in Groningen volgen, maar ook kiezen voor een master elders in Nederland of Europa.
Hier kunt u een volledige lijst van onze masters vinden.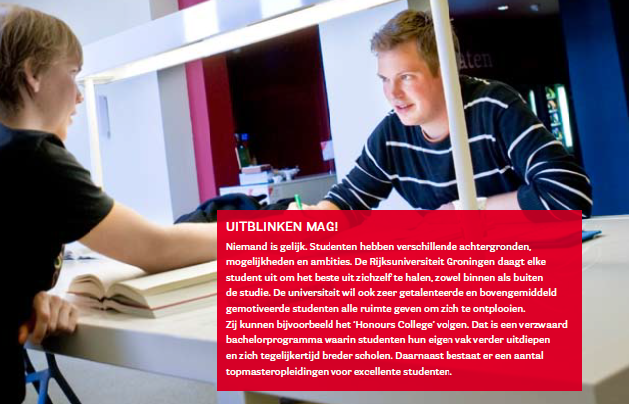 | | |
| --- | --- |
| Laatst gewijzigd: | 18 maart 2019 09:07 |