Ask a UCF Student!
From finding the perfect programme and finishing your application, to enrolling at the University of Groningen. Who knows better how to help you with all of this then our current students?
That is why 3rd year UCF student Iiris Väyrynen came up with the idea of the UCF Student Ambassadors: current UCF students who are there to help everybody with questions you would like to ask our students.
Get to know the UCF student ambassadors below and don't hesitate to ask them all your questions!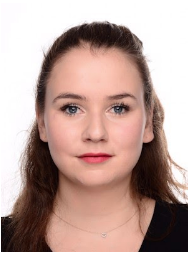 Alina Ruge
UCF graduate from Hamburg, Germany
E-mail: alina.ruge@gmx.net
Phone: +49 1573 0767068
Hello! My name is Alina Ruge, and I am from Hamburg, Germany. I started my UCF experience in September 2019 and did not know what to expect when I came to Leeuwarden, because I have never even seen Leeuwarden before I started the program. I had so many questions and luckily, I knew someone from the second year to answer some of them. That really helped me ease my mind about all my fears and I want you to be able to have someone doing the same for you because I know that it was scary diving into something entirely new.
Before I came here I traveled the world for one year to clear up my mind what I really wanted in life. When I found this program after hours of research I felt like this was the right program to fit all my interests. I am interested into international affairs, global problems and how to solve them in a sustainable way. This program will enable me to find a job where I can find solutions that I especially faced when traveling through countries like India. The problem of gender equality, waste disposal or overall poverty.
Please don't hesitate to contact me if you have questions concerning the program, the UCF community, or the city of Leeuwarden. The UCF community is there to support you and answer every question you have, in order to start the most exciting journey of your life!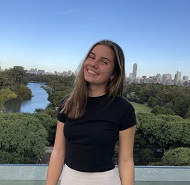 Julia Brune
UCF graduate student from Bremen, Germany
E-mail: j.brune student.rug.nl
Hello!
I am Julia Brune, from Bremen in Germany. I have just graduated from the BSc Global Responsibility & Leadership and am here for you in case you have any questions on the programme, how the whole studies have been like and what student life in Leeuwarden is all about.
I decided to follow the GRL programme, because I wanted to do something international and interdisciplinary with a focus on sustainable development. After having completed the programme, I feel as if I have left the studies having collected a tool box full of values and strategies on how to evaluate, optimise and critically reflect on concepts, systems and ideas revolving around sustainability and our world.
I have really enjoyed the three years at UCF and in particular the community created there. Not only have I met very inspiring, intelligent and welcoming people, but also extremely motivated, helpful and engaged ones. My experience at UCF was shaped by participating in several events, like clothes swaps, panel discussions or open-mic nights, organised by the students, by dinners and drinks with my friends, and by diverse and engaging lectures.
Besides that, looking back at how I started at UCF and who I am now, I realise that the studies and campus have definitely influenced me and made me become a more independent, mindful and proactive person, which I am very happy about.
If you have any questions on GRL or Leeuwarden, do not hesitate to send me a message! :)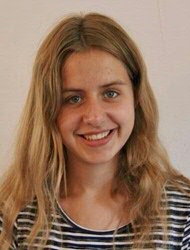 Bente Kato Braaksma
3rd year UCF Student from Heerenveen, the Netherlands
Email: b.k.braaksma@student.rug.nl
Phone: +31 06 37329970
Hello prospective fellow UCF student,
My name is Bente Kato Braaksma, and I am from Heerenveen a really small city in Friesland, the Netherlands. I started my UCF adventure in August 2020, and I absolutely do not regret picking the study Global Responsibility and Leadership. This easily could have been different because I also considered to studying Law. I remember that I found it difficult to compare GRL with other studies like for example law because GRL is a verry young and unique program. But in the end, I made the decision to start my university life at campus Fryslân because I always have been interested in multiple disciplinaries, so an interdisciplinary program is a right fit for me. On top of that I look(ed) around me and I see a world that is going backwards: the climate is changing, there is a lot of poverty, there are lots of wars and sadly I can go on a long time with such a list. However, I don't want to sit around and wondering why almost nobody is doing anything while I am also not doing anything. And GRL helps me with getting educated in problems like this and coming up with solutions for them in order to make the world a better place.
It is a great adventure for me to study here at UCF, but I know that it can be a complicated path to Leeuwarden. I can understand that you have questions about the applying process, moving to Leeuwarden or studying in corona time. If you have such questions (or any other question concerning UCF) please don't hesitate to contact me, it would be my honor to help you ;).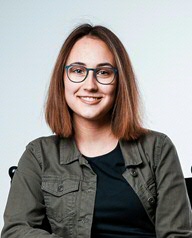 Julia Gorny
3rd year UCF student from Essen, Germany
Email: julia.gorny@t-online.de

Hello prospective students!
My name is Julia Gorny, I graduated 2020 in my hometown Essen, Germany. Right now, I am a third-year bachelor student of Global Responsibility and Leadership at Campus Fryslân.
Why did I choose this programme? I always had a lot of interests. I love geography, psychology, politics and care about sustainability, human rights and equality. I wanted to study something that combines all those interests and helps me to make the world a bit better. After months of internet-searches I finally found the GRL programme and I couldn't believe that I really found a study that would combine all my interests and where I can even study in a small-scale and international environment!
However, I still had a lot of questions because I wanted to be sure that the programme really fit me. Luckily, I had a contact to one of the first-year students of last year who helped me with all my questions and who encouraged me to eventually apply. Since it helped me so much, I also want to help prospective students to make the best decisions for themselves. So, if you have any questions regarding the programme, the student life or moving out etc. please feel free to contact me!
A bit more about me: I love singing, acting and playing the guitar. I also love to cycle but my tiny, old and rusty second-hand bike that I have in Leeuwarden right now is unfortunately not made for long tours… Since I started my studies here, I also enjoy cooking together with friends - vegetarian of course ;).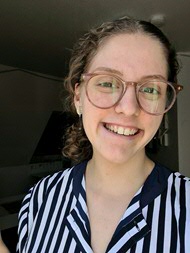 Lea Lemke
3rd year UCF student from Stuttgart, Germany
Email: l.lemke student.rug.nl
Phone: +491627973420
Hey you! My name is Lea and I am a third-year GRL student from Stuttgart, Germany. I ended up here in Leeuwarden studying GRL because it gives me the opportunity to gain a broad scale of knowledge within my first year in which I can find out where I want to lay my focus for the other two years. Furthermore, the community aspect of the GRL course is definitely something I would not want to miss.
Apart from the courses, I'm involved in the Mind-Sharing-Committee (MSC) and the UCF Foundation (UCFF). The MSC is a committee that creates a platform for exchanging skills and knowledge that complement our curriculum in the form of talks, workshops, and panel discussions. Together with other members of the UCFF, we are working on making the GRL programme more accessible and diverse by providing scholarships to non-EU students. Feel free to send me an email if you want to know more about either of them.
On a more personal level, I like cozy Sundays that are filled with reading, journaling, good food, blankets and tea as well as riding my bike around the canals.
If you have specific questions about how to apply from Germany, what the programme or specific courses look like, how to best organise yourself or you just want to chat with someone from the UCF community, I'd be happy to hear from you :)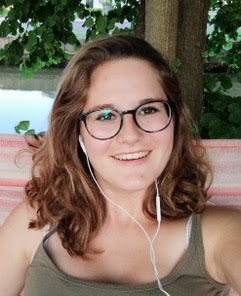 Mijke Smit
3rd year UCF student from Witmarsum, Friesland
Email: m.r.smit.3@student.rug.nl
Phone number: +31 6 37397507
Hi! I am Mijke Smit and I am a third-year GRL student. I am from Witmarsum, a small village in Friesland. I graduated high school this year and after that well-deserved summer break I immediately started with this study. I already knew I wanted to follow this study about a year before I had to apply and I just had to get through the selection process, which sounds scary, but is totally fine to do!
I chose this study because it is very broad and I like that about it. The fact that you get many different courses is perfect for me and I really liked that they are all connected through the SDG's. For me, following this program is the perfect opportunity to find out what I am really passionate about. I knew I wanted to do this study because almost everything of it sounded appealing to me. Maybe apart from the fact that it is in Leeuwarden ;). But I completely disagree with that thought now, because Leeuwarden is such a nice city to live in! And it will be even better when corona times are over :)
I visited a lot of open days and information meetings before actually applying, so I had gathered quite some information about the program. But I still had a lot of questions, mainly about the application process. I can imagine that choosing a study is even harder in corona times when an actual open day is sadly not possible. So, if you, as prospective student, have any questions regarding the University College Fryslân, I am here to help!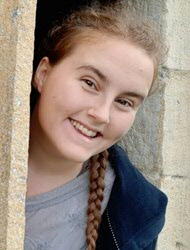 Titia Groenhof
2nd year UCF student from Feanwâlden, Fryslân, the Netherlands.
Email: t.h.groenhof@student.rug.nl
Phone: + 31 6 36 51 11 23
Facebook: Titia Groenhof
Hello!
My name is Titia and I'm 20 years old.
I struggled a lot with choosing the right program for me. I went to an open day of the Global Responsibility & Leadership program and I knew this was the right fit for me.
I had the opportunity to see numerous countries in the world. I noticed that there are a lot of problems globally that need interdisciplinary solutions. This program is based on the Sustainable Development Goals (SDG's) of the United Nations. Through the SDG's we get to look at global problems with an interdisciplinary view. In this program we have the opportunity to educate ourselves on a wide range of topics while enjoying living with all our classmates. I wrote a blog about the first week on campus; you can read it here.
If you have any questions regarding living on campus, living close to home or choosing the GRL program feel free to contact me at any time!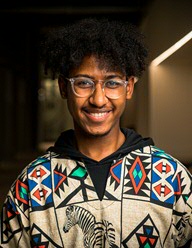 Waheed Liam Adam
3rd year UCF student from Harare, Zimbabwe
Email: w.l.adam@student.rug.nl
Phone: +31612907404
My name is Waheed Adam, I am 20 and from Harare, Zimbabwe. The main reason why I decided to choose GRL as my bachelor, coming so far away from home, is because I am a part of the future generation that desperately needs to fight for my continent's economic and political freedom.
Prior to arriving in Leeuwarden, I was a part of the Harare City Junior Council; a youth-led charitable organization seeking to alleviate the plight and meet the needs of less privileged children in and around Harare following frameworks presented by the United Nations Declaration of Human Rights and the African Youth Charter for 2 years. After being elected as the first Junior Mayor to be elected with a disability in 2019, I managed to launch the 'I Am Human Too Campaign' - to integrate persons with disabilities into a society free of stigmatisation. So you can imagine the excitement I was filled with when I came across a degree that could assist me in addressing global challenges by finding innovative local solutions.
I am currently a part of the UCF Foundation, a platform created in order to provide everyone with access to the GRL bachelor, regardless of their financial background (one which I was fortunate enough to receive) as well as the Nobis Cura Futuri Study Association where I am a part of the Debate Committee.
If you have any specific questions about what to expect from the programme, how to apply from Zimbabwe (or any other non-EU country), or anything else, I would be happy to help!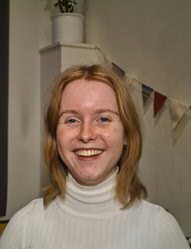 Tessa Hofman
3rd year UCF student from Slagharen, the Netherlands
Phone number: +31625532422
Email: t.a.hofman.1@student.rug.nl
Hey there! I am Tessa Hofman, an 20 year old girl, and I am a third- year student of Global Responsibility & Leadership at UCF. I am from the beautiful town of Slagharen, the Netherlands, which most of you probably know from the amusement park.
As I was in high school, I didn't really know which study was right for me, since I am interested in a lot of different things. I like politics, but I am also interested in human rights and sustainability. I went to the Open Day of UCF and I immediately felt like this was the right thing for me. The fact that there are a lot of topics that you could choose from during your study is truly amazing, so I think that studying GRL is really great and I haven't doubted my choice ever since.
I had a lot of questions during my study orientation and I can imagine that you have them as well, so I want to help you out by providing you with information that might help you. If you have any concerns about living in Leeuwarden, the application process, the programme itself or anything else that is unclear for you, please send me an email or a text. I am very happy to help you :).
Edoardo Ferrari
2nd year UCF student from Milan, Italy
Phone number: +39 3477414778
Email address: e.f.ferrari@student.rug.nl
Hi, prospective students of Campus Fryslân!
My name is Edoardo, and I am currently studying Global Responsibility & Leadership, as a second-year student. I am from Milan (Italy) and I would be very happy to answer all of your questions and doubts.
I started my journey in Leeuwarden in September 2021, after I graduated from a Scientific High School, in Italy. Finding a program that suits you is not easy: at the beginning, I wanted to study Political Science, then I was convinced I wanted to study International Relations or Economics. However, when I discovered this program, I understood that it was the best option for me. Thanks to its teaching methods and to the available courses, you can build your educational journey based on your interests. For instance, you can follow the Governance track (which focuses on Politics and Economics), and, at the same time, you can follow courses on the Planet and Sustainability.
After choosing this Bachelor, the application process was the next step: for me, this process was at the same time as my final exams. It has been a very stressful period, but I found help in another Student Ambassador of the Faculty. He helped me to go through all the required documents, and he gave me tips to make the procedures easier. I hope I can do the same for one of you! Now, I hope I will be able to help you discover this Bachelor and the city. Feel free to contact me!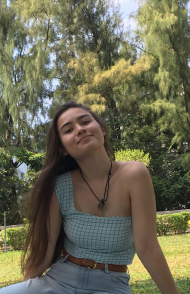 Yasmin Madsen
2nd year UCF student from Hong Kong

Phone number: +85292401521
Email address: y.m.madsen@student.rug.nl

Hey! My name is Yasmin and I am currently a second-year student of Global Responsibility & Leadership. I grew up in Hong Kong but my parents come from Denmark and Japan.
I chose this study because I wanted to focus on sustainable development and wanted to experience a completely new city and country. This study ticked both boxes and its small-scale learning and the community here are added benefits. I, however, was originally very unsure of studying this course because I did not have the opportunity to visit the campus beforehand or go to any open-days. Therefore, choosing this course felt like a risk (a risk I'm very glad I took).
Some of you may be in similar situations as I was (either due to COVID or other reasons) and I remember feeling anxious and confused and found that the perspectives of the student ambassadors helped me make my decision. So, if you have any questions and concerns about this course or its application process, I would be happy to answer them!
Judith Meurs
2nd year UCF student from Barendrecht, the Netherlands

Phone number: +316 209 58 685
Email address: j.c.meurs@student.rug.nl

Hey future fellow UCF-student!
I am Judith and I am currently a second-year student at Campus Fryslân. I am from Barendrecht, a place near Rotterdam in the Netherlands. I started the GRL-programme right after graduating at a Dutch VWO high school in 2021, so I was part of the second covid cohort. I was not able to see the university building (the Beurs) and the student housing building at Kanaalstraat before moving in here, so I was glad that one of the student ambassadors could answer my questions and send me some pictures. This helped me a lot with my study choice, and now I hope I can help you out too!
Before I made my final decision, I was doubting between this study and another Liberal Arts & Sciences study in the Netherlands. Finally, I chose Global Responsibility & Leadership as study because it covers so diverse topics, while still taking the SDGs as foundation. The courses are all somehow focussing on bettering the world, and I like to have this perspective as base for my bachelor.
Despite of how thoughtful my choice was, I am someone who always starts hesitating. As soon as I was sure that I was going to do this study, questions like 'How will I survive living on my own?', 'Why did I choose a study so far away from my hometown?' (for me, 3.5 hours by public transport is quite far), 'Isn't this study way too broad for a bachelor programme?', and 'How will I speak English with everyone for the whole day?'.
Maybe you recognize yourself in some of these questions. Maybe you have totally different questions. It doesn't matter to me; I am open for every question you want to ask! So please don't hesitate and contact me if you need help or have any doubts, or if you just want to speak with a UCF student.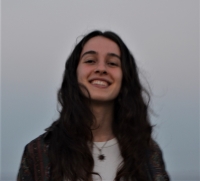 Paula Perea Garcia
2nd year UCF student from Barcelona, Spain
Phone number: +34 644964341
Email address: p.perea.garcia@student.rug.nl
Hi, hi! I'm Paula, currently a second-year student of GRL. I came to Leeuwarden all the way from Barcelona going after this bachelor's program bc I felt it could include most of my multi-disciplinary interests.
If you come from a warmer country, from the south of Europe, or simply from a faraway place with a very different culture you may share many of the concerns I had before moving to the Netherlands to study.
You might be wondering if you'll survive the Dutch weather, if you'll find your place in this new culture, how will you manage the distance from your family and friends, how does it feel to study in English, or how is it to learn so many different things at the same time – among many other bigger and smaller concerns.
Don't hesitate to contact me to ask anything! I'll be glad to try to find an answer for you from my short (but getting longer) personal experience.
Good luck and hope to see you here next course!
| | |
| --- | --- |
| Last modified: | 09 November 2022 11.18 a.m. |