Grand Opening Beurs
| | |
| --- | --- |
| From: | Th 31-10-2019 |
| Until: | Sa 02-11-2019 |
| Where: | Campus Fryslân, Wirdumerdijk 34, Leeuwarden |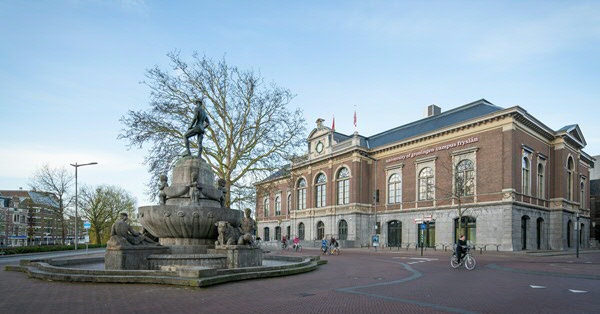 2019 is a celebratory year for the University of Groningen/Campus Fryslân, in which we are moving into our new Faculty building, the Beurs. Now we have settled, we are ready to welcome you to the Beurs for the Grand Opening!
On Thursday 31 October, we will organize a series of panel discussions and keynote speeches. From 10.30am to 12.30pm, there will be two sessions: one on Climate Adaptation, and another on Migration, EU and Human Rights. In the afternoon we invited speakers who are involved with Campus Fryslân and keynotes prof. Jaap de Hoop Scheffer and prof. Patrick Verkooijen followed by a panel discussion. The programme that takes place in the auditorium is extended to the first / second floor where we can follow it festively together. Those who are not in the building but would like to follow the programme are also thought of: you can follow the live stream via the website.
At 4.15pm we will have our official opening ceremony in the Central Hall hosted by Sybrand Buma, Jouke de Vries and Sander de Rouwe. This festive opening will be followed by a reception until 6.00pm.
On Friday 1 November we organize the Campus Fryslân Experience for high school students. This event is fully booked. On Saturday November 2 we organize the festive Science Festival, which is open to everyone. We would love to welcome you in the Beurs!
Programme Grand Opening the Beurs 31 October 2019
Morning: Panel Discussions, host Somaye Dehban

10:30

Panel Climate Adaptation - chairwoman: Helena Rico

Jacques Buith
Bruno Haghebaert
Chris Hoffman

11:30

Panel Migration, EU and Human Rights - chairman: Hans Joachim Heintze

Amelia Hadfield
Paul Scheffer
Adriana van Dooijeweert

12:30-13:30
Lunch

Afternoon: Opening with speakers, panel, video, opening ceremony, host Hilda Veenstra

13:30
Welcome by Faculty Board
13:35

Building up a Future-proof Faculty in the Region

Sander de Rouwe, Province of Fryslân
Friso Douwstra, Municipality of Leeuwarden
Jouke de Vries, University of Groningen

14:00
Short break with music in Auditorium
14:07

Education and Global Challenges

Frida Nilsson, student University College Fryslân
Andrej Zwitter: The Multi-university

14:30
Break with coffee and tea
15:00

Keynote speakers Global challenges, local solutions

Global Challenges Keynote 1: Patrick Verkooijen
Showcasing Trailer: Governance of Climate Adaptation
Global Challenges Keynote 2: Jaap de Hoop Scheffer

15:40

Panel discussion Future of Global Challenges - chairman: Caspar van den Berg

Jaap de Hoop Scheffer
Patrick Verkooijen
Andrej Zwitter
Ingrid Zeegers

16:15
Opening Ceremony in Central Hall (Sybrand Buma, Jouke de Vries, Sander de Rouwe
16:35-18:00
Reception in Restaurant and Central Hall
Keynotes
Prof. Dr. Patrick Verkooijen
Professor Verkooijen is recognized globally for mobilizing stakeholders and delivering scaled-up actions that address climate change. He served as Climate Advisor and Special Representative for Climate Change at the World Bank. Now, he is Professor of Practice in Sustainable Development Diplomacy at the Fletcher School of Law and Diplomacy and CEO of the Global Center on Adaptation.
Prof. Mr. Jaap de Hoop Scheffer
Professor de Hoop Scheffer is an expert in the fields of law, international relations and peacekeeping. His previous posts include Minister of Foreign Affairs and Secretary General of NATO. Now, he is Professor of International Politics and Diplomatic Practices at the University of Leiden and Ambassador of the University College Fryslân.