Het doel van het Representatiefonds is, zoals in het reglement uit 1896 staat: 'Het doen van uitgaven die kunnen strekken tot duurzame bevordering van de eer en het aanzien der Universiteit'.
Het bestuur van het fonds steunt daarom initiatieven - en ontwikkelt deze ook zelf - om de eer en het aanzien van de universiteit in binnen- en buitenland te vergroten.
Bestuur
C.G. (Catrien) Santing, voorzitter
C.W. (Mineke) Bosch, secretaris
G.A. (George) Mulder, penningmeester
F. (Frits) Brandsma, lid
Projecten
Het aanbrengen van Stolpersteine (struikelstenen) voor medewerkers en studenten van de RUG die slachtoffer waren van oorlogsgeweld en het naziregime.
Op 4 mei 2022 werden de eerste 13 academische struikelstenen geplaatst. Bij deze gelegenheid vond een plechtige bijeenkomst plaats in de Senaatskamer van het Academiegebouw, waar leven en werk van deze 13 voormalige leden van de Groninger academische gemeenschap centraal stond. Tevens werd de publicatie Academische Struikelstenen gepresenteerd, waarin korte levensschetsen zijn opgenomen, alsmede de tekst van de rede die werd uitgesproken door Cisca Wijmenga, rector magnificus van de RUG.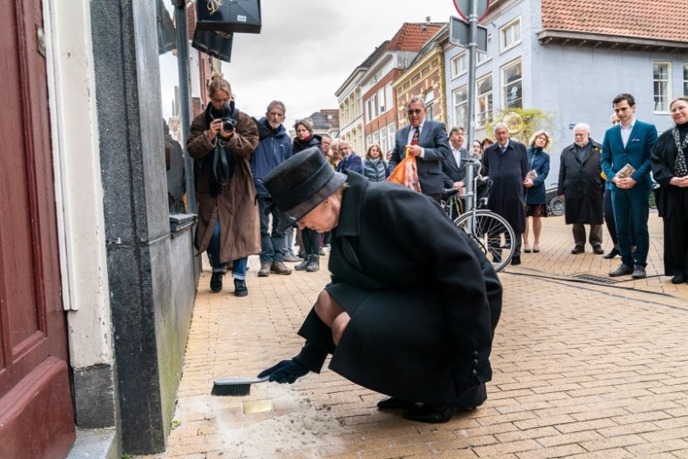 In de pers werd uitgebreid aandacht aan deze gebeurtenissen besteed.
Een academische wandelroute door de stad Groningen
Het aanbrengen van markeringen op plaatsen in de stad die voor de geschiedenis van de RUG relevant zijn. Doel is de vergroting van de zichtbaarheid van de universiteit; het gaat om gebouwen en woonhuizen die gerelateerd zijn aan illustere studenten en medewerkers.
Een eerste selectie van plaatsen is opgenomen in de folder Stad en Universiteit – wandelroute. Rond de zomer van 2022 zullen op de in deze wandeling opgenomen panden en plekken plaquettes worden geplaatst.
Enkele eerder uitgevoerde projecten:
Bij het 400-jarig bestaan van de universiteit in 2014 heeft kunstenaar Marina van der Kooi een penning ontworpen, die jaarlijks wordt uitgereikt aan de auteur van de beste aan de RUG verdedigde dissertatie;
Het kunstwerk 'Icarus' in de Spiegelzaal van het Academiegebouw;
Het carillon in de Academietoren, ter gelegenheid van het honderdjarig bestaan van het fonds;
De muurschildering in de Aula van het Academiegebouw.
Steun het fonds
Het fonds wordt gedragen door regelmatige bijdragen van (oud)-hoogleraren van de Rijksuniversiteit Groningen. Ieder die het fonds incidenteel of jaarlijks wil steunen is van harte welkom dit te doen door een overschrijving naar IBAN nummer
NL23 INGB 0009 4390 64 t.n.v. Stichting Representatiefonds te Groningen.
Contact
Wilt u berichten aan het fonds of suggesties voor mogelijk te steunen projecten sturen naar zijn secretaris, via e-mail aan C.W.Bosch@rug.nl of eventueel per post aan:
prof dr C.W.Bosch
Faculteit der Letteren, vakgroep Geschiedenis
Postbus 716
9700 AS Groningen
Voor de goede orde zij vermeld dat congressen, symposia, excursies, studiereizen en gasthoogleraarschappen niet voor subsidie in aanmerking komen.
| | |
| --- | --- |
| Laatst gewijzigd: | 10 mei 2022 11:56 |