Alumnus of the year
The University of Groningen is proud of its alumni. They are the ambassadors of the University and we would like to affirm this bond by presenting an award to an alumnus/alumna who has reached an exceptional achievement in society. The Alumnus of the Year is nominated by the alumni community.
Our most recent Alumnus of the Year is:
About the Alumnus of the Year award
To qualify for the title of Alumnus of the Year, a candidate must meet the following criteria. We are looking for people who: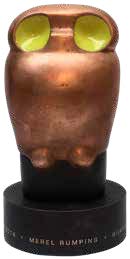 Have made an exceptional contribution to society, research, culture or sports,
Are an inspiration to others
Are a promise for the future (the Alumnus of the Year award is a midcareer prize).
The prize for the Alumnus of the Year is a specially designed sculpture of visual artist Wia van Dijk. The 'Athena Noctua' is a pure and powerful bronze statue that stands for wisdom, curiosity, and pride. Each year the sculpture is personalized by changing the color of the eyes to match the personality of the winner.
Information and contact
Do you have any questions? Please contact the Department Alumni Relations and Fundraising of the UG: alumni rug.nl or+31(0)50 363 7595