Alumnus of the year
The University of Groningen is proud of its alumni. They are the ambassadors of the University and we would like to affirm this bond by presenting an award to an alumnus/alumna who has reached an exceptional achievement in society. The Alumnus of the Year is nominated by the alumni community.
Sander de Hosson, Alumnus of the Year 2019
Pulmonologist Sander de Hosson has been elected Alumnus of the Year 2019 by the University of Groningen. He is receiving the award for the incisive way in which he calls for attention for the emotional side of palliative care and for making death a topic for discussion amongst medical staff, starting during their training.
Sander de Hosson (Utrecht, 1977) studied Medicine at the UG from 1995 to 2003, when he then specialized as a lung doctor and worked in this position at the Wilhelmina Ziekenhuis in Assen. He pays special attention to the human side of medicine, tries to make illness and death a more discussable topic and has developed himself into an ambassador of palliative care. He has also been influential outside the medical sector by publishing newspaper columns about patients in the last phases of their lives, which were collated in his book Slotcouplet (2018) that was elected Best Groningen Book 2019 in the non-fiction category.
His election as Alumnus of the Year was motivated in the jury report as follows: 'Through his significant involvement with his patients, his efforts for change in medical training programmes and the appealing and moving way in which he connects the outside world with what happens in the medical sector through his columns, Sander de Hosson is a fantastic and meaningful source of inspiration for everyone within and outside the medical sector and for current and future students of Medicine.'
The recently published July edition of alumni magazine Broerstraat 5 contains an interview with De Hosson under the title 'Everyone has their own ideas about a good death'.
Previous Alumni of the Year are:
About the Alumnus of the Year award
To qualify for the title of Alumnus of the Year, a candidate must meet the following criteria. We are looking for people who: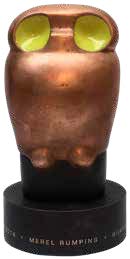 Have made an exceptional contribution to society, research, culture or sports,
Are an inspiration to others
Are a promise for the future (the Alumnus of the Year award is a midcareer prize).
The prize for the Alumnus of the Year is a specially designed sculpture of visual artist Wia van Dijk. The 'Athena Noctua' is a pure and powerful bronze statue that stands for wisdom, curiosity, and pride. Each year the sculpture is personalized by changing the color of the eyes to match the personality of the winner.
Information and contact
Do you have any questions? Please contact the Department Alumni Relations and Fundraising of the UG: alumni rug.nl or+31(0)50 363 7595