Merel Rumping, Alumnus of the Year 2016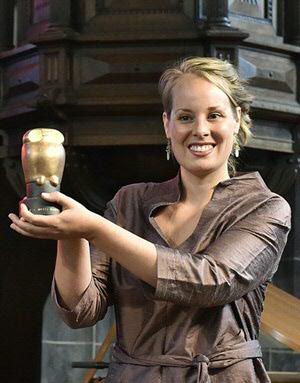 Merel Rumping has been elected University of Groningen Alumnus of the Year 2016. The alumna in International Relations and International Organization was awarded this prize for her work as founder and project leader of LegBank, a social enterprise that aims to provide affordable comfortable prosthetic sockets to vulnerable people in low-income countries who miss a lower leg.
The jury was unanimous in its choice: 'Merel's perseverance in setting up this initiative and spreading it across the globe is an inspiration to many, and a beautiful example of social entrepreneurship.' An interview with Merel Rumping can be found in alumni magazine Broerstraat 5 , published online on 5 July.
The jury of the University of Groningen Alumnus of the Year Prize praises Merel Rumping for her collaboration with both the academic world and the corporate sector. Together with Strathclyde University and design agency Reggs, LegBank developed the Majicast, a movable tank that makes it possible to produce affordable and customized prosthetic casts. The jury sees this as a beautiful example of the social entrepreneurship of the future: an enterprise that focuses on more than financial gain alone.
Social entrepreneur
In her work as credit provider in Colombia, Merel noticed that many people had to live without a lower leg, often due to accidents with landmines. Hospitals in Colombia are often far away and prostheses are expensive. She went in search of a solution and in 2014 launched LegBank, to increase access to affordable and comfortable lower leg prostheses. The Majicast will soon be introduced in Colombia by LegBank, who also offer support services in the form of training programmes and grants to help prosthesists set up a practice in remote areas. Worldwide there is a shortage of 180,000 prosthesists and LegBank hopes in this way to contribute to decentralizing prosthetic care.
Innovative and promising talent
Merel Rumping's academic career began at the University of Amsterdam, where she completed a Bachelor's degree programme in European Studies. She went on to study Political Sciences in Toulouse, followed by a Master's in International Relations and International Organization at the University of Groningen. She graduated in 2010.
At her young age, this University of Groningen alumna shows great promise for the future. Her ability to understand cultural differences, her language skills (in addition to Dutch she is also fluent in Spanish, French and English), combined with her extensive network in Colombia, have contributed to LegBank's incredible potential.
Her next objective is to introduce the Majicast in other countries. In 2015, LegBank won the ASN Bank World Prize and in 2016 it was presented during the 'Power of Progress' event to Microsoft top executive Bill Gates, who was impressed with the initiative. Internet company Google has donated €1 million to the idealistic start-up.
Alumnus of the Year Prize
The Alumnus of the Year Prize is intended as a mark of appreciation and encouragement. The prize is awarded to a UG alumnus who 'has made an extraordinary contribution to society, academia or culture, is a source of inspiration for others and shows promise for the future'. Previous winners include Jeroen Smit, Jelle Brandt Corstius, Stine Jensen, Matthijs Bierman, Wim Pijbes, Monica Arac de Nyeko and Luuk van Middelaar. This year's award is a sculpture designed by Wia van Dijk, who also created The twelve golden owls of Pallas Athena on the Harmonieplein. In previous years, the award was a sculpture by artist Jan Steen, who passed away in 2016.
The members of the jury of the 2016 Alumnus of the Year election were
Prof. Elmer Sterken, Rector Magnificus of the University of Groningen

Jeroen Smit BA, research journalist, former University of Groningen Professor of Journalism and first Alumnus of the Year (2009)

Jan Willem Baud BA, Commissioner and Overseer, alumnus and Vice President of the Board of the Ubbo Emmius Fund

Prof. Peter Barthel, University of Groningen Professor of Astrophysics of Active Galaxies
More information
| | |
| --- | --- |
| Last modified: | 09 January 2020 4.18 p.m. |