Wim Pijbes, Alumnus of the Year 2013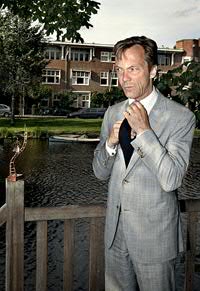 Wim Pijbes is the fifth recipient of the award "Alumnus of the Year" from the University of Groningen. The General Manager of the Rijksmuseum receives this prize for exposing to a wider national and international audience the Dutch cultural heritage. He is recognized by his alma mater for his innovative approach, his commitment to the highest quality and his quirkiness. The award will be presented to Pijbes on July 1st, 2013 at a meeting of the Amsterdam Alumni Circle of the University of Groningen.
Since 2009, the University distinguishes and honors one former student with this award. It is a prize which is intended as an expression of appreciation and encouragement. The Alumnus of the Year is an inspiration for others and serves as a promise for the future. Previous recipients have been Jeroen Smit, Jelle Brandt Corstius, Stine Jensen and Matthijs Bierman. They embody and have demonstrated values ​​and characteristics that the University of Groningen deems exemplary.
Museum for everyone
Appointed as General Manager of the Rijksmuseum in 2008, which was then rigorously undergoing renovations. Pijbes and his team have thrown the reputation of the museum into the international spotlight by going beyond the beaten track and exploring new dimensions. The museum's exposé of the collection of art history and Dutch national history convincingly together was not previously seen, captivating a broad international audience with the cultural heritage of the Netherlands.
Motto
"I am a Groninger" ,Pijbes said recently in an interview with NRC. "The more wind, the harder I pedal". In his efforts to achieve a museum for everyone, he has also showed obstinacy, tenacity and a critical attitude. He believes that all visitors to the museum should feel welcome and be taken seriously. Thus, following in the footsteps of another Groningen alumnus, one of his predecessors at the Rijksmuseum and teacher at the university, Henk van Os. The University hopes that his alma mater contributed to the culmination of these special qualities.
Biography
Wim Pijbes (Veendam, 1961) is the general manager of the Rijksmuseum in Amsterdam. He studied Art history in Groningen with a specialization in modern architecture. Besides his studies he was a lighting designer and theater technician. After graduating in 1988 Pijbes worked at Lantern Theater/Venster in Rotterdam and he organized international exhibitions of Dutch art and design. In 1996 he joined the Kunsthal Rotterdam. First as coordinator for exhibitions and since 2000 as its director. In 2008 Pijbes moved to the Rijksmuseum where he took office as general manager.
Presentation of the prize
The prize for the Alumnus of the Year 2013 is a specially designed image of the Groninger artist Jan Steen. Wim Pijbes will receive the prize on July 1st at a meeting of the Amsterdam Alumni Circle of the University of Groningen. During the Summer Ceremony on July 5th, a recorded video message of the recipient will be shown for the closing of the academic year.
| | |
| --- | --- |
| Last modified: | 11 July 2019 12.59 p.m. |