Monica Arac de Nyeko, Alumnus of the Year 2014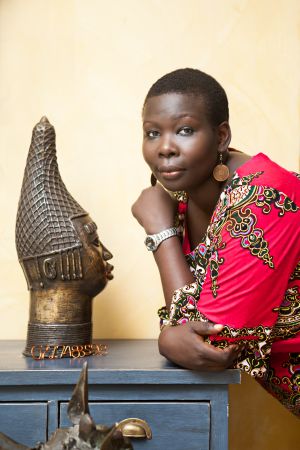 The University of Groningen has selected Ugandan writer and UNICEF humanitarian specialist Monica Arac de Nyeko as its Alumnus of the Year 2014.
'Monica Arac de Nyeko is a woman who in her work takes up the cause of vulnerable groups such as women and children in Africa, literally doing this in word and deed. She therefore gives expression to one of the core values of our university', concluded the jury. 'Monica is a prime example of the great potential of the international students at the University of Groningen and is a fantastic ambassador for our university. We hope she receives the attention that she deserves, also outside Africa.' Read the full report by the jury.
During the December Dinner on December 15th in the aula of the Academy building, Monica was officially awarded her prize: a specially designed sculpture of artist Jan Steen. Read her acceptance speech.
Work in vulnerable regions
Monica Arac de Nyeko came to study in Groningen in 2003 with a grant from the University of Groningen Eric Bleumink Fund. Having earned her Master's degree in Humanitarian Assistance, she went on to work for the World Food Programme (WFP), the United Nations Office for the Coordination of Humanitarian Affairs and UNICEF in countries such as Italy, Sudan, Kenya and Ghana. Through this work she makes a valuable contribution to solving humanitarian problems in vulnerable regions.
Prizewinning literature
Arac de Nyeko writes internationally acclaimed, prizewinning literature that broaches socially relevant themes such as homosexuality, which is a sensitive topic in Africa. In 2007, she won the most important African literary prize, the Caine Prize for African Writing, for her story "Jambula Tree", published here. Her short story "The Banana Eater" can also be read online (http://www.bu.edu/agni/fiction/africa/arac-de-nyeko.html).
The themes that she covers are often serious, but her tone is lively, cheeky and witty, is how the jury of the Caine Prize described her work. She is able to add a human dimension to her topics and her main characters are people of flesh and blood.
This year she was selected for Africa39, a list of the 39 most talented and promising young writers from Sub-Saharan Africa below the age of 40.
Literature event 17 December
Monica was invited by bookstore Godert Walter to hold a literature event on December 17th. She read from her story "Jambula Tree" and talked about her writing, African literature, her humanitarian career, women empowerment and more.
Alumnus of the year
The University of Groningen is proud of its over 110,000 alumni all round the world. Each year it honours one of them with the title of Alumnus of the Year. This prize is intended as an expression of both recognition and encouragement. The Alumnus of the Year is someone who, in the jury's opinion, has made an exceptional contribution to society, academia or culture, is a source of inspiration for others and can be considered to hold great promise for the future. Previous alumni of the year include Jeroen Smit, Jelle Brandt Corstius, Stine Jensen, Matthijs Bierman and Wim Pijbes.
Biography
Monica Arac de Nyeko is an award-winning writer and specialist in the humanitarian field with almost ten years of international UN experience in fundraising, external communication, relationship management and coordination. She graduated from the Makerere University in Uganda with a Bachelor's degree in Education, English and Literature in 2001 and went on to complete her Master of Arts in Humanitarian Assistance at the University of Groningen in 2003. She then began her international career as Junior Consultant at the Early Warning Unit at WFP Rome in Italy (2004). She became a Report Officer for WFP Khartoum in 2006 and later in the same year for OCHA/IRIN, an NGO that reports from the frontline of crises and mobilizes a humanitarian response. Arac de Nyeko has worked for UNICEF since 2009, first as Report Officer in Khartoum and then as a specialist in external relationships and fundraising in Accra.
Nominations and awards
2014 – Selected for Africa39: a list of the 39 most promising writers under the age of 40 from Sub-Saharan Africa. Africa39 is a Hay Festival and Rainbow Book Club project.
2007 – Winner of the Caine Prize for African Writing
2004 – Nominated for the Caine Prize for African Writing

2003 – Best Personal Essay in the Women's World writing contest '

Women's Voices in War Zones'.
Eric Bleumink Fund
Each year in December, the University of Groningen asks for your attention for the Eric Bleumink Fund. The fund provides scholarships to talented students and young researchers from developing countries. With this scholarship they can study in Groningen and develop their academic skills further. Since the launch in 2000, over fifty young and ambitious people have received a scholarship.
Articles
| | |
| --- | --- |
| Last modified: | 04 July 2023 10.58 a.m. |