Op studiereis dankzij het GUF
Jeri Nijland, studie Biologie aan de Faculteit Science and Engineering. Master specialisaties: Science, Business, and Policy profiel en Research profiel.
Onderzoeksstage aan het Douglas Mental Health University Institute in Montreal van oktober 2014 tot mei 2015: "Bright Light Therapy in the Acute Phase of Bipolar II Depression: Rest-Activity Rhythms and their Relationship with Mood State"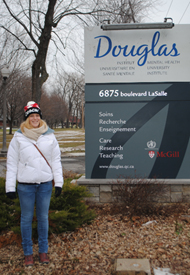 Met behulp van de GUF beurs voor Excellente Studenten had ik de kans om naar het Douglas Mental Health University Institute (McGill University) in Montreal, Canada, te gaan. In dit instituut wordt naast de behandeling van patiënten ook in grote mate onderzoek gedaan naar psychiatrische stoornissen en behandeling hiervan. Ik werkte hier als Research Trainee bij de afdeling "Study and Treatment of Circadian Rhythms", onder begeleiding van Prof. Dr. Diane B. Boivin. Deze afdeling maakt gebruik van speciale onderzoeksruimtes, de zogenoemde "tijdsvrije ruimtes", welke de mogelijkheid geven om de rol van de biologische klok te bestuderen onder strikt gecontroleerde condities. Doordat het lab onderdeel uitmaakte van het psychiatrisch ziekenhuis, gaf deze buitenlandse stage mij de mogelijkheid om heel gespecialiseerd onderzoek te doen naar psychiatrische stoornissen.
Het doel van mijn stage was het bestuderen van lichttherapie als interventie voor de behandeling van depressie in patiënten die lijden aan een bipolaire stoornis. Er zijn momenteel weinig goede behandelingen voor deze groep patiënten. Lichttherapie zou wellicht iets kunnen betekenen aangezien dit een positief effect heeft laten zien in andere typen van depressie. Daarnaast blijkt dat bipolaire patiënten vaak last hebben van verstoorde slaap en ontregelde ritmes in activiteit gedurende de dag. Het idee is dat deze factoren wellicht invloed hebben op de gemoedstoestand. Tijdens mijn project bestudeerde ik daarom de effecten van lichttherapie op slaap en ritmes in activiteit in depressieve bipolaire patiënten. De resultaten lieten een aantal erg interessante bevindingen zien en momenteel ben ik in samen met Prof. Dr. Boivin en Prof. Dr. Beaulieu bezig om onze bevindingen gepubliceerd te krijgen.
Al met al is mijn studiereis een ontzettend leuke en leerzame ervaring geweest, waarin ik me zowel op professioneel als op sociaal gebied heb ontwikkeld en veel heb geleerd. Graag wil ik het Groninger Universiteitsfonds dan ook bedanken voor de financiële bijdrage die deze reis mede mogelijk heeft gemaakt.
| | |
| --- | --- |
| Laatst gewijzigd: | 11 juli 2019 13:10 |