Faculty of Science and Engineering - Spanje, Barcelona
| | |
| --- | --- |
| Datum: | 26 augustus 2020 |
| Auteur: | Annelies Dellink |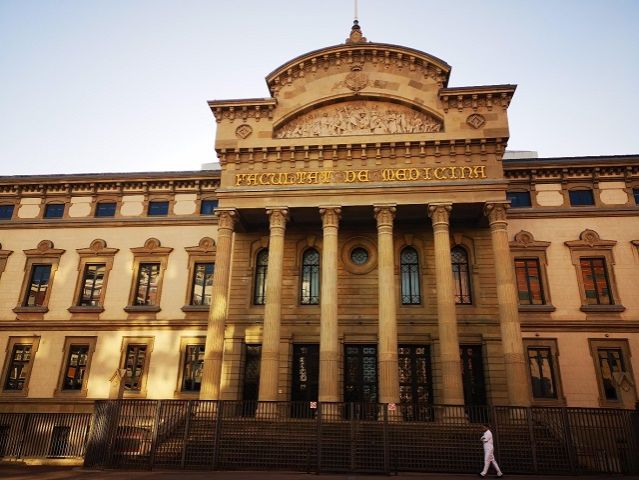 Project: The Effect of Psychotic Subtype on Cognitive Functioning: Investigating if There is a Continuum Within Bipolar Disorder
Ervaring: 4 januari vloog ik naar Barcelona om aan het laatste avontuur van mijn student-zijn te beginnen: een afstudeerstage op de psychiatrie afdeling van een kliniek in de Catalaanse hoofdstad. Ik was al een tijdje gefascineerd door de neuropsychiatrie, dus ik was erg blij dat ik een plek had gevonden bij een van de meest vooraanstaande wetenschappers op het gebied van Bipolaire stoornissen: Professor Eduard Vieta. Na gesetteld te zijn in de stad werd ik hartelijk verwelkomd op mijn nieuwe werkplek: Een kantoor in The Bipolar Disorder Program unit. Op advies van Eduard Vieta, ben ik de eerste weken vooral veel gaan leren over de psychiatrie in het algemeen. Hij vertelde mij dat het voor neurowetenschappers heel belangrijk is om te zien hoe het er dagelijks aan toe gaat in de kliniek, en wat het patiënten beeld is. Als researcher in opleiding krijg je vaak alleen de theorie, maar om in de toekomst de juiste onderzoeken te kunnen ontwerpen, ook al is het een cel- of dierstudie, is het heel waardevol om een kijkje in het leven te krijgen van een individu met een psychiatrische stoornis. Vandaar dat ik een aantal dagen met een psychiater ben meegelopen, die de gesprekken voerde met patiënten van de in-patiënt unit. Hier zaten personen in een actieve psychose, manie of depressie die tijdelijk in het ziekenhuis worden gehouden. Hoewel de meesten alleen Catalaans of Spaans spraken, vond ik dit een indrukwekkende ervaring. Ook kwam ik erachter dat in de psychiatrie op basis van gesprekken de diagnose en medicatie wordt gegeven, iets wat nog ver af staat van image-guided therapy of personalized medicine, wat in andere gebieden van de gezondheidszorg al heel normaal is. Psychiatrie is ook wel een bijzonder vakgebied. Wanneer iemand een ontregeling heeft in zijn lever, geeft dat pijn. Wanneer iemand een ontregeling heeft in zijn hersenen, geeft dat gedragsveranderingen, die kunnen leiden tot gevaar voor de omgeving en voor diegene zelf. Daarbij komt dat de wetenschap nog niet zo ver is om de exacte oorzaak van die ontregeling te kunnen oplossen, maar louter medicatie kan geven om de symptomen te onderdrukken. Er is dus nog veel te doen voor de neurowetenschapper in dit vakgebied!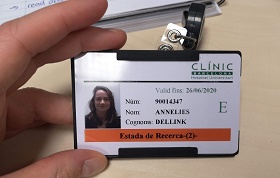 Onderzoek: Gezien de COVID-19 situatie ben ik in overleg met de supervisors overgestapt op een onderzoek dat grotendeels via de computer uitgevoerd kon worden, omdat in Barcelona de situatie vrij snel verslechterde. De data was al grotendeels verzameld, maar ik ben wel bij een aantal interviews en cognitie testen van patiënten geweest. Mijn onderzoeksvraag ging over het verschil in cognitieve disfunctie bij patiënten met een bipolaire stoornis. In de stabiele fase, dus buiten een manische of depressieve periode, blijken sommigen last te houden van cognitieve disfunctie. Waar deze achteruitgang vandaan komt, en waarom de ene patiënt hier meer last van heeft dan de ander, is onbekend. De hypothese van mijn onderzoek was dat de aanwezigheid van een bepaald subtype psychose wel eens verantwoordelijk kon zijn voor de mate van cognitieve problemen. Voor verder details staat mijn (Engelse) samenvatting/abstract hieronder weergegeven. Graag wil ik het GUF bedanken voor de financiële steun van deze stage, omdat dit het voor mij mede mogelijk maakte om wetenschappelijk onderzoek te doen in een hoog aangeschreven internationale onderzoeksgroep. Ik heb er ondanks de huidige situatie ontzettend veel kunnen leren.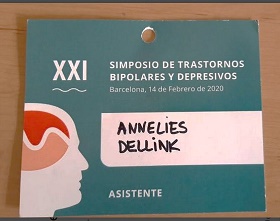 ABSTRACT
Background: Cognitive dysfunction being persistent in the euthymic phase of bipolar patients is contributing to functional disability. However, large heterogeneity in the degree of impairment exists, with the performance of patients ranging from non-impaired to as severely impaired as schizophrenic patients. The underlying mechanism of this impairment, and the variables that predict the variation in cognitive dysfunction is still unknown. Evidence exist that mood-incongruent psychosis in bipolar disorder (BD) has a more severe disease course, and is suggested to have larger overlap with schizophrenia. In this study, we investigated if psychotic subgroups differed in cognitive impairment. Methods: BD-I and BD-II were split in 3 subgroups based on presence and nature of psychotic symptoms; non-delusional (ND, n=41), mood-congruent psychosis (MCP, n=31) and mood-incongruent psychosis (MIP, n=38), and compared to healthy controls (HC, n=42). All underwent a clinical interview to gather sociodemographic, clinical and function data, and were subjected to an extensive battery of cognitive tests. ANOVA and MANCOVA respectively were used to detect significant differences. Results: MIP had a higher number of manic episodes (p<0.001), higher nr. of hospitalizations (p = 0.033), a worse performance on the Attentional-Cognitive test for Impulsivity (p=0.017), higher amphetamine use (p=0.037) and a 100% BD-I diagnosis compared to MCP (80,6%, p=0.006). No significant differences were found in cognitive test results. Additional analysis in the mancova showed age, estimated IQ, years of education and lithium dose to have significant effect on cognitive test scores. Limitations: Large heterogeneity and small sample sizes likely made this study of inadequate power. Also, stricter criteria for psychotic subgrouping should be defined in future studies. Conclusion: Psychotic subgroups differ in clinical and functional aspects of the disorder, but more research with larger sample sizes is needed to investigate if the type of psychosis can predict cognitive impairment.