Faculteit Medische Wetenschappen - USA, New Haven
| | |
| --- | --- |
| Datum: | 14 juli 2020 |
| Auteur: | Annemiek Veldsink |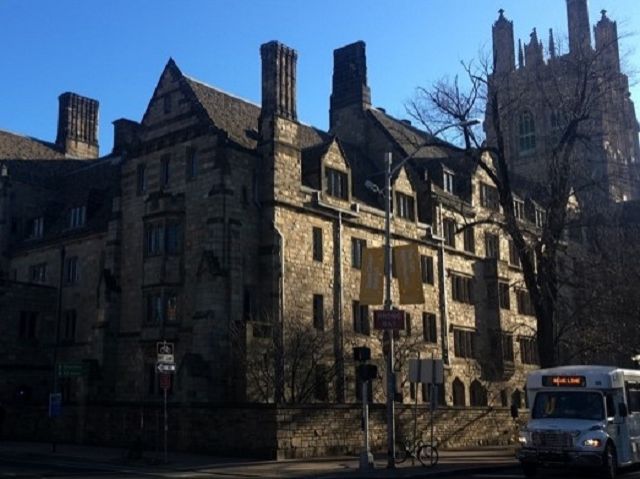 Op 22 november 2019 vertrok ik voor een onderzoeksstage van een halfjaar naar New Haven, Connecticut, USA. Mijn eerste masteronderzoek had de deuren geopend voor een tweede project aan Yale School of Medicine, department Cell Biology - een gedroomde kans om mee te draaien binnen de onderzoekswereld van een prestigieus instituut als Yale! Ik kon niet wachten om te vertrekken, zeker omdat het afgelopen half jaar voornamelijk in het teken had gestaan van alle administratieve zaken omtrent deze stage.
Gezien de datum van mijn vertrek, viel ik meteen met mijn neus in de boter: Thanksgiving. Hoewel het labwerk daardoor vrij rustig begon, trokken mijn Amerikaanse huisgenoten alle pannen uit de kast om een heus Thanksgiving Dinner te maken. Ook in de daaropvolgende weken stopte de feestvreugde niet: op de universiteit en het lab werden verschillende kerstborrels en -activiteiten georganiseerd. Een betere manier om iedereen te leren kennen was er eigenlijk niet!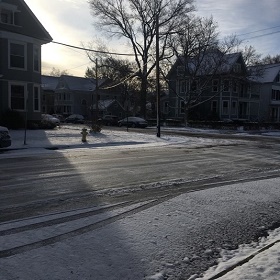 Mijn draai vinden op het lab ging gelukkig erg snel. Mijn project kreeg meer body, we kwamen met nieuwe hypothesen en zetten verschillende experimenten uit. De onderzoeksgroep bestond uit 14 enthousiaste onderzoekers, met verschillende focus en expertise, waar ik veel mee heb kunnen brainstormen. Veel kwamen van over de hele wereld, met hun eigen (onderzoeks)cultuur en verhalen. Enorm inspirerend, zowel op professioneel als persoonlijk vlak. Daarnaast waren er bijna wekelijks interessante gastcolleges van grote namen in het celbiologie veld.
Hoewel mijn weekdagen waren gevuld met labwerk, was er genoeg tijd om het Amerikaanse leven te ontdekken. New Haven ligt een uur van New York, dus tijdens weekenden was een dagtrip naar New York een populaire optie. In de omgeving waren daarnaast een aantal National Parks met toffe hiking trails. Toch zat voor mij de Amerika-ervaring vooral in de kleine dingen van het dagelijkse leven in New Haven. Als voorbeeld: geen Albert Heijn op de hoek van elke straat, dus ieder weekend met de auto naar een uitgestrekt winkelgebied een aantal kilometers verderop om weekboodschappen te doen. Infrastructuur die vooral gericht is op auto's en weinig ruimte laat aan fietsers; waarbij de sidewalks wel breed zijn maar nauwelijks gebruikt worden. Voor studenten zonder auto biedt Yale een shuttle service aan, dus aan het eind van de dag was het altijd weer spannend of je de shuttle zou halen en hoe vol hij zat. Daardoor realiseer je je extra hoe fijn het is in Groningen, waar je alles lopend of op de fiets kunt doen.
Ondanks dat Covid-19 een abrupt einde bracht aan mijn verblijf in de US, heb ik een hele positieve ervaring overgehouden aan dit project. Mijn supervisors op het lab waren fantastische mensen en hebben er, samen met de andere lab members, voor gezorgd dat ik in een warm bad terechtkwam. Ik ben gegroeid als wetenschapper. Ik kan dan ook niets anders dan aanraden om een stage in het buitenland te doen!