Coral Associated fauna - Curaçao
| | |
| --- | --- |
| Datum: | 15 juli 2022 |
| Auteur: | Sean Langdon Down |
Between October and December of 2021, I and 4 other fellow Marine Biology master students headed out to the Dutch Caribbean island of Curaçao as part of our final master's project. This trip aimed to study various coral-associated fauna and their relations to different coral species across several different reefs along the coast of the island. While working in our team the five of us were supervised by Prof. Dr Bert Hoeksema and while working in a team we each had a different species or group of coral fauna we would focus are individual reports on, in my case, I was looking at corallivorous snails, which are snails know to live on and around corals and feed on coral tissue.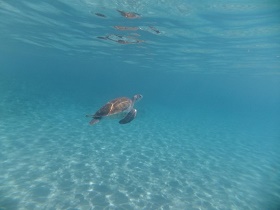 We spent just under 2 months in Curaçao and while there we stayed in an Airbnb in the area of Nieuw Nederland this was only a short walk or an even shorter drive from the very pretty capital of Curaçao Willemstad, famous for its highly colourful houses. During our time in Curaçao, we worked in part at the local research institute CARMABI (Caribbean Research and Management of Biodiversity). This research institute had a dive shop at the same location at this dive shop we would store and collect our dive equipment every day before heading out to the various dive locations for the day. Visiting CARMABI most days allowed us to meet a few of the other researchers there some also from the University of Groningen and learned about the different topics and projects they were working on. One of our visits to CARMABI coincided with a visit from the Princess Beatrix of the Netherlands who was on a visit to Curaçao at the time to view different charities and organisations on the island.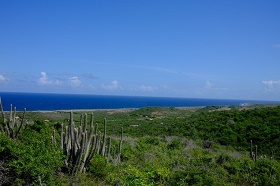 During this project, we performed over 50 dives over numerous dive locations to collect the data for the project. During these dives successfully collected enough data for our analysis but also we were lucky to be able to see some of the beautiful marine life that Curaçao has, from its man different coral species to turtles and even some dolphins. Additionally, we made time to be able to have a few recreational dives, including diving the famous wreck of the Superior Producer, a freight ship that sunk in 1977 and is one of the most popular dive sites in Curaçao. Additionally, as diving every day can be very exhausting we made sure to leave a few days to rest and explore the island and some of its many beautiful beaches and viewpoints. I and the team all found this an amazing experience and my thanks go to the Groningen University Fund for their support in making this research trip this research trip possible.