De Rijksuniversiteit Groningen is trots op haar alumni en wil dit aan iedereen laten zien. Daarom wordt sinds 2009 jaarlijks een bijzondere oud-student(e) onderscheiden: de Alumnus van het Jaar.
De meest recente Alumnus van het Jaar is:
Over de prijs
De Alumnus van het Jaar prijs is zowel een uiting van waardering als van aanmoediging. De Alumnus van het Jaar: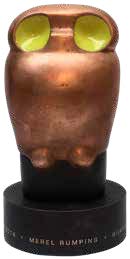 heeft een bijzondere bijdrage geleverd aan de maatschappij, de wetenschap, sport of cultuur;
is een inspiratiebron voor anderen;
én geldt als een belofte voor de toekomst.
De prijs voor de Alumnus van het Jaar bestaat uit een speciaal hiervoor ontworpen beeld van beeldend kunstenaar Wia van Dijk. De 'Athena Noctua' is een puur en krachtig bronzen beeldje dat staat voor wijsheid, nieuwsgierigheid en trots. Elk jaar wordt het beeld gepersonaliseerd door de kleur van de ogen te veranderen die past bij de persoonlijkheid van de winnaar.
Informatie en contact
Neem voor meer informatie of een nominatie contact op met de afdeling Alumnirelaties en Fondsenwerving van de RUG: alumni rug.nl of 050 363 7595.