'I've never felt that anything has or has not happened because I'm a woman.'
Vanessa Ackah, journalist and presenter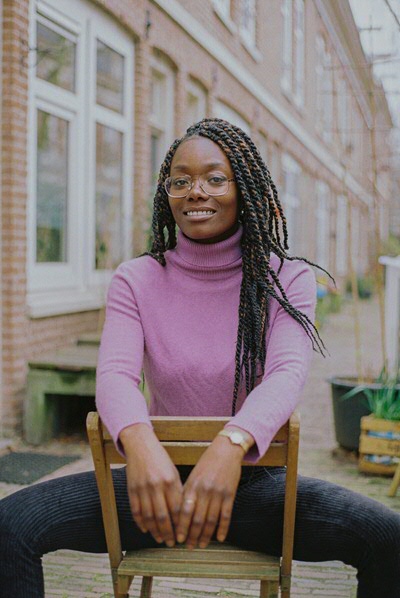 Text: Aafke Eppinga, translation: UVC
It was during a student exchange in Malaysia that Vanessa Ackah (1991) created her first radio item. From that moment on, she was certain that journalism is her calling. She earned a Master's degree in Journalism at the University of Groningen. As a radio DJ, she has presented the daily afternoon show Turn Up! on FunX and she is a presenter on the KRO-NCRV YouTube channel Spot On.
Vanessa suggests meeting on the seventh floor of the Volkshotel in Amsterdam. 'Her' city stretches for miles in the background. She vigorously stirs the cappuccino in front of her. She is tense, as she is used to being on the other side of the table.
As part of your Bachelor's programme in Communication Sciences, you went to Malaysia on a student exchange. It was there that you first came into contact with journalism. Tell me about it.
'The assignment was to create three journalistic stories. We had the choice between video, radio, and writing. I immediately knew that I wanted to do radio. I'm good at storytelling, but writing is more difficult. Once I had created two radio items, I was sure: this is it. I then started looking for an internship in journalism. When that didn't work out, I decided to go to an AVRO-TROS lecture on journalism and diversity. At the end, everybody had the opportunity to ask questions. I told the director of the network, "Look. I'm searching for an internship, but I can't get anywhere because I don't have enough experience. You just presented a story on diversity and journalism. I'm the woman you're looking for!" I got an interview, and then I got the internship. For six months, I was able to call people, conduct interviews, and create items. I felt like a fish in water.'
After the internship, you moved to Groningen to start the Master's programme in Journalism. How do you look back on that time?
'It was a good time, but it was also a challenge. The programme was demanding, and I also had a job. There were times when I'd tell the others in my group at 5.30 p.m., "Guys, I'd love to stay, but I've got to go to work. Otherwise, I won't be able to pay my tuition." They weren't always understanding. It was also a time for having fun. I've been in almost all the bars, ha! I was young and living in the student capital of the Netherlands.'
As a student, did you have a female role model to look up to?
'Not so much as a student, but as a young girl. Milouska Meulens used to be a presenter on the Jeugdjournaal. Every time she was on television, I thought, "I want to be like you." It probably had something to do with identification, with the fact that I saw another brown woman on television presenting the news. As a small child, I didn't realize it. Looking back, however, that was very important.'
After graduation, you started working as a reporter for FunX. Within three years, you got your own afternoon show, together with Giorgio Hokstam: Turn Up! How did that come about?
'I got a call asking me to report to the office. I almost had a heart attack, thinking I had done something wrong. Then they asked me to take over the afternoon show with Giorgio. That was in November. Less than two months later, in January, we presented our first show. I was shy at first, and Giorgio and I were still trying to figure things out, but I soon felt at ease. I considered it important to devote attention to problems in society that affect young people. For example, the housing problem makes me very angry. I wanted to draw attention to that.'
Were you hired because you are a woman?
'No! They needed a woman and a man. I've never felt that anything has or has not happened because I'm a woman. In journalism, especially in the places where I've worked, the ratio between men and women has been quite equal. In fields where that is not the case, quotas could help to achieve more equality. I'm definitely not opposed to that.'
Earlier this year, you decided to stop working at FunX. Why?
'My time at FunX was fantastic, but I was always on the go. I had to do a hundred things at the same time. At some point, I started wondering if this was still making me happy. The answer was, "No." For the first time in my life, I have the time and space that I need to consider my next step. It's not easy, but I think that it's a good thing. I'm filled with confidence and looking forward to the future.'
Is there a time on which you can look back with pride?
'I'm very strict with myself, and it's difficult for me to feel proud. I always want to score a 10. I've recently started roller skating, and it's been a real eye-opener for me to realize that I can also have fun while learning something. I keep telling myself, "Take it easy, Vanessa. Slow down for a bit." Roller skating isn't something you can learn in one fell swoop!
If I have to mention something, I could say that I'm proud of my participation on De Slimste Mens. I was scared to death. I can also take pride in looking back on presenting the afternoon show. I was just there.'
Vanessa Ackah
Vanessa Ackah (1991) comes from a Ghanian family and was born and raised in the Netherlands. She grew up in Hoofddorp. When she was 12, she moved to Almere with her mother and younger brothers.
After completing a Bachelor's degree in Communication Sciences at the University of Amsterdam, she enrolled in the Master's degree programme in Journalism at the University of Groningen. While she was still a student, she started working as a roving reporter for FunX, searching for stories from youth culture. From 2019 to 2021, she presented the afternoon show Turn Up on FunX. Vanessa is also one of the faces of Spot On , the KRO-NCRV YouTube channel by and for women. She also records advertising spots and gives lectures on a regular basis. In 2021, Vanessa was one of the contestants on De Slimste Mens .
| | |
| --- | --- |
| Last modified: | 13 December 2021 10.33 a.m. |