'I take care of the business and my sister takes care of the successors!'
Marlies van Wijhe, CEO Koninklijke Van Wijhe Verf B.V.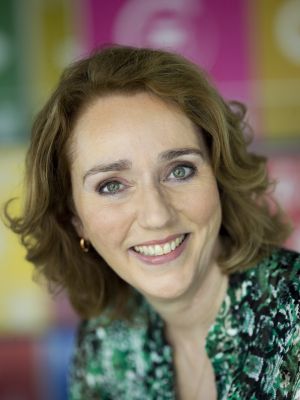 Text: Ellis Ellenbroek, translation UVC
Marlies van Wijhe (1965) was still studying Business Administration in Groningen when the question cropped up during a family meeting: Did she and her sister want to take over their father's paint manufacturing company? For the pair, it was a no-brainer.
You run a paint factory. Are you good with a brush and a roller?
'I haven't touched a paint brush in a very long time. I leave that to the professionals. I did always do the painting in the small rented flats I lived in before I bought a house. Using our own paint, of course.'
Around the mid-1980s, your family was called together to decide on the future of the company. Can you tell us a bit about that?
'We were still very young at the time. I was studying Business Administration in Groningen. My dad was in his fifties. He'd had offers before, but this time it was so tempting that he really had to think long and hard about it. He sat my sister Marijke and me down and said, "Look, we can sell the business for a good price. But if you want to take over, we'll reject the offer. So, it's up to you!" We asked if we could mull it over for three weeks. We soon came to a decision; we wanted to carry on the business. I became CEO in 2000. Marijke was never interested in doing that; she's now the corporate marketing and communication manager.'
By doing a degree in Business Administration, were you not already preparing to follow in your father's footsteps?
'I had actually wanted to study biology, but that didn't really suit me. I suppose the fact that I ended up studying Business Administration was no doubt influenced by the stories we heard around the kitchen table. In those days, Business Administration, with course units like marketing, production, and finance, was a new programme. When I talked about it at home, my dad said, "Wow, Marlies, that's what I do!"
During the lectures, even when it got a bit boring, I always had our company in the back of my mind. Because I was able to link the things that we were learning to the family business, it suddenly became fun.
Sure, I used to tell myself that I wasn't going to do what my dad did. But in the end, blood is thicker than water, and there's really nothing better than going into your own family business if you can.'
What made you decide not to study biology?
'I went to the open days in Groningen and Utrecht. I didn't see myself being there, no matter how interesting I thought the subject was. I'd heard a story about counting the amount of goose droppings within a square metre and thought, "No, no, this is definitely not for me".'
Suppose your dad had accepted the takeover bid. How would you have felt about that?
'I've never asked myself that question, but I don't think I would have liked it.'
Your dad took over the reins from his dad in 1971. Did he not have any sisters who would have been interested in doing that?
'My dad was an only child. We're a small family. The man who founded the company, my great-granddad, had two sons. One of his sons never had any children, and the other, my granddad, had one son, my dad. My sister and I are the first women.
August 2020, we opened an innovation lab, Wydo NBD, at the Zernike Campus in Groningen. "Wydo" stands for Van Wijhe and daughters! "Wijzonol", one of our best-known products, stands for Van Wijhe, sons, and oil.'
Is the paint business a man's world?
'Yes. I was the first female director in the Netherlands to head a paint manufacturing company. After all, it's quite a technical world.'
One of the company's top priorities at the moment is sustainability. Could you tell us about a few of your achievements?
'When I was named Business Woman of the Year in 2010 – I won the Prix Veuve Clicquot – I was added to the Walk of Fame at my old faculty. They asked me to come up with the text for a plaque near the faculty building. Klaas Knot and Hans Wijers are there, too. My plaque features the company motto: "No modern sustainable future without a substantial dose of innovation."
In 2012, we were the first company in the Netherlands to produce a bio-based wall paint. Back then, I even had to explain what bio-based was. This paint has had two successors since then. In our industrial paste line, we have a small range of bio-based products. Bio-based is still a very new concept in the industrial market.
I often hear people say that paint and sustainability don't really go together. That really pisses me off! For a start, all companies have a duty to look for ways to become more sustainable. And that's definitely possible, I'm sure of it. And secondly, why can't paint be sustainable? My trade is all about protecting and decorating. And we do that with a few microns, so an incredibly thin coat! My outdoor paints provide protection for up to twelve years; we are the only ones in the Netherlands offering that kind of protection. Twenty years ago, that was only six. As if that's not being sustainable.
I once replied to someone who made such a comment, and said "We're thinking about introducing a new policy at the company. People who have more than two children are not allowed in." It was a joke, of course, but with a very serious reference to the explosive population growth, which I believe is a major environmental problem. Well, you should have seen their face change colour when I said that!'
You don't have any children. Was that a conscious decision?
'No, it wasn't. I just went with the flow and that's that. And that suits me just fine.
I love my job and I never had a strong desire to have children. I just can't imagine what it must be like for those people who are desperate to have children and do anything it takes to have them. I just don't feel that way. I just think, "Why? Just don't have them and enjoy what you have."
My sister has a son and a daughter. Thankfully, because we need a fifth generation, after all! My niece is now studying Business Administration in Groningen. And my nephew, who studied Events Management and had completely different plans, now works at the company full time. I always say that I take care of the business and my sister takes care of the successors!'
What do you like to do in your free time?
'I work a lot. When it comes to your own business, you're always "on". I am also chair of FBNed, the association of family businesses in the Netherlands, and of Future for Nature (see box). I also like going for walks and watching films. And reading, but I can never find the peace and quiet to do that. I also enjoy having a few drinks and a bite to eat with friends and family.'
Do you ever get a bit tired of your family?
'No, no, fortunately! I really don't. Although we do occasionally have our disagreements. We also live near each other, within walking distance.'
What's your take on equal opportunities for women in business?
'I think it's good that more attention is being paid to opportunities for women, but I'm not in favour of quotas for women. I'm really getting a bit fed up with all that. I focus on quality, also when it comes to the business, and not on gender or any other box. Everything is put into pigeonholes these days. Everyone is trying not to think in boxes, but there are more boxes than ever before. The LGBTQI+ community, for example. It really doesn't matter to me what someone is.
I don't get involved with women's networks, either.'
How many women work at Van Wijhe Verf?
'Twenty-two per cent of our staff are women, 20 per cent of whom are in managerial positions. I often say when we're looking for candidates to fill a position that it would be great to appoint a woman, but that can sometimes be difficult. We don't have any women working in the production department or in the warehouse. We have had in the past, but it didn't work out and the girls left of their own accord.
I think that some sections of an organization are not all that appealing to women. You're just not the same as a man. You are equal, but not the same. And I don't want to be called gender-neutral either.'
I don't think I really need to ask, but you're not a feminist, are you?
'No'.
Marlies van Wijhe
Marlies van Wijhe (Zwolle, 1965) studied Business Administration at the University of Groningen from 1983 to 1989. During her student days, she was a member of the Albertus Magnus student association. After graduating, she worked for the chemical company DSM. In 1994, she joined the family business, where she was initially responsible for exploring the export market for colour pastes. She later became head of the export department. Marlies has been CEO of Van Wijhe since 2000, making her the fourth generation at the helm of the company that was founded in 1916.
Royal Van Wijhe Verf in Zwolle is the third largest paint manufacturer in the Netherlands with an annual turnover of approximately €50 million and approximately 240 employees. The manufacturer exports to 25 countries throughout Europe, America, and Asia.
In 2010, Marlies won the Prix Veuve Clicquot, a prestigious international award for female entrepreneurs who are regarded as figureheads. She is chair of the Future for Nature foundations, which supports young, ambitious nature conservationists, and a member of the Council of Recommendation of Gered Gereedschap (a foundation for rescued and refurbished tools). Marlies is also chair of the board of FBNed, the association of family businesses in the Netherlands. In 2019, Marlies became a Knight of the Order of Oranje-Nassau.
| | |
| --- | --- |
| Last modified: | 06 April 2022 12.02 p.m. |