'I will be drawing on my history as an athlete for the rest of my life. It's a common thread.'
Karin Kienhuis, elite athlete and regional director Alfa College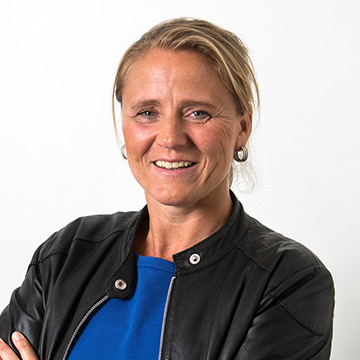 Text: Ellis Ellenbroek, translation: UVC
For Karin Kienhuis (1971), motherhood did not come easy; it took her five years to have a child. She is raising her son alone, in addition to working full-time as a regional director at Alfa College. Because of her former career as an elite judoka, however, she is able to meet these challenges.
How did you become involved with judo?
'The boys in my neighbourhood all started taking judo. That left the other girl in my neighbourhood and me without any playmates on Friday afternoon. We went to watch the boys, and to participate as well. When I was 15 years old, I was invited to a training weekend, which was also attended by girls who participated in competitions. They asked me, "Why don't you come train with us?" Before I knew it, I was training five days a week. I became a real training freak. I always went, even if I was injured.
As a girl, I was bullied because I was very fat. I got called all sorts of names: blimp, fatty—you name it. Judo helped me lose 20 kilos. One of the girls told me, "I want to get down to 66 kilos." That was my goal as well. We did it together. We went jogging in raincoats, so that we would sweat more. That was a very bad idea. If I had to do that now, I would do it differently. But it helped. I felt better, and I became better at judo because I wasn't carrying around all that extra weight.'
In 2001, you decided to end your career as an elite athlete. After two decades, how do you look back on that time?
'The Olympics will always be a sore spot. I had wanted to compete and win a medal, and I never did. The Olympic philosophy is, "Participation is better than winning." But it's really hard to take if you're capable of winning a medal and you don't.
All things considered, however, I had some fantastic years: the performance that I achieved, the prizes that I won, the friends that I made, the fun that I had and how I developed throughout the experience. My career as an elite athlete made me who I am today.'
Do you mean that judo changed you as a person?
'Absolutely. I will be drawing on my history as an athlete for the rest of my life. It's a common thread. An elite athlete is a particular type of person: disciplined and focused on goals and results. An elite athlete can work hard, keep going for a long time, and work towards a goal.
I was very young when I became a regional director: 35. That's not very common at a regional education centre. I credit my training as an athlete for that. I had hardly any management experience. I had barely had time to set goals for my professional life. I had not yet set out a path. It just happened, and when I got the opportunity to develop myself in management, I got on that train.'
On the flip side, elite athletes tend to be one-sided and monomaniacal.
'Some elite athletes are indeed focused on only one thing. For my part, I was pursuing a degree at the same time. I also had a full social life. That really helps to keep your feet on the ground.'
You are combining a full-time job with raising a son alone. You were 46 years old when he was born.
'Motherhood is a dream come true. It's better than an Olympic medal. I really wanted to have a child, but it was not easy. It took years, and several miscarriages. It was my mentality as an elite athlete that kept me going throughout the whole process.'
Has motherhood changed you?
'You can't know what it's like to have a child of your own until you have one. He always comes first. If I'm at work and I get a call that there's a problem with him, I have to go pick him up. I'm always saying that I can no longer devote 100% of my brain to my work or other things. I have a feeling that my performance has declined, because a part of me is now always with my child. Someone once told me, "Okay, Karin, but before you had him, you were always giving 300%". As an elite athlete, it's in my nature to put 200% into everything. Now, I have to compromise. It's complicated. I work full-time, but I try to keep Friday afternoons free for my son. I often work anyway, however, because I would feel guilty if I didn't.
Because of the pandemic, working from home has become quite normal. It's also become normal to work flexible hours, like in the evening instead of during the day. Our society still has a long way to go, however, with regard to making employees feel that it's okay to do these things, and giving them the space that they need in order to do them.'
Have you ever felt that you have been at a disadvantage because you are a woman?
'I breastfed my son. In meetings, people would ask me when I was going to stop doing it. I had to leave meetings to pump. When I told someone about my experience, I realized that female teachers often stop breastfeeding because they do not want to leave their classes alone while they pump. The CAO states that employees are entitled to breastfeed for nine months. Employers are responsible for making the proper arrangements, however complicated it might be at times.'
Do you see yourself as a role model for other women?
'I don't see myself that way, but some people think that I'm a role model because I'm in a high-level position and raising a child alone, along with my former career as an elite athlete. People who request a networking interview with me because they've gotten stuck in their careers will often ask me how I did it.'
Who is your own role model?
'Nelson Mandela. To me, he is a true source of inspiration in terms of leadership, interacting with people, and how he stood up against apartheid. I'm also inspired by his years as a prisoner on Robben Island. He could have hated so many people, but he forgave them all. You have to have a big heart to do that.'
Finally: Can we still find you on the mat from time to time?
'I no longer do judo, because of back problems. Now I jog, in additional to personal training and yoga. I once did a yoga week. It really helped me with the injuries that I had sustained from my time in the sport. It made me much more flexible and mindful. I think that yoga would have been very good for me in my judo years. It was not very common at that time, especially not for elite athletes. I would nevertheless recommend it for all of them.'
Karin Kienhuis
Karin Kienhuis (Almelo, 1971) completed a degree in physical education (1989-1993) and went on to study human movement sciences at the UG (1993-1998). She taught sports and movement and worked as a sports consultant and, in 1996, took a management position at the Alfa College regional education centre for the northern and eastern regions of the Netherlands. Since February 2021, Kienhuis has been the regional director of Health, Welfare, and Services at the Groningen location.
Best known as a judoka, she was a six-time Dutch Champion, in addition to winning two silver medals, two bronze medals, and a gold medal with the Dutch national team at the European Championships. She competed at the Olympic Games in Atlanta (1996) and Sydney (2000). Kienhuis lives in Groningen with her son (3 years old).
| | |
| --- | --- |
| Last modified: | 26 November 2021 11.06 a.m. |