'I am leaving the consultation room, but staying at the barricades.'
Angela Maas, Professor of Cardiology for Women at the Radboud UMC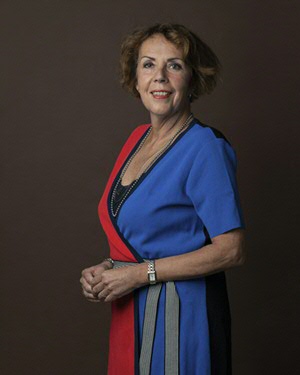 Text: Ellis Ellenbroek, translation UVC
As a cardiologist, she has noticed that women's hearts are very different to men's and deserve a different kind of care. Angela Maas (1956) has turned out to be a true cardiofeminist. Now that she is approaching retirement, this gives her the opportunity to stand up for the position of female patients in a broader sense.
Do you often think about your time studying in Groningen?
'Right now I think about it a lot. I am coming to the end of my career as a doctor. So you do look back. What was it like in the beginning? What sort of doctor did I want to be? My studies all went quite smoothly. In my fourth year, I asked my father's permission to take a year off. I went to Greece twice for three months on my own. I had done a course in Greek in the past at the former Language Institute in the Alfa building. I went to grammar school, but we had never travelled with the class to see the antiquities. At Utrechts Stedelijk Gymnasium, we were a very rebellious class. They thought we were too much trouble to take us on a trip. We were societally active, very left-wing.
I went to Greece to find myself. Sounds a bit heavy, but still. I wanted to have a foundation on which I could build the rest of my career. You don't just find that in the classroom. What it gave me was a sort of self-confidence, a basic sense of security. A sense of, whatever happens, I can look after myself. Other people would say, "Can't you just join a student organization?" But I didn't let myself be fooled or go in for binge drinking. I was focused on societal developments. I felt attracted to the second wave of feminism.'
What was Angela like back then? What did she look like?
'I had long hair and walked around in my dad's old army clothes he had left over from his military service. They were all army green shirts. He apparently didn't have to give those back. During my time training as a cardiologist, I did become a bit more cocky. I think I became that way so that I could fit in. Nowadays, I walk around wearing cowboy boots. They suit me better than penny loafers. As I come closer to retirement, I gradually feel more liberated.'
Which feminist topics did you initially focus on during your studies, particularly about the heart?
'Raising awareness among women. Economic independence. That you don't need to depend on your husband. The importance of having and keeping a job. Not only for your financial independence, but also for your own self-development.'
You translated the position of women into the position of the female patient. You call yourself a cardiofeminist, a word that you invented. Can you describe what that process was like?
'I wasn't aware of it happening. Female patients were a bit obscure. That is what I noticed during my training. Women had strange complaints that didn't fit in with what we had thought out for the standard patient – the standard patient being a man. Cycling tests with female subjects were always strange. If you performed a cardiac catheterization, you always found fewer or even no constrictions in comparison to men.
In the Nineties, the first articles appeared in the big cardiology magazines claiming that there was more to this. That there are, in fact, concrete differences. That more research needed to be done. Since then, I specialized in the female heart. I do indeed call myself a cardiofeminist. My message is that we must make distinctions where it is appropriate. If you continue to measure the female heart patient against the male yardstick, then you will get confusing and unclear diagnoses and often, in addition to this, incorrect treatment.
The patients themselves have also woken me up. Partly because of the internet, they were no longer prepared to be taken for granted. I remember something in particular from that time. A female patient was furious with me and yelled at me: You don't even know what's wrong with me. You don't know. You are just saying whatever.'
You obtained your PhD in 2006. When you were fifty. That is, with the utmost respect, quite late.
'When I was doing my training, the men were the ones who did PhDs. They were assigned a topic. I covered their surgery hours so that they could work on their dissertations. At that time, I didn't see any interesting topics to work on myself.
I highly recommend doing a PhD later in life. Because you can once again delve into your subject area and choose a topic yourself, one that you are obsessed with.'
How did your dissertation come about?
'It was a growth process. Initially, I considered researching the role of oestrogen on the blood vessel wall. I approached all kinds of universities and professors. But each time, I got a negative response. If I wanted to research hormones, I had to go to a gynaecologist. Cardiologists didn't want to discuss hormones. And they especially didn't want to talk about menstruation, something returns if you give women hormones after the menopause and they still have a uterus.
I was working in a partnership in Zwolle, as the only woman. And I began to see more clearly that if I wanted to be taken seriously, I had to have a PhD. I obtained one as an external PhD student supervised by two female epidemiologists in Utrecht, where I studied the link between the calcification of the arteries in mammograms and the risk of heart disease in women.'
Working full time, obtaining a PhD, and then becoming a professor all since 2012. In addition to all this, you went out and about, tirelessly bringing attention to questions concerning the female heart. How did you manage at home?
'My husband was also a cardiologist. We have two sons. The eldest is autistic. He is now 32 and lives on his own nearby, but for sixteen years we had two childminders in the house who took turns helping us out. That, of course, cost loads of money. It was possible for us to afford it because we both had a good income.
At some point, my husband took it upon himself to do the cooking. I never cook and I cannot cook. I took charge of organizing the childminders. Other than that, we have done everything else together. And when I had to go away for conferences for a few days? My husband said: "Hey, just go, I'll sort things out here at home." If you both want to make a career for yourselves, that means that you have to support each other in that as well. One of you has to make concessions and then the other one does. For us, that very much went without saying.'
Was your husband naturally so emancipated? Or did you help him to become that way?
'I am his second wife. He obviously learnt quite a few lessons in his first marriage.'
You are going to retire on 1 May 2022. What do you consider to be your greatest achievements?
'I have given the female heart patient a place in current practice. There are still people who remain sceptical about distinguishing between male and female hearts, but they cannot ignore the facts, the scientific insights that we broadly acquired. Gender differences have become an important subject in cardiology. And I contributed to that a little.'
How much is a little?
'On a national level, quite a lot. In terms of the rest of the world, obviously a lot less. I also didn't do it alone. I have a big international network of cardiologists who work on this subject. In collaboration with sixteen female colleagues worldwide, we published an important article last May in The Lancet on "Women's Cardiovascular Health". It was a great project to do together.
I am also happy to see that the new generation of cardiologists are taking it up well. I feel like I can retire with a peaceful heart. I still have five PhD students for the next few years. I am saying goodbye to caring for patients and to the University, but I am staying on the scene to do some more work on women's health in a broader sense. There are, of course, many other diseases for which the female patient is underrepresented. I hope to exert influence on this on a national and international level in organizations or boards or by volunteering. So: I am leaving the consultation room, but staying at the barricades.'
At the end of September, you spoke to the UN. As a UN female representative on behalf of the Dutch Women's Council, you had six minutes to speak online. You spoke about the big threats to health for women and spoke about COVID-19 and the climate crisis in relation to this. Do you want to shed light on this?
'The COVID-19 pandemic has taught us once again how important sex and gender are in healthcare. There are all kinds of ways that the pandemic has made this worse for women. Men become more ill from the virus. Women's immune systems are more efficient to tackle these sorts of infections. But women do catch the coronavirus. They have been more exposed to it, often as a result of bad socio-economic circumstances. Women have stood on the frontline in terms of caring for patients in the wards. Domestic violence has also risen enormously because people were enclosed together too much during the lockdown, and this certainly applies to poor families with small houses. In the US, many women were made redundant because they had to look after their children.
We know that poverty contributes to a decline in one's health. This is also a factor in the climate crisis. Take the high gas prices. I have women who are my patients, elderly, grey-haired women, who don't dare to turn their heating up high because they cannot pay for it.'
Finally, Angela, how is your own ticker doing?
'I have had high blood pressure for fifteen years. I don't believe that you should be your own doctor – this is, of course, not recommended – but I handle it myself.
It began with fluid retention and cardiac arrhythmia. Initially, I didn't understand all that well what was the matter. I was sat behind my desk and thought suddenly, "Jeez, my blood pressure!" Then I pulled a nurse towards me and asked, can you just measure my blood pressure? It was way too high! I started taking pills and still do.
If you have high blood pressure, start treating it on time and take medication. That is my message. That way, you avoid any damage. Heart and vascular disease is the primary cause of death for women worldwide. And high blood pressure is the deadliest risk factor.'
Angela Maas
Angela Maas (Utrecht, 1956) studied Medicine in Groningen between 1974 and 1981 and specialized in cardiology in 1988. She obtained her PhD in Utrecht in 2006. Since 2012, she has been Professor of Cardiology for Women at the Radboud UMC in Nijmegen. Previously, she was the chief physician at the Rijnstate Hospital in Arnhem/Velp for five years and was a cardiologist for twenty years at the Isala Clinics in Zwolle.
Her book, Hart voor Vrouwen [A Woman's Heart], was published in 2019. In this book, Angela presents a bird's-eye-view of her insights regarding the female heart and risk variables specific to women in relation to heart and vascular diseases. The book has now been translated into German, English, and Russian.
In 2020 and 2021, Angela Maas was a UN women's representative on behalf of the Dutch Women's Council and spoke in this capacity at the UN meeting about the importance of sex and gender in care. In 2019, she was named the most influential woman in the Netherlands in the Opzij Top 100. In 2017, Angela Maas was royally decorated as Officer in the Order of Orange-Nassau.
| | |
| --- | --- |
| Last modified: | 11 January 2022 10.42 a.m. |