'The women in my family are my example'
Cisca Wijmenga, Rector magnificus and professor Humane Genetica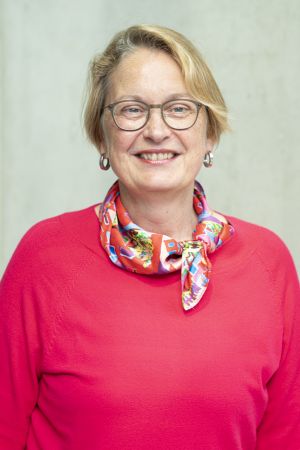 Text: Aafke Eppinga, translation UVC
As a girl, Cisca Wijmenga (1964) received the medical encyclopaedia as a gift. She devoured the collection of books on diseases, cells, and the human body. Despite her good marks, her parents sent her to a general secondary school—the university prep school was too far away by bike. Cisca Wijmenga worked her way up through higher professional education and started a degree programme in Biology at the University of Groningen. She has since become a Professor of Human Genetics, with an impressive CV topped by the Spinoza Prize (2015). For the past two years, she has been the Rector Magnificus of 'her' university.
Did you know early on that biology would be the field for you?
'I was introduced to lab work in secondary school. I liked that a lot, and so I enrolled in the secondary laboratory school. One of my teachers urged me to go on to a university of applied sciences. And I did. Even then, I noticed that I was always asking a lot of questions. I was particularly interested in the link between microbiology and diseases. That's when I started thinking that I ought to continue my studies. This That is how a detour eventually brought me to the University of Groningen.'.
How do you look back on your time as a student?
At first, I didn't feel at home amongst all the biologists, and I had missed KEI Week, so I started my life as a student pretty much with a blank slate. I ultimately ended up joining the JOVD (Youth Organization for Freedom and Democracy ), where I met people who thought the same way I did. I felt completely at home in that organization, and I still maintain good contact with my branch. My time as a student seemed very busy to me. My degree programme had a lot more contact hours than did those of the other members of my JOVD branch of the JOVD. Moreover, I did not receive any student financial aid. My parents had their own real estate office, and I wasn't eligible for a scholarship, even though we didn't have a lot of money at home. I was only able to buy about one beer a week, but I didn't really feel bad about it. It was a great time, particularly because I discovered my passion: research.'.
In 1993, you graduated with a cum laude distinction from Leiden University, and you decided that you wanted to do a postdoc in the United States. How did you go about doing that?
'I had the opportunity to give a talk about my thesis at a conference in America. Then I travelled around applying to all of the laboratories that seemed interesting to me. At the conference, all of the people I had applied to were sitting in the front row. I gave the worst talk of my life. I was so nervous, and I was done in five minutes. Nevertheless, everyone offered me a job, and I was most interested in the research group of Professor Collins [Francis Collins, ed.]. My time in America was fantastic. I had left my entire social life behind in the Netherlands, and so I was able to immerse myself completely in my research.'.
Nevertheless, you did not stay in the United States for very long. After two years, you flew back and started working as an assistant professor at Utrecht University (UU).
'They were wanting to set up a Human Genetics department. I had the opportunity to build the entire department from scratch, together with a professor, an analyst, and a secretary. We had no people, no money, and not enough space. It was three years before I was able to bring in my first grant. I often thought about quitting. Collins had already warned me: "You have to give yourself time. Only after five years should you look back and ask yourself whether you made the right decision.". If he had not said that to me, I might have quit. Now I look back on it with a great deal of pride.'.
As a student, did you have a female role model to look up to?
'The women in my family are my example. I may have been the first in my family to go on to higher education, but I come from a family in which women work. My mother worked in the real estate office, my grandmother had her own shop, and my aunt was the owner of a petrol station. For me, it was thus perfectly normal for a woman to work. Because of that, I've never really had the feeling that I was doing anything special, at least not because of me being a woman.'.
You have been the Rector Magnificus for two years now. How do you like your job?
'I really like my job. I enjoy being involved with so many facets of the Uuniversity. But it is also very busy. In addition, I'm alone. My partner died five years ago. I therefore really do have to do everything alone. When I come home, there's no one to have dinner on the table and to ask me about my day. That's hard, but I've since built up another life. There's a life before and a life after. I could actually say the same thing about COVID-19. Before the pandemic, I was almost never home in the evening. The past year and a half, it was suddenly a lot calmer and, in a way, that was also nice. I am obviously glad that more and more activities can take place again, but I've become stricter about my calendar. There is more to life than work.'.
If you could give a tip to today's students, what would it be?
'Don't focus all your attention on a future that's been all planned out in advance. Life always takes unexpected turns. I've noticed that students are currently very concerned about the future and that many are working to build their CV while earning their degrees. That's good, of course, but you should also do those extra things because you like them. Not because you won't be able to have a good career unless you do them. I'd like for students to be a little more relaxed.'.
Cisca Wijmenga
Tjitske Nienke (Cisca) Wijmenga (1964) grew up in the Frisian town of Burgum. After the MAVO (lower general secondary education) hool) and HBO (higher professional education) she obtains her master's degree in Biochemistry and Human Genetics at the University of Groningen. In 1993 she obtaines her doctorate cum laude from the University of Leiden. After a postdoc at the National Human Genome Research Institute (Bethesda, US) she starts working at the University of Utrecht. After a few years she is appointed professor of Human Genetics there. In 2007 Wijmenga leaves Utrecht to return to Groningen where she headed the genetics department of the University Medical Center Groningen for ten years.
In 2012, she was appointed a member of the Royal Netherlands Academy of Arts and Sciences and three years later, in 2015, Wijmenga won the prestigious Spinoza Prize for her research in the genetics of chronic diseases. In 2019, she was appointed as Rector Magnificus of our university, becoming the first female to hold this position
| | |
| --- | --- |
| Last modified: | 05 November 2021 4.15 p.m. |