'I've always made my best decisions on impulse'.
Izaline Calister, singer, songwriter, and band leader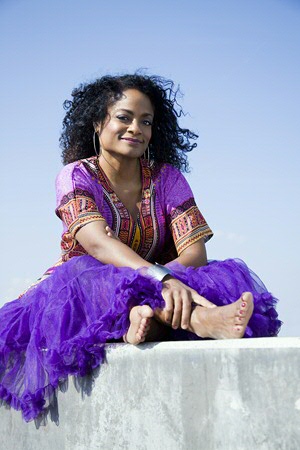 Text: Sara Plat, translation UVC
Izaline Calister (1969, Curaçao) is a singer, songwriter, and band leader. She studied business administration at the University of Groningen, as well as jazz and pop at the Prince Claus Conservatoire in Groningen.
Do you come from a musical family?
'Yes, but not in a very explicit way. There was always music, but other things were more important. My father came from a humble background. He worked his way up to become a construction engineer. He was a concrete specialist. He has worked on many objects in Curaçao that are still there today, like the quay walls in the harbour. My mother died when I was three. My father remarried, and my second mother also had a good job. She was the director of the domestic school. As a child, I sang in the youth choir named Perlitas, which means "little pearls". It was similar to Kinderen voor Kinderen here in the Netherlands. We had a lot of performances and did TV shows. It was great. At that time, however, it was simply inconceivable that it could also be an occupation.'
You came to Groningen to study business administration. How did you arrive at that choice?
'As an 18-year-old living on Curaçao, if you want to continue your studies, you have to leave. That's inherent in the system on the island. There are two options: America or the Netherlands. My sister was already studying in Groningen, and that settled it. With regard to business administration, everyone was worried about what I was going to do. The results of my career aptitude tests always pointed to music. That made my father very nervous. He wanted me to learn a real trade first. Then I had the idea to choose business administration. That would expose me to a lot of different subjects and, hopefully, I would discover what I really liked. My father was so relieved! So was the careers advisor.'
From Curaçao to Groningen: was that a big change?
'Absolutely. I had been to the Netherlands on holiday, but it still hit hard. The rain! On Curaçao, everything stops when it rains. Everyone knows that things will be postponed. Here, everyone acts as if it's not there! Three years ago, I attended an open-air performance of the play Het Pauperparadijs. It started to rain, and everyone pulled on a poncho and stayed put. I freaked out: how could this be happening! I can't remember anything else about that show. Shifting gears when it rains: I still can't do it.'
In the last year of your degree programme in business administration, you also enrolled at the Conservatoire. That was the springboard to your musical career. Why did it take so long for you to choose music?
'I've always made my best decisions on impulse. In Groningen, I joined another singing group. More and more people started to tell me that I ought to go to the Conservatoire. I remember sitting at my internship post on a Friday afternoon in the final year of my business administration programme and thinking, "Soon, I'm going to graduate, and then I will have to become a manager. That's not what I want!" On a whim, I picked up the phone and enrolled. It was a relief. For a long time, I had harboured a deep sadness that I could not understand. At times, I would suddenly start crying when I heard certain songs. That didn't go away until I started at the Conservatoire. It was then that I realized what the problem had been. I'm nevertheless glad that I did business administration first. It gave me an indispensable training that I also need as an artist: budgeting, process monitoring. I also considered myself from a business perspective: "What makes me special? Why do people buy tickets to hear me?" It was not just a degree. I was able to use it as a singer. It has saved me an awful lot of trouble.'
What do you hope to achieve with your music?
'I want people to be happy playing my music on a Sunday afternoon. But I also want to give something else. A good, universal story can have a very unifying effect. I think that people are more alike than we might think. For example, consider homesickness. It doesn't matter if it's for Curaçao, Friesland, or Limburg—the feeling is the same. People might miss the sea, or hills, or cows. It doesn't matter. The effect is the same. At the same time, I want to talk about Curaçao: why it is also part of our kingdom and how people there live. People don't learn much about that at school. It was a quest to find my own style. I tried a lot of things, but it was right in front of me. I could simply draw on my own language and the rhythms of my home country. But I also like jazz. It has more variation, more melody, and more harmony. I use the traditions of Curaçao as a building block, and I add the power of stories.'
You have performed at the UN for the International Day of Remembrance of the Victims of Slavery and the Transatlantic Slave Trade, and at the opening of the Slavery exhibition at the Rijksmuseum, in addition to creating a show on protest songs. Your work thus contains an element of activism.
'I'm for the soft forces. I'm not a militant. I have the talent to tell stories that touch people without making them feel as if I'm pointing my finger and preaching to them. I have a loving perspective on the world. With soft forces alone, however, nothing will happen. People who take a harder, blunter approach are needed as well.'
What are you working on now?
'When my daughter was born, my husband and I started researching our family trees for her. My husband was born here. He was able to find everything very quickly. It was more difficult for me. I found a great-great-grandmother, Juliette. She was the last ancestor I could find who was born in slavery. We are currently exploring the story of her life. In two years, I would like to create a theatrical performance about her. At that time, it will have been 160 years since the abolition of slavery. I would like to tell a lovely story, but I also want to say something about what it means to me, as the mother of a daughter. Children who had been born into slavery were outlawed, they were free to be sold. I would like to demonstrate that it was not that long ago—only a few generations back. It's therefore not odd that it is still having an effect, and that we feel a need to address it.'
Do you consider yourself a feminist?
'Yes! I'm in a man's world, but I'm the band leader. I call the shots. I take a sort of Machiavellian pleasure in not doing what's expected of me as a woman. Women who stand up for themselves are often considered not very nice. That doesn't bother me at all. I did it the other way for a while, taking the nurturing role as the only woman amongst all the men. That didn't help my own performance. I was standing centre stage, and I didn't feel well prepared. I don't do that anymore. There is a tendency to take on a lot without thinking about whether it's your role in the world, especially as a woman. I also think that women should show more solidarity with each other. If one woman is successful, that doesn't mean that another can't be as well. There's room for everyone. We should be investing our time in being the best that we can be, in being as professional as possible. If we do that, we don't have anything to be afraid of. I'm also teaching this to my daughter.'
Do you see yourself as a role model?
'With regard to music, I think I am. A generation has grown up with and been inspired by my music. It feels strange when someone comes up to me and says that their mother always listens to my music. But I've been doing what I do for 20 years now. I hear it and embrace it.'
Izaline Calister
Izaline Calister (1969, Curaçao) is a singer, songwriter, and band leader. She studied business administration at the University of Groningen, as well as jazz and pop at the Prince Claus Conservatoire in Groningen. Calister lives with her husband and daughter in Groningen. Her first solo album was released in 2000: Soño di un muhé (A woman's dream). It was followed by many other albums. In 2009, she won the Edison music prize in the category of world music. On King's Day in 2018, she was appointed Knight of the Order of Orange-Nassau for her musical accomplishments.
| | |
| --- | --- |
| Last modified: | 16 March 2022 10.40 a.m. |