Elections 2022 (ended)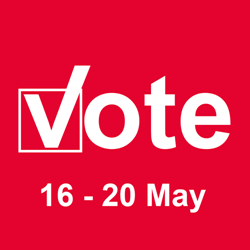 The University elections took place from 16 to 20 May 2022 and were for the student sections of the University Council and the Faculty Councils.
The results of the elections were announced during the election meeting on Monday, May 23.
University Council, Faculty Councils and Employee Councils.
Consultative participation councils are of great importance. By voting, you can exercise your influence in a variety of areas within the UG. The University Council discusses topics that are important for the entire University community, such as budgets, teaching, research, student facilities and the University's strategic agenda.
The Faculty Councils discuss topics such as faculty budgets, Faculty regulations, Teaching and Examination Regulations and a variety of teaching matters.
Participating parties, standpoints and voting guide
The Central Electoral Office (CSB: Centraal Stembureau) has asked all parties a number of questions, to give you more insight into the parties' viewpoints.
Still not sure who to vote for? Do the voting guide, made by the Ukrant and the Groninger Studentenbond. Answer ten statements and you'll be given an overview telling you which party you agree with most!
The timeline
Here you will find the timeline of these elections, information about the different steps in the election process, links to the official announcements, the list of candidates, the election programs and the elections themselves.
| | |
| --- | --- |
| Last modified: | 04 January 2023 12.43 p.m. |