Elections 2023 | Go and vote!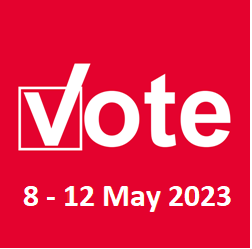 The University elections wil take place from 8 to 12 May 2023 for the University Council, the Faculty Councils and the Service Department Councils.
What is the University Council?
The University of Groningen (UG) has a University Council. This 'U-council' (UR) consists of twenty-four members: twelve elected from and by the students each year, and twelve from and by the staff every other year. The UR members together represent the academic community. They constitute the highest democratically elected body within the governance of the university.
The University Council is in charge of various tasks, such as checking the policy-making of the Board of the University (CvB), the renovation of the University buildings, general teaching and exam regulations, and the annual University budget. The UR has the right of consent and can therefore vote on specific documents or measures.
Currently, there are three student parties: Lijst Calimero, Studenten Organisatie Groningen (SOG) and De Vrije Student/The Independent Student. The amount of seats per party is divided each year, during the university elections in May. The staff members are elected every two years.
Faculty Council and Employee council
After the University Council, the faculty councils are the highest consultative participation bodies within the University. They act as intermediaries between the various departments within each faculty. These councils have the right of approval and the right to issue advice on cetain topics relevant to the faculties. These councils also act as representatives of students and staff within their respective faculties and as sounding boards for their respective faculty boards.
Three of the University of Groningen service units have employee councils and consist solely of staff members of the service units concerned. The service councils have the right of approval and the right to issue advice on cetain topics relevant to the service units. University Services, the University Library and the Center for Information Technology (CIT) have a service council.
The timeline
Here you will find the timeline of these elections, information about the different steps in the election process, links to the official announcements, the list of candidates, the election programs and the elections themselves.
| | |
| --- | --- |
| Last modified: | 20 January 2023 12.57 p.m. |