dr. T.L.J. Broekhuizen
Associate Professor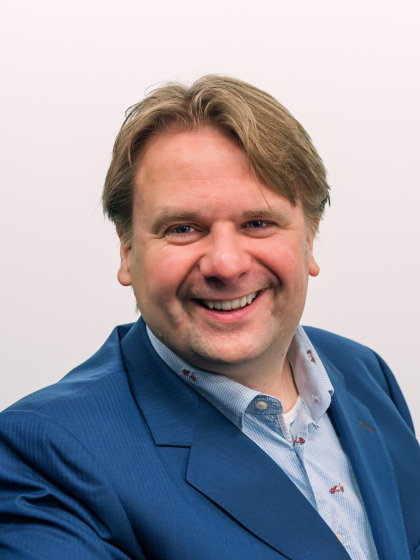 ---
Thijs Broekhuizen (download CV as PDF) became Associate Professor in 2014 at the Department of Innovation Management & Strategy. He also chairs the Signature Area Digital Business Models. Since 2015, he is the director of the MScBA of the Faculty of Economics and Business, University of Groningen.
His main research interests are interdisciplinary and bridge the fields of innovation and marketing and reside in Value Appropriation-Innovation & Adoption-Diffusion. His current research focuses on the success of entertainment products such as video games, movies, music and books, but also on complex financial products. His focus is also on the role of digital business models, and how firms can appropriate value from their (digital) innovations in turbulent environments, and how firms respond to disruptive technologies.
His articles have appeared in Journal of Marketing Research, Research Policy, International Journal of Research in Marketing, Journal of Product Innovation Management, Journal of the Academy of Marketing Science, Futures, Business Horizons, Journal of Business Research, Management Research News, and Journal of Market-Focused Management.
Thijs has coordinated and lectured several courses of the Master MScBA SIM, and has been the coordinator of the Master thesis of SIM between 2008-2014. He coordinated the MScBA Strategic Innovation Management between 2012-2015, and currently is the director of the MScBA that has five tracks (Change Management, Health, Organizational & Management Control, Small Business & Entrepreneurship, and Strategic Innovation Management). This Master has been ranked as best general MScBA master in 2017 and 2018 according to the Keuzegids.
EDUCATION
2001-2006 PhD in Management Science, University of Groningen.

Title: Understanding Channel Choice: Measuring Online and Offline Shopping Value Perceptions.

1995-2001 MSc in Economics, University of Groningen.
POSITIONS
August 2014-present Associate Professor of Innovation Management and Strategy, FEB, University of Groningen.
September 2008-2014 Assistant Professor of Innovation Management and Strategy, FEB, University of Groningen.
September 2006-2008 Post-Doctoral Researcher/Teacher, Strategy and Innovation, FEB, University of Groningen.
ADMINISTRATIVE POSITIONS
2015-Present Director of MScBA

2011-2014 Director of MScBA Strategic Innovation Management

2011-2014 Member of the development group for MScBA

2011 Jury member of Veni grant on innovation research

2008-2014 Master Thesis Coordinator MSc BA SIM


2009-2012 Member of Programme Committee of the MScBA

2008-2009 Jury member of best SOM PhD article
RESEARCH GRANTS & EXTERNAL FUNDING
2018 €1.3K SiA KIEM. Consortium led by HU. Total budget: 20K

2017 €15K NWO KIEM. Together with Killian McCarthy

2015-2018 €3.5K Presentations on behalf of AoG

2011 € 2.5K Innovation Voucher LaCasa Consultants

2006-2008 €300K Sixth FP project European Union, eRep: Social Knowledge for E-Governance. Partners: CNR-ISTC (Rome, Italy), CSIC-IIIA (Barcelona, Spain), University of Bayreuth (Bayreuth, Germany), University of Groningen (Netherlands). Total budget: € 1.2 million.

2001-2005 €11K research funding provided by the Faculty of Management & Organization, University of Groningen.
CERTIFICATES
June 2010 BKO Certificate – Dutch University Teaching Quality standard
| | |
| --- | --- |
| Laatst gewijzigd: | 29 april 2018 19:17 |