Executive MBA
Sustainable Business Models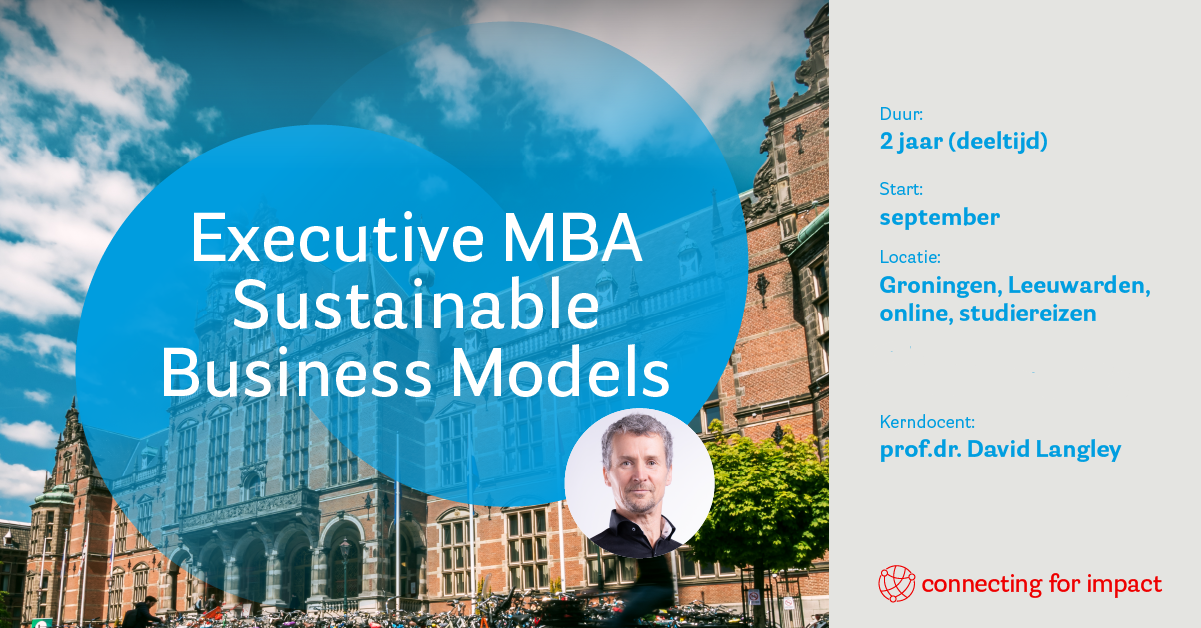 Leiderschap in duurzame transformatie

Duurzame transformatie vereist leiderschap waarin het gaat om het samenbrengen van kennis over technologieën, het samenbrengen van professionals met verschillende achtergronden en vaardigheden, en de ontwikkeling van een strategische, waarde-gedreven visie en ethisch kompas. De Executive MBA Sustainable Business Models biedt u inzicht in uw eigen leiderschapskwaliteiten, de mogelijkheid om uw effectiviteit te verbeteren en uw organisatie te transformeren naar een duurzame organisatie.
Duur: 2 jaar (parttime)

Locatie: Groningen, Leeuwarden, online, (inter)nationale studiereizen

Start: september 2024

Voertaal: voornamelijk Engels

Kosten: €38.850 (vrijgesteld van BTW) NB: korting bij inschrijving voor 15 januari 2024: € 36.750

Titel: MSc Rijksuniversiteit Groningen, MBA
Voor een duurzame organisatie bieden de Sustainable Development Goals (SDGs) van de Verenigde Naties duidelijke kaders. In de Executive Master Business Administration (MBA) Sustainable Business Models leert u hoe u die concreet kunt oppakken in uw bedrijf of organisatie.
U leert hoe maatschappelijke en technologische ontwikkelingen ingrijpen op organisaties, en hoe organisaties hierop effectief kunnen reageren door de transitie aan te jagen en vorm te geven. De opleiding biedt wetenschappelijke inzichten om de complexe vraagstukken praktisch te benaderen vanuit een interdisciplinaire invalshoek. De opleiding verbreedt uw blikveld en scherpt uw visie, zodat u effectiever kunt navigeren in een veranderende en steeds complexere wereld. U werkt bovendien met een coach aan uw leiderschapsvaardigheden om zo uw positie binnen de organisatie te versterken.
Ontwikkel in 2 jaar een strategische visie op duurzame transformaties en behaal een waardevol diploma.
---
Wetenschap en praktijk | MBA Sustainable Business Models:
Duurzaamheid gaat over het verbreden van het gezichtsveld, met meerdere perspectieven naar hetzelfde probleem kijken, verder kijken dan de eigen organisatie, de verbinding zoeken met externe stakeholders om gezamenlijk op te trekken met oog voor elkaars belangen. Deze executive MBA geeft u de strategische kennis en leiderschapsvaardigheden om uw bedrijf of organisatie hierin verder te ontwikkelen.
| | |
| --- | --- |
| Laatst gewijzigd: | 28 november 2023 16:08 |