Soms spelen er in de bedrijfspraktijk vraagstukken waar geen pasklare antwoorden voor zijn; soms is er behoefte aan (meer) visie en strategie.
De University of Groningen Business School helpt hier graag bij met een op-maat-gemaakte training bij u in huis.
Afhankelijk van uw wensen krijgen u en uw collega's inzichten aangereikt waar jullie direct mee aan de slag kunnen. In geval van een specifieke casus doen we samen onderzoek naar een oplossing.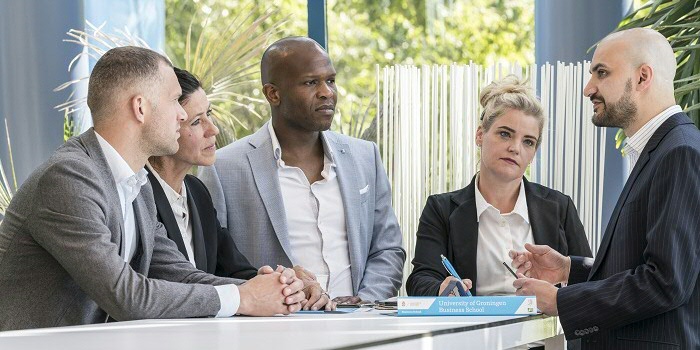 Wilt u of uw team zich verder ontwikkelen, verbreden en/of verdiepen in een bepaald (bedrijfs)economische vakgebied? In principe bieden wij al onze executive programma's ook als incompany training aan. Daarnaast zijn er vele aanvullende mogelijkheden qua onderwerp en inhoud. Lees hier meer over:
---
Waarom een incompany van UGBS?
Onze incompanies zijn ideaal voor organisaties die concrete oplossingen zoeken voor complexe bedrijfskundige en economische uitdagingen zoals duurzaamheid, digitalisering, leiderschap en de energietransitie.
De wisselwerking tussen praktijk en wetenschap is daarbij essentieel. Vooraanstaande wetenschappers vertalen de state of the art op verschillende kennisgebieden naar praktische aanbevelingen. De terugkoppeling vanuit de praktijk helpt wetenschappers om relevante onderzoekagenda's op te stellen en zorgt dat UGBS up-to-date programma's kan aanbieden die nauw aansluiten bij de behoeften van deelnemers.
UGBS biedt bovendien een platform voor deelnemers om zich te professionaliseren en te sparren met andere business professionals en experts.
| | |
| --- | --- |
| Laatst gewijzigd: | 28 februari 2020 11:49 |